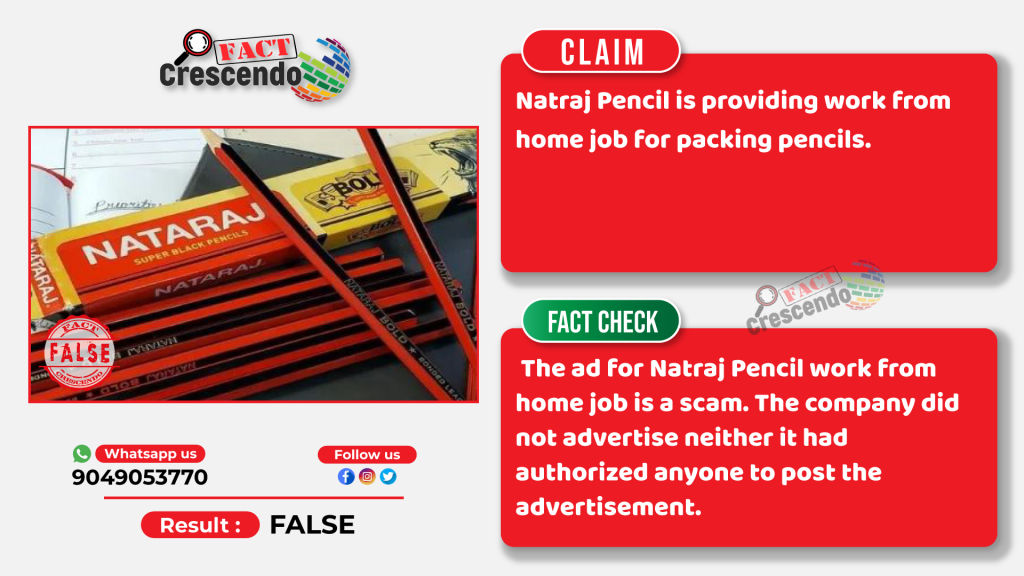 Currently, a post is going viral on social media claiming that Natraj pencil company is giving people an opportunity to earn from home, In this work-from-home-based job an individual can income a salary of Rs. 30,000. 
But Fact Crescendo found the viral claims to be false. Nataraj Company has clarified that no advertisement has been issued on its behalf regarding the opportunity to earn money by sitting at home.
What's the Claim? 
The post claims that "Natraj Pencil Company offers work from home opportunity with a monthly salary of Rs.30000. An advance payment of Rs.15000 will be given to initiate the work. 
This claim is widely viral on social media.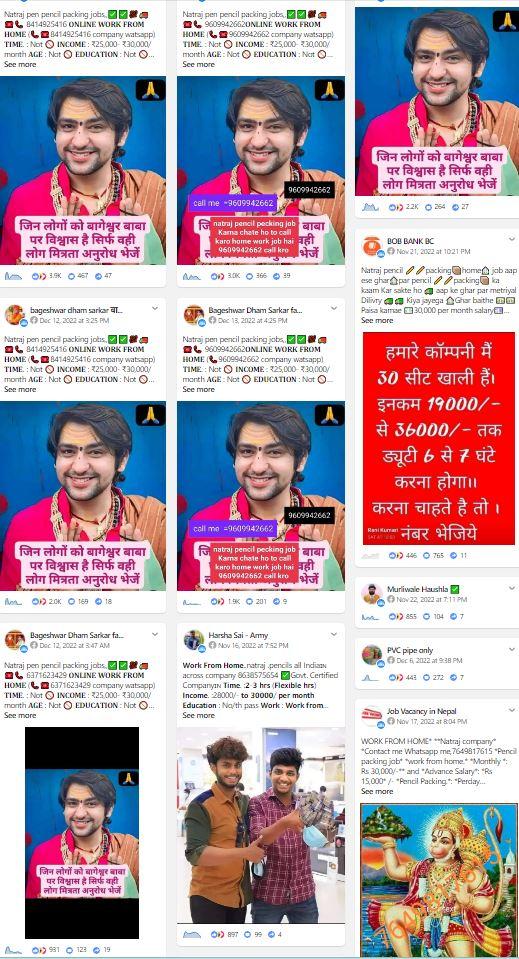 Fact Check- 
A Google Keyword Search led us to Amazon website, where we found out that Natraj Pencil is a product of Hindustan Pencils Private Ltd company. This company also manufactures Apsara Pencils. 
Taking a clue from this we searched the website of Hindustan Pencil Private Limited Company. We came across a video on the website which says, "If you come across an advertisement on Facebook or WhatsApp and other social media for Natraj and Apsara pencil packing jobs, which claims to give a salary of Rs. 30,000 and an advance of Rs. 15,000, then don't believe such posts. People giving such advertisements are fraud and their objective is to collect personal information of people like Aadhaar number, Pan card number, etc. They can rob your bank accounts after collecting this information."
The same video was uploaded on Natraj Pencil's official Facebook Page. 
A notice was published on the Natraj Pencil Facebook page on January 18. In this notice, the public is instructed to beware of a job advertisement going viral under the name of Natraj pencil.
The notice informs people that this is a false advertisement. Hindustan Pencils did not advertise any pencil packing work from home job neither it had authorized anyone to post such advertisements. Along with this, the notice also advised people not to share their personal information or other documents such as Aadhaar cards, Pan cards, Debit cards, Credit cards, etc. The job ads going viral on social media are scams.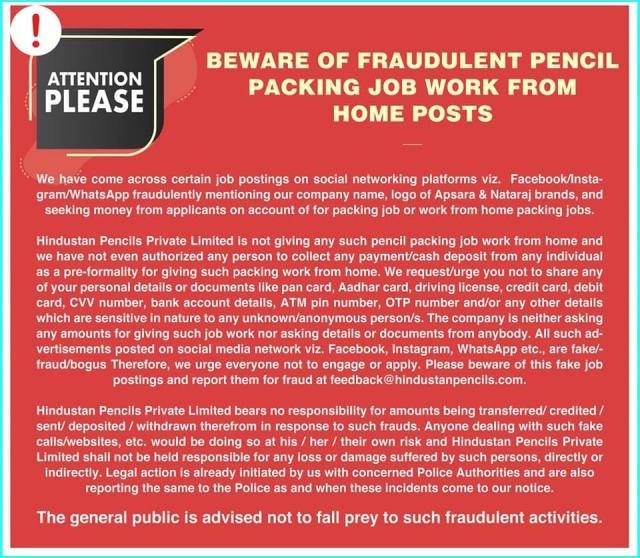 Conclusion: 
Fact Crescendo found that the ad for Natraj Pencil work from home job is a scam. The company did not advertise neither it had authorized anyone to post the advertisement.

Title:Work from-home job in the name of Natraj Pencil circulating on social media is a scam
Fact Check By: Siddharth Sahu 
Result: False