The video is more than a year old and has no relation to the Karnataka Assembly elections.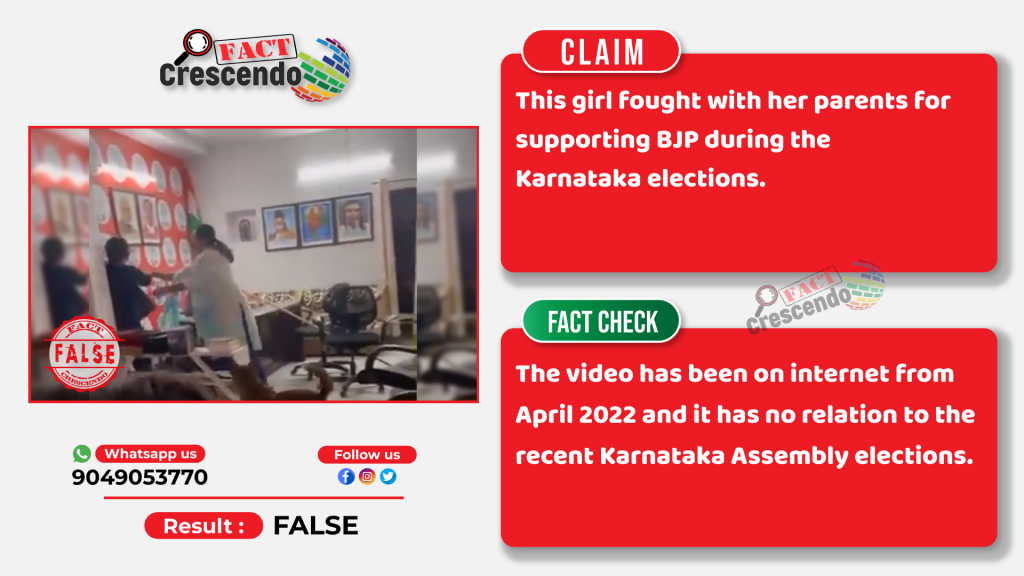 The celebration of the Congress winning 135 seats in the Karnataka assembly elections is still going on in Karnataka. Meanwhile, a video is circulating in Karnataka claiming that BJP flags are being removed from a BJP worker's house. 
In the video a girl can be seen tearing the BJP poster hanging on the wall inside the house. The girl's mother is trying to stop it. But she is tearing it by force. The person who assumes to be the girl's father intervenes and tries to stop her. Users who shared the video claiming that this is the incident from a BJP worker's house in Karnataka. The caption accompanying the video reads: "An Eye opener video! A girl went against her own family which is supporting #BJP This Vedio Remains Every Young Man And Women Come To Politics #KarnatakaElectionResults2023"
Fact Check- 
While we checked the reverse image of one of the video key frames, we found that the same video was uploaded on 22 April, 2022 by a Hindi Facebook page called Samta News.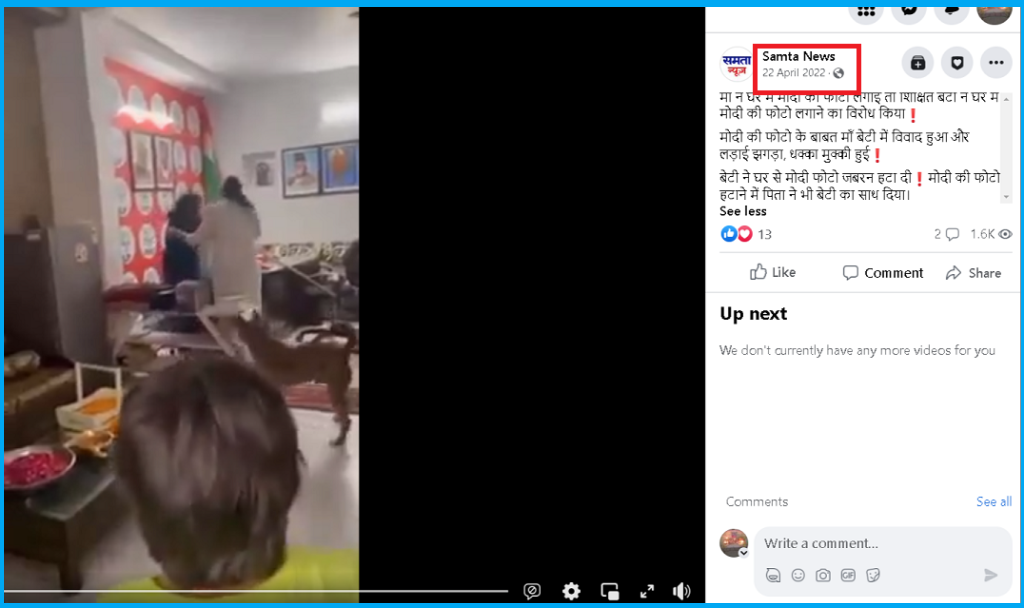 The description reads "When mother put Modi's photo in the house, the educated daughter protested against putting Modi's photo in the house. There was a dispute between mother and daughter regarding Modi's photo and there was a fight and a scuffle. Daughter forcibly removed Modi photo from home. The father also supported the daughter in removing Modi's photo.
In further search we found the same video was posted on a Telugu language Facebook page in April. When it was translated, it became clear that this was a post mocking the BJP. The post says that even if their parents work for the BJP, the new generation of children who know the importance of education will not accept the BJP. 
We also came across a report published by Jansatta on 20 April, 2022. The location of the incident and the reasons for the fight were unknown. It is not recent and is unrelated to the Karnataka assembly elections.
So far, there are no reliable clues from anywhere as to where this incident took place or who were involved. The article will be updated as soon as any information becomes available. In any case, it is clear that this video, which has been circulating since April 2022, has nothing to do with the 2023 assembly elections in Karnataka. 
Conclusion- Fact Crescendo found the claim along with the viral video is False. The video has been on internet from last year which has nothing to do with the recent Karnataka elections.

Title:Viral video of BJP's poster being torn down has no relation to the recent elections in Karnataka
Fact Check By: Usha Manoj 
Result: False