The video is more than a year old and it shows visuals from a pooram festival of Kerala's Kavassery.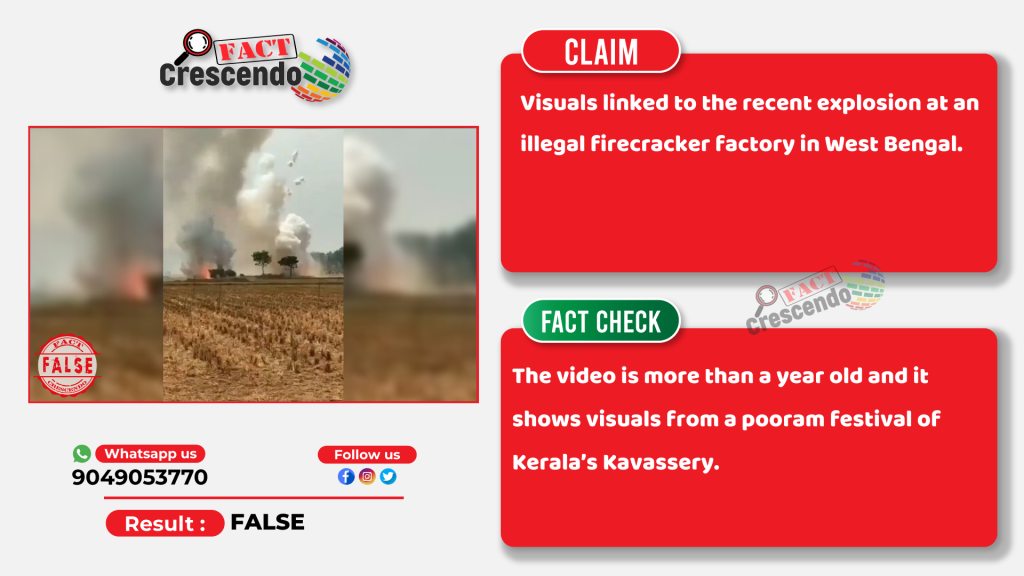 At least nine people were killed and multiple others sustained injuries after an explosion at an illegal firecracker factory in West Bengal's Purba Medinipur district of  Khadikul village earlier this week. As per reports the illegal factory was run by a man named Krishnapada Bag out of his house where large quantities of suspected gunpowder were reportedly kept.
Chief Minister Mamata Banerjee has ordered an inquiry by the Crime Investigation Department (CID) into the incident. Soon after this incident several social media users shared a clip of an explosion in an open field linking it to the recent blast in the East Midnapore district in the TMC ruled state.
The caption states "Bomb blast scene of khadikul Sahara egra purba mediinipur. Terrible sight. 9people was died".
Fact Check- 
At first we came across the tweet of West Bengal Police who denied the claim on 18 May. The tweet reads "This video is being circulated by some visual media channels & in social media as the blast. Actually it is the visual of Pooram festival in Kerala. #WBP appeals to all to refrain from circulation of fake news and warns strict action against the violators."
A reverse image search of the video's key frames led us to a Facebook post by Beauty Palakkad on 17 March, 2022. Carrying a longer version of the viral video, the post stated, "…Kavassery Pooram Daytime Fireworks 2022…"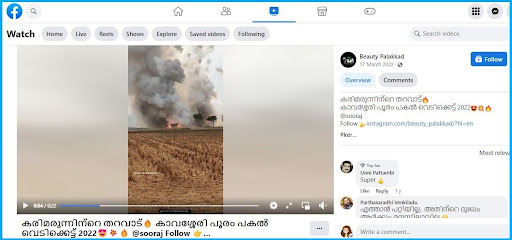 The video was also uploaded on other YouTube channels such as Youtube Peedika and ENGLISH WINDOW in March 2022 to show visuals from Kavassery Pooram.
https://www.youtube.com/watch?v=dZaes9Ieo50
Kavassery comes under Palakkad district of Kerala. Sree Parakkattu Bhagavati, who resides in the Sree Parakkattu Temple, is the presiding deity of Kavasseri. The main festival in the temple is Pooram. Furthermore, we contacted a resident staying in Palakkad, who confirmed that the footage belong to the Kavassery pooram, a celebration known for its firework display.
The firecracker factory blast incident in Egra's Khadikul village took place on 16th of this month and the viral video has been available on the internet since 2022. It is clear from this that the video is not related to the recent blast. 
Conclusion 
Fact Crescendo found the claim made along with the viral video to be False. An old video from Kerala shared as visuals of the illegal firecracker factory blast in West Bengal's Egra in May 2023. The viral video has been available on the internet since March 2022.

Title:Viral video does not show recent fireworks factory explosion in West Bengal
Written By: Usha Manoj 
Result: False