Several posts on Twitter and WhatsApp claimed that the latest outbreak of monkeypox is only occurring in countries that have administered Pfizer-BioNTech's Covid-19 vaccine.
"Monkeypox" is only circulating in Countries where the population have been given the Pfizer Vaccine & is being used to advance a Technocratic Great Reset https://t.co/egPOFMOmLV

— Snowdog (@Dogdayburn) June 24, 2022
The posts claimed "'Monkeypox' Is Only Circulating In Countries Where Pfizer Vaccine Has Been Distributed. Think about that for a moment." It further added that the World Health Organization (WHO) "has not received a single report" of monkeypox from countries which have not administered the Pfizer-BioNTech vaccine.
To sustain this claim, it cited India, Russia and Venezuela or China where the Pfizer-BioNTech vaccine had not been given and no cases of monkeypox reported there. See the message here:
map showing the countries where the Pfizer Covid-19 jab has mainly been administered Monkeypox disease has extremely rare & rarely been seen outside of Africa & has never been recorded in multiple countries outside of Africa at the same time ~ coincidence ? pic.twitter.com/lQfT1Yr5AN

— pat (@patgill69033215) July 31, 2022
It has been shared here and here with maps taken from June 24 article on The Daily Expose website.
FACT CHECK
Monkeypox, first discovered in a monkey, was a deadly smallpox virus but eradicated in 1980. Its symptoms in humans include include a high fever, swollen lymph glands, and a chickenpox-like rash.
In May 2022, several monkeypox cases were detected in countries outside Africa, irrespective of travel records to the region. The WHO in July declared the outbreak as a global health emergency as it is spreading fast in many countries.
What the WHO says?
According to the WHO, monkeypox is not highly contagious like Covid-19 but can be "transmitted from one person to another by close contact with lesions, body fluids, respiratory droplets and contaminated materials such as bedding."
The sustaining claim that the WHO has not received reports of monkeypox cases from countries not using the Pfizer-BioNTech vaccine is also false. India and Russia, where Pfizer vaccine was not given, have also reported cases of monkeypox.
Thirdly, the map used in the claim was altered from the original WHO map published on June 27, 2022 with data as of June 22, 2022. Here's a comparison of the original and altered maps:
The altered map is taken from an article in the Postgraduate Medical Journal first published in August 2021 showing the distribution of Pfizer vaccines as of May 16, 2021. See the original: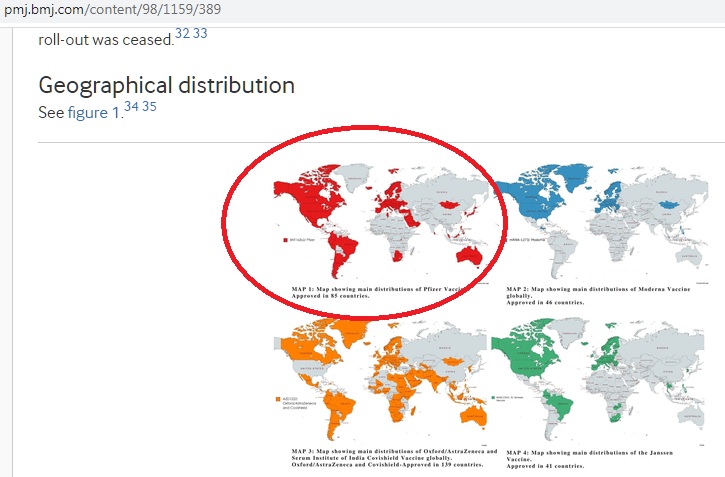 Hence, the claim that Pfizer vaccinated countries have reported monkeypox and non-Pfizer vaccinated countries reported no Monkeypox cases is false.
Claim: Only Pfizer Covid-19 vaccinated nations reported monkeypox cases.
Conclusion: FALSE, even non-Pfizer vaccinated nations reported  monkeypox cases.
Rating: Misrepresentation —