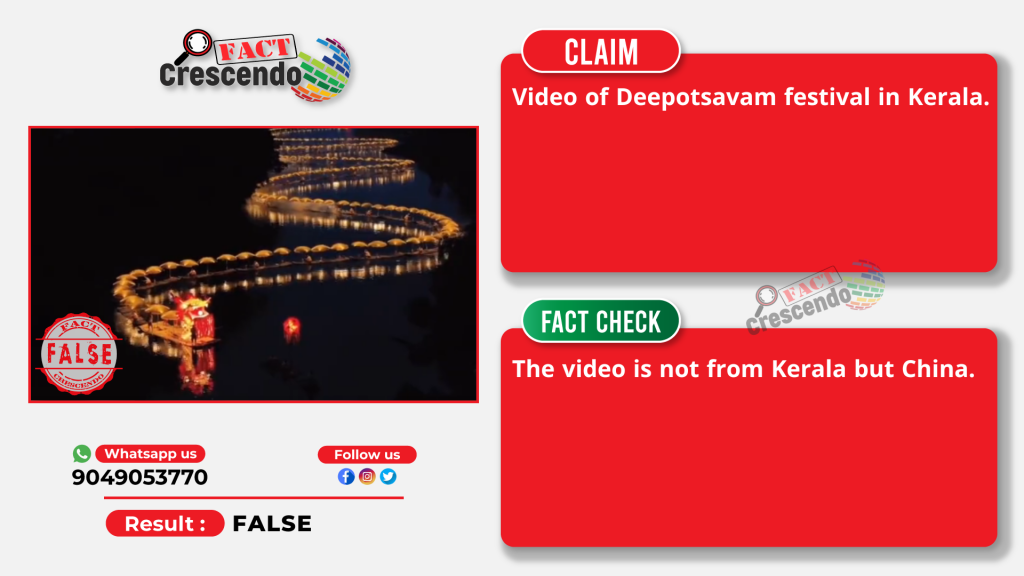 A video of a long dazzling boat slithering on a river, is being shared on social media platforms with a claim that this 'Deepotsavam' in Kerala. 
However, the video is not from Kerala but China. When we checked the video, we found that the event is from Guangxi province in China. Here are the details of the video.
Viral Video on Social Media
In the above video, we can see a long illuminated boat sailing on a river in a serpentine manner. The caption of the post says, "*Deepotsavam in the river with 240 boats in Kerala. Enjoy watching the wonderful video.*"
The same video is viral on Twitter as well with the above claim. Verified user Bhawana Somaaya tweeted this video and claimed this boat show is a part of Diwali celebrations in Kerala.
However, is the video associated with Diwali celebrations in the state of Kerala? Let's find out!
Fact Check
We did a Google reverse image search on one of the screenshots of the video. From the results of the search, we found that the video is actually from Guilin in Guangxi province of China. The boat is a bamboo raft cruise illuminated by lights and resembles a golden dragon. You can see below the tweet by China's state affiliated media, China Daily.
The video was posted in June, this year. The boat is 800 meters long and is a fantasy tour of the Yulong River. Many people attend the event to see the boat and fireworks. The boat dance that we see in the video is known as Golden Dragon. A Facebook post by Discover Guangxi says, "Every year in Yangshuo, there will be a golden dragon performance in the Yulong River, the local people singing and setting lanterns on the river to pray for good wishes"
Conclusion
The video of a long illuminated boat sailing on a river is not of Diwali celebrations of Deepotsavam in Kerala. The video is from Guilin in Guangxi Province of China, where this boat is a tourist attraction. The boat offers fantasy ride to tourists at night on the Yulong River.

Title:Video of Illuminated Bamboo Raft Boat from China Shared as Deepotsavam in Kerala
Fact Check By: Harish Nair 
Result: False