This raid does not have any relation with the recent PFI office raids in Kerala. The video is from and ED raid at a gaming firm in Kolkata.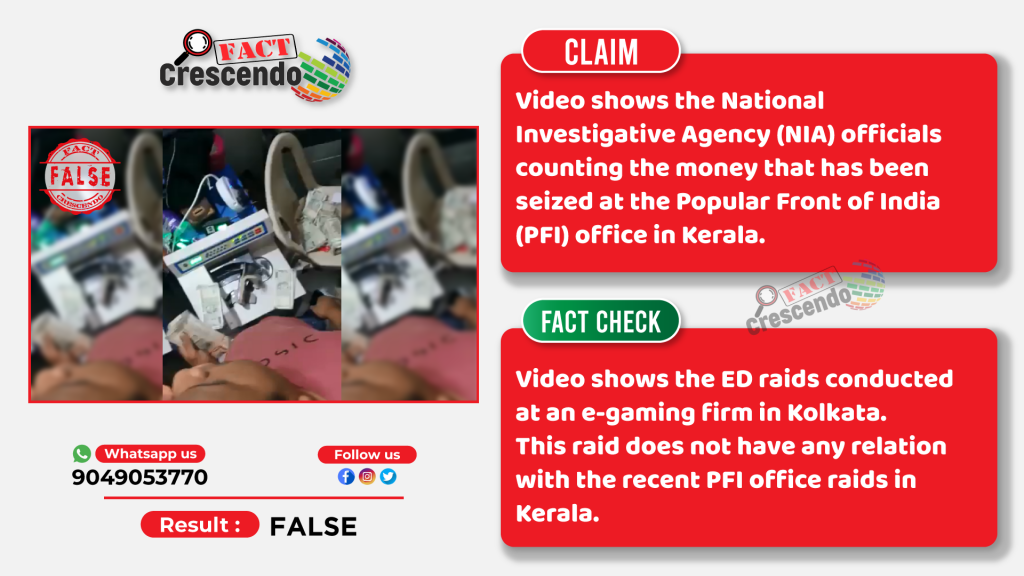 A video showing officers counting bundles of cash is widely circulating on social media. Users sharing this video claim that it shows the National Investigative Agency (NIA) officials counting the money that has been seized at the Popular Front of India (PFI) office in Kerala.
The claim comes after the NIA raided offices and homes of PFI leaders in at least 15 states between September 22 and 27. After this incident the MHA banned the organisation PFI.
However, we found that the video is an old one and is not from Kerala but from West Bengal. The caption of the post states, "Money seized by NIA in PFI office in Kerala"
Fact Check-
We started the investigation by searching for the viral video on YouTube with the help of a keyword search. The results led us to a report published by NDTV on 10 September 2022. 
According to the report, at least Rs 17 crore was found in the house of a Kolkata-based businessman in the raids conducted by the Enforcement Directorate (ED). The ED had raided six places in Kolkata, including the Garden Reach area, where the ED had brought machines to count the amount recovered.  
According to the ED, businessman Aamir Khan was using mobile gaming application to cheat people.
According to the Times of India report, stacks of currency notes wrapped in plastic bags were recovered from under a bed in businessman Aamir Khan's house at Shahi Astabal on Garden Reach Road during the search that began around 8.30 am and continued for over 13 hours.
According to an ED statement, the case was registered under the Prevention of Money Laundering Act (PMLA) following a complaint by Federal Bank officials against Khan and others for defrauding the users of the e-Nuggets mobile gaming app.
Conclusion:
Fact Crescendo has found the claim made in the viral video to be false. The viral video does not show ED raiding PFI office in Kerala. The visuals from the post are of ED raids conducted at an e-gaming firm in Kolkata. This raid does not have any relation with the recent PFI office raids in Kerala.

Title:Video of ED raid in Kolkata shared as raid in PFI office in Kerala
Fact Check By: Drabanti Ghosh 
Result: False