A video showing two school girls and one boy doing romance on a street lane in Delhi. The video is being circulated on social media platforms, claiming that it was the real incident that happened in Delhi and the Delhi CM Arvind Kejriwal was also tagged.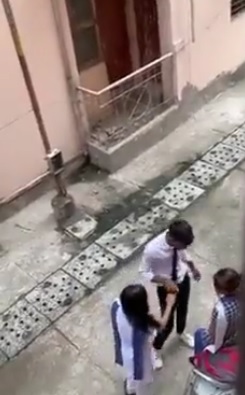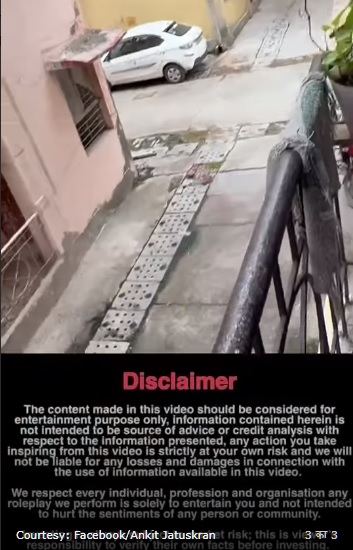 The caption read: "दिल्ली की गलियों में स्कूल के बच्चे रासलीला करते हुए। Arvind Kejriwal तुमने दिल्ली के स्कूलों का ये हाल बना दिया।" (English translation: Schoolchildren performing Rasleela on the streets of Delhi. Arvind Kejriwal, you have made this condition of Delhi schools).
दिल्ली की गलियों में स्कूल के बच्चे 🤣🤣….. केजरीवाल, अब तो आँखें खोलो! pic.twitter.com/ORBkfjmair

— Anisha Chopra (@AnishaChopra_) July 29, 2022
FACT CHECK
When Digiteye India noticed the video, the team checked for its authenticity and found that it was indeed a video meant for entertainment and real. Not a parody or a prank video as claimed by many based on the disclaimer.
The Reverse Image Search of a few frames from the video yielded the original video uploaded by a user Ankit Jatuskran on Facebook and the same was shared on Twitter. It was uploaded on July 25, 2022.
In the original video, a disclaimer stated that the viral video was a work of fiction. It stated:
"The content made in this video should be considered for entertainment purpose only. The information contained herein is not intended to be source of advice or credit analysis with respect to the information presented. Any action you take inspiring from this video is strictly at your own risk and we will not be liable for any losses and damages in connection with the use of information available in this video. We respect every individual, profession and organisation any role play we perform is solely to entertain you and not intended to hurt the sentiments of any person or community. Investing is always subject to market risk; this is viewer's responsibility to verify their own facts before investing."
However, the video is real and not a prank video as the Disclaimer is worded on similar lines on all such videos and often cited by those who upload in order to overcome any legal troubles. However, it was tagged as Delhi Government school children's romance on streets and tagged to Arvind Kejriwal, Delhi Chief Minister. See the full video here:
The video is a general reflection of school kids and doesn't bear anything to do with the Delhi Government per se. Secondly, the disclaimer makes it clear that it is for entertainment, which is very generic in nature. Nowhere does the Disclaimer mention that it was "not real" or a "prank" video.
Usually, prank videos make it clear at the end making it clear. In this case, the man is seen picking the bag left behind and going on to the main street looking for the kids. One kid was clearly seen with a bag on the main road while the other does not. But seeing the man bringing the bag, they flee the scene.
Hence, the video was candid and not scripted or staged for fun. It was clearly shared to caution parents to be careful about their children on streets after school hours.
Claim: Delhi school kids' engage in romance on streets.
Conclusion: The video was candid and not scripted or staged for fun though disclaimer remains generic in denial. It has nothing to do with Delhi CM Arvind Kejriwal either.
Rating: Exaggeration —