The video has no relation with the recent earthquake tremors in Delhi-NCR area. The video dates back to 2021 showing an earthquake in Philippines.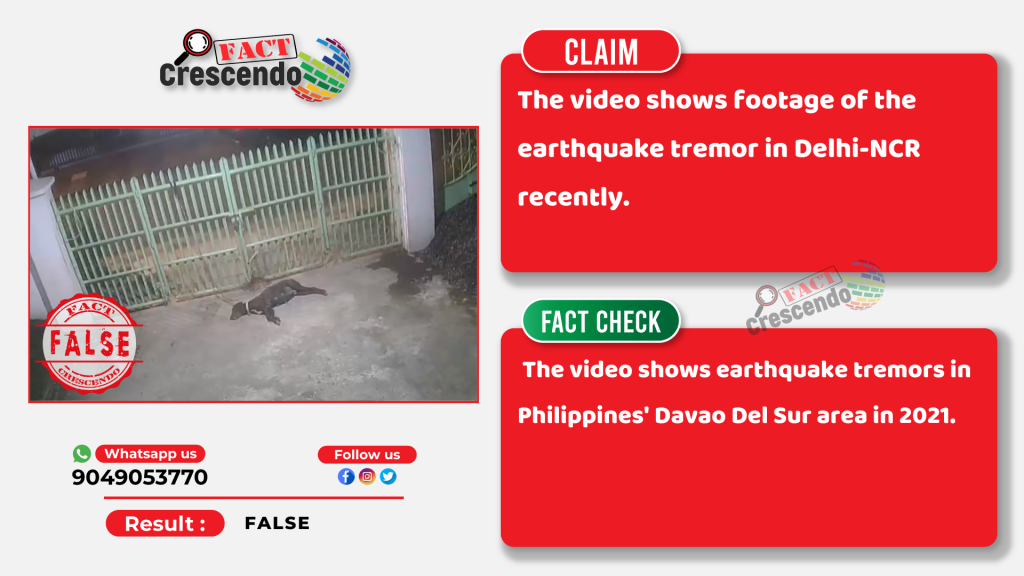 An earthquake with a magnitude of 6.6 struck Nepal in the early hours of Wednesday November 9, 2022, sending tremors to parts of north India, including Delhi, Ghaziabad, Gurugram and Lucknow. At least six people were killed in Nepal's Doti district in a house collapse.
In the backdrop of this, several users shared their experiences via videos as the earthquake in Nepal sent tremors to the northern states of India. One such compilation video showing a sleeping dog awakened by the sudden tremors is widely circulating on social media with the claim that the video is from the Delhi-NCR region, where the residents have shared their experience. 
This video has been reported by several media organizations. The caption of the video shared by CNN News18 states, "Delhi-NCR residents shared videos as the earthquake in Nepal sent tremors into Northern India in the early hours of Wednesday."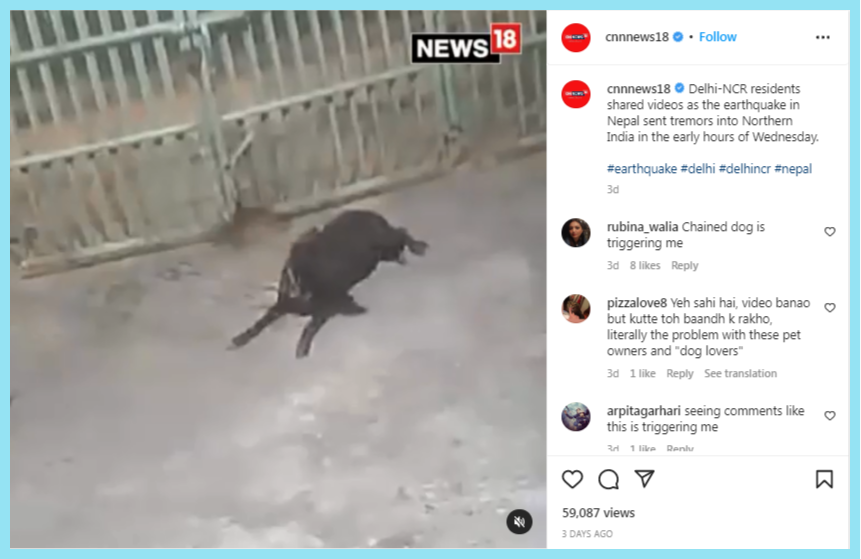 Fact Check-
We started our investigation by running a relevant keyword search and a reverse image search on Google, whose results led us to the same video posted on YouTube in 2021. This video was posted on 20 January 2021 and it's caption stated, "1.20.2021 Magnitude 7.1 Davao earthquake." We can see the time and date on the CCTV footage which mentions that the video was captured on 20 January 2021.
The video mentions that it shows an earthquake that hit Davao Del Sur in the Philippines.
According to the description of the video it states, "Hi, for the information of everyone, our dog, Fortum, is a very happy, well-taken cared of, super loved pet of ours. She used to be free to roam around but she easily gets out of our fences as she is very active and jumps high! She has been caught by the city pound 3x already. Our city pound is super active and strict in our village. We rescue her there each time right away. We decided to leash her instead as she doesnt tolerate being in a cage. She is only transferred at the gate on occasions that we are out but with proper roofing and protection from sun and rain and unlimited food. Otherwise, she has a very comfortable place at the back free from all elements. We have comforted her already also as the earthquake had a toll on her. Rest assured she is okay and very happy now. Hope you guys understand."
Next, we searched for news reports about the earthquake that hit Davao in January 2021. According to Rappler, 'A magnitude 7.1 earthquake was detected at sea off Davao Occidental on 21 January 2021, according to the Philippine Institute of Volcanology and Seismology (Phivolcs).The earthquake that struck at 8:23 pm was located 231 kilometers southeast of Jose Abad Santos in Davao Occidental."
CNN's report mentioned, "Intensity 4 or "moderately strong" was recorded in Davao City, Cotabato City, Digos City, Sta. Cruz in Davao del Sur, and the municipalities of Alabel, Maasim, and Malapatan in Sarangani province."
Conclusion-
Fact Crescendo found that the viral video along with the caption is misleading. The video does not show the impact of the earthquake felt in Delhi-NCR. The video has been available on the internet since 2021. It shoes an earthquake that hit Davao in Philippines.

Title:Video from Philippines shared as earthquake tremors in Delhi recently
Fact Check By: Drabanti Ghosh 
Result: False