The viral video dates back to 2018 and shows a Kilauea's Fissure 8 Eruption – Lava Flow in Leilani Estates. It is not related to the recent eruption in Mauna Loa.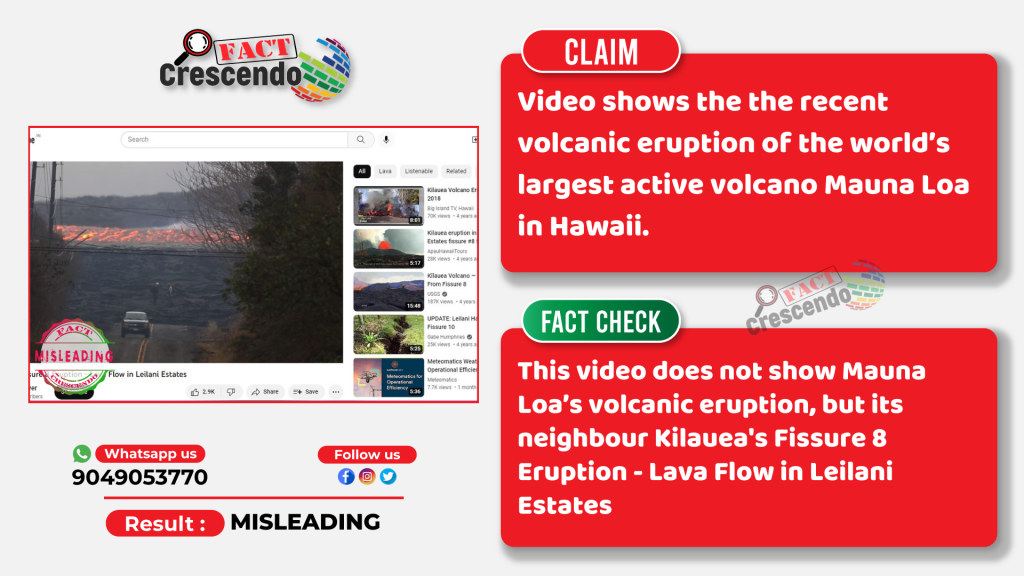 The world's largest active volcano, The Mauna Loa in Hawaii, erupted for the first time in nearly four decades on 27 November. The eruption produced volcanic ash, lava fountains more than 100 feet high, and a river of molten rock that flowed down toward Hawaii's main highway on the Big Island. Mauna Loa rises 13,679 feet (4,169 meters) above the Pacific Ocean, part of the chain of volcanoes that formed the islands of Hawaii. It last erupted in March and April of 1984, sending a flow of lava within 5 miles (8.05 km) of Hilo, the island's largest city.
Kilauea, an active volcano 21 miles away that has been erupting for more than a year now. This unusual dual-eruption event has grabbed the attention of many because the last time these volcanoes erupted simultaneously was back in 1984.Visitors flock to Hawaiian volcano to see glowing lava flows, According to Hawaii's Emergency Management Agency it had opened two shelters on the island as a precaution but had not issued any evacuation orders. 
Many videos and images showing Hawaii's Big Island sky turning red and ash emitting into the air have surfaced online.  In one of the videos, we noticed two men can be seen witnessing an orange-red stream of lava flowing at an alarming speed. The caption reads "Fountains of lava up to 200 feet (60 meters) high have been fired into the air from Hawaii's Mauna Loa, geologists say, generating rivers of molten rock from the world's largest active volcano #MaunaLoa #Hawaii #volcano" 
Fact Check-
We started our investigation by running a reverse image and keyword search on Google, whose results led us to a page of Shutterbug. According to the report the river of lava video was shot by photographer Ken Boyer showing Kilauea's Fissure 8 on June 15, 2018 around 5pm local time .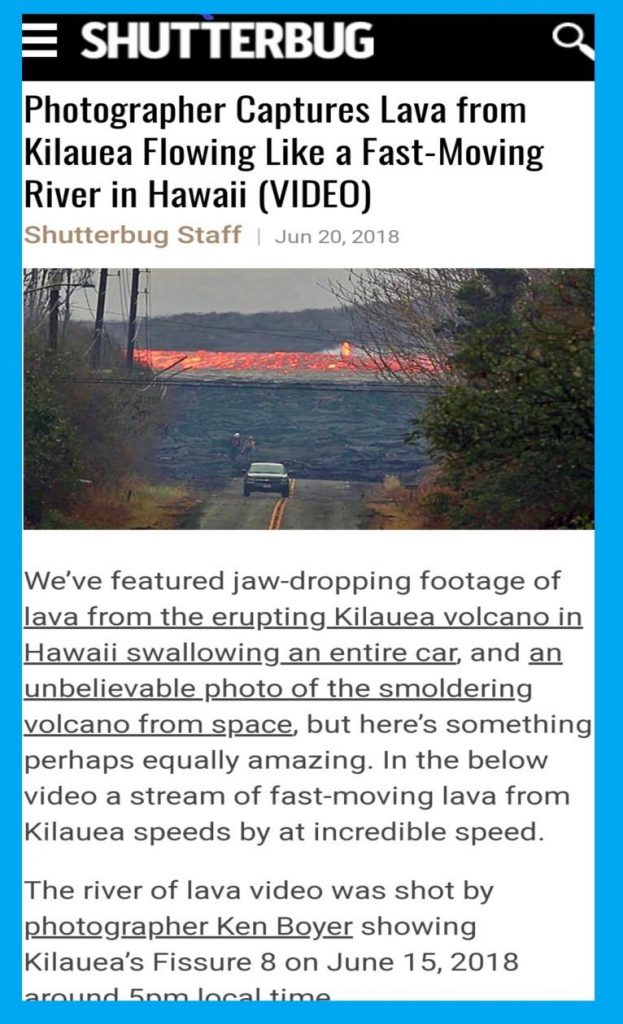 In further search we found the Facebook page of Ken Boyer, a photographer based in Hawaii,who shared the same video in 2018. On17 June, 2018, he uploaded the same clip to his YouTube channel with a caption "Kilauea's Fissure 8 Eruption – Lava Flow in Leilani Estates"
A Facebook post from 2018 by the Daily Mail that included an extended version of the viral video The Kilauea volcano in Hawaii was mentioned in the video and the lava flow allegedly destroyed over 467 homes in its path.
The Kilauea volcano, which is smaller and more active than Mauna Loa, had been erupting since 1983, and in 2018, its lava flows destroyed hundreds of homes on the island. Recently, its eruption activity has been confined to the crater, according to the U.S. Geological Survey. 
A series of volcanic eruptions and strong earthquakes due to activity on Kilauea volcano have struck Hawaii's Big Island (Hawaii Island) starting around 3May, 2018 causing major damage to the easternmost portion of the Big Island.
Thus, taking account of all this evidence, it is clear that the viral video shows the 2018 volcanic eruption at Kilauea, miles away from Mauna Loa. Not the recent one.
Conclusion- Fact Crescendo found the claim made along with the viral video to be Misleading.  The viral video dates back to 2018 and shows a volcanic eruption that hit Kilauea in Hawaii. It is not related to the recent eruption in Mauna Loa.

Title:Video from Kilauea in 2018 shared as recent eruption in Mauna Loa.
Fact Check By: Usha Manoj 
Result: Misleading