The video was filmed in Split, Croatia, in October 2020, and shows a fireworks display celebrating the anniversary of a soccer fan group.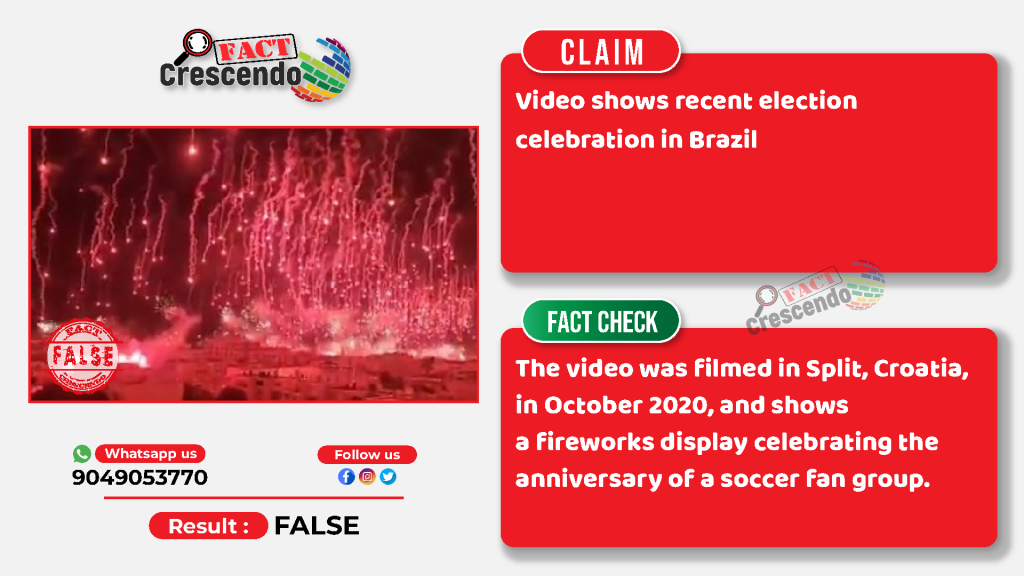 In Brazil veteran leftist Luiz Inácio Lula da Silva on October 30 defeated incumbent Jair Bolsonaro in an election that marked a stunning comeback for the leftist leader and the end of the country's most right-wing government in decades.
In this scenario, a video shared on social media linking this to the celebrations in Brazil after Lula da Silva's victory. The video in the post shows the entire city lighting up with numerous fireworks and flames.
The caption of the video states, "Fireworks celebration in North-east Brazil after election".
Fact Check- 
We began our investigation by running a reverse image search on Google, which showed the same video was also carried by a verified Twitter account on October 28, 2020, with the text: "THE CITY IS BURNING: Torcida Split (followers of HNK Hajduk Split in Croatia) turned 70 (the oldest ultra-group in Europe) and they decided to celebrate it in a big way".
In further search, we found Torcida Split is a group of supporters of the Croatian football team HNK Hajduk Split with branches in other countries but mostly within the Croat community. Founded on 28 October 1950, Torcida is Europe's oldest supporter group.
We also discovered a news report dated 27 October 2020, regarding the event, According to the Croatia week "Torcida, the famous supporters' group of Croatian football club Hajduk Split, has celebrated its 70th birthday on the stroke of midnight by lighting up the city of Split with flares and fireworks.
On October 29, 2020, longer version of the same video is posted on YouTube with a description. Pyro Rain in Split! Torcida Split 70th Anniversary Celebration! Hajduk Split Ultras | Croatia
Hajduk Split's Torcida posted about the event on their official website on Oct. 28, 2020, including photos of other angles of the same striking red display.
Thus, it is clear that the viral video is neither recent nor from Brazil. Thus, it is clear that an old video from Croatia is being shared as that from Brazil.
Conclusion- 
Fact Crescendo found the claim made along with the viral video to be False. Old video of Croatia's Soccer fan group Torcida Split organization's 70th birthday celebration is going viral as election celebration in Brazil.

Title:Video from Croatia shared as recent election celebration in Brazil
Fact Check By: Usha Manoj 
Result: False