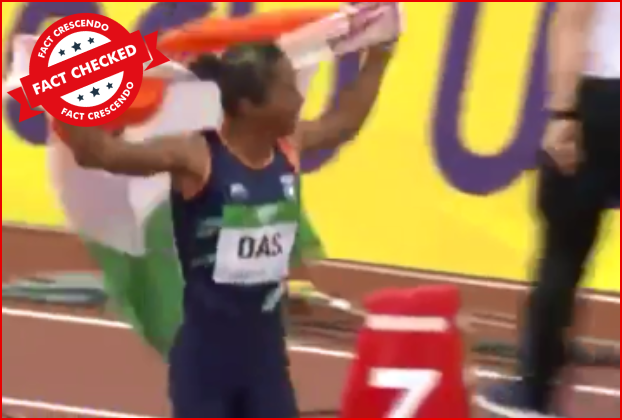 This video is not from 2022 Commonwealth Games but from World Athletics U-20 Championship Tampere in 2018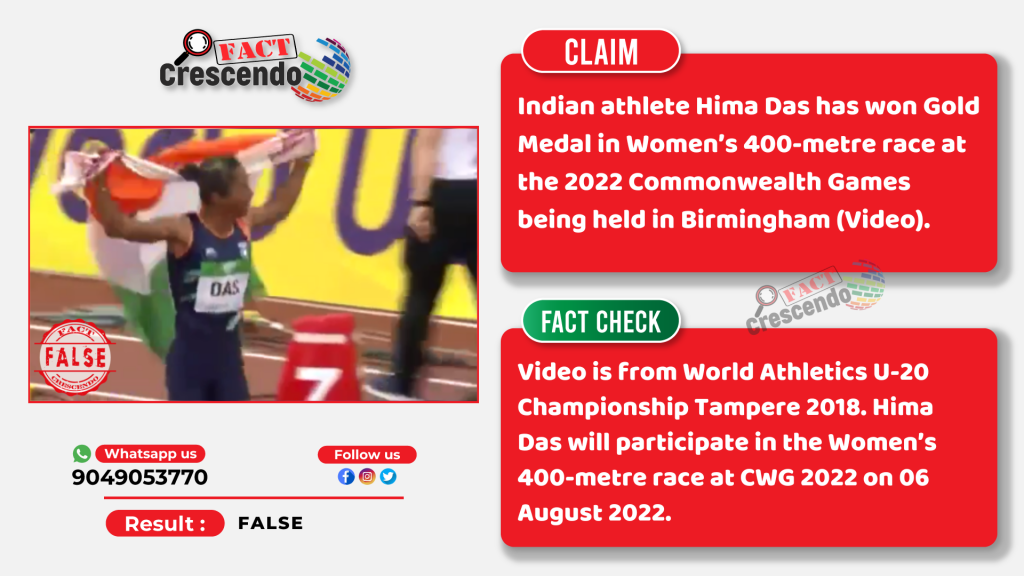 A video showing Hima Das winning a race is widely circulating on social media with the claim that Indian athlete Hima Das has won Gold Medal in Women's 400-metre race at the 2022 Commonwealth Games being held in Birmingham
The caption of the post roughly translates as such, "In a thrilling World Athletics women's 400m final, the diminutive *Hima Das* of India massacres field to grab the *Gold Medal*."
Fact Check-
We observed that there is a board mentioning "IAAF World U-20 Championship TAMPERE 2018" placed on the track. Keeping this in mind, we ran a keyword search on YouTube and Facebook, which led us to Hima Das's account posted on 12 July 2020. The caption of the post states, "Will never forget 12 July 2018 in Tampere, Finland when I became first Indian to win a gold medal in 400 m in the World U-20 Athletics Championship. Totally unbelievable moment it was. Again thanks to my coaches, Athletics Federation of India Sports Authority of India MYAS GOI."
We found that the World Athletics posted the longer version of the viral video on 12 August 2021 with the caption "Women's 400m Final – World Athletics U20 Championships Tampere 2018."
Indian sprinter Hima Das won India's first-ever gold as she posted time of 51.46 seconds in 400 metres in women's final at IAAF World Under-20 Athletics Championships on 12 July 2018. Hima Das broke a record to become the first Indian to get a gold in track events.
We checked India's athletics schedule at CWG 2022 in Birmingham and found that Hima Das has been scheduled to run on 6th August 2022. She will take part in 4x100m relay race.
Conclusion-
Fact Crescendo found the claim made along with the viral video to be False. The video shows a clip from World Athletics U-20 Championship Tampere 2018. Hima Das won a gold medal in the Women's 400-metre race held at the IAAF World Under-20 Athletics Championship in 2018. Hima Das will participate in the Women's 400-metre race at CWG 2022 on 06 August 2022.

Title:Video from 2018 shared as Hima Das winning 400m race in CWG 2022
Fact Check By: Drabanti Ghosh 
Result: False