The viral footage is six years old and shows a suicide bombing that happened in Istanbul on March 19, 2016.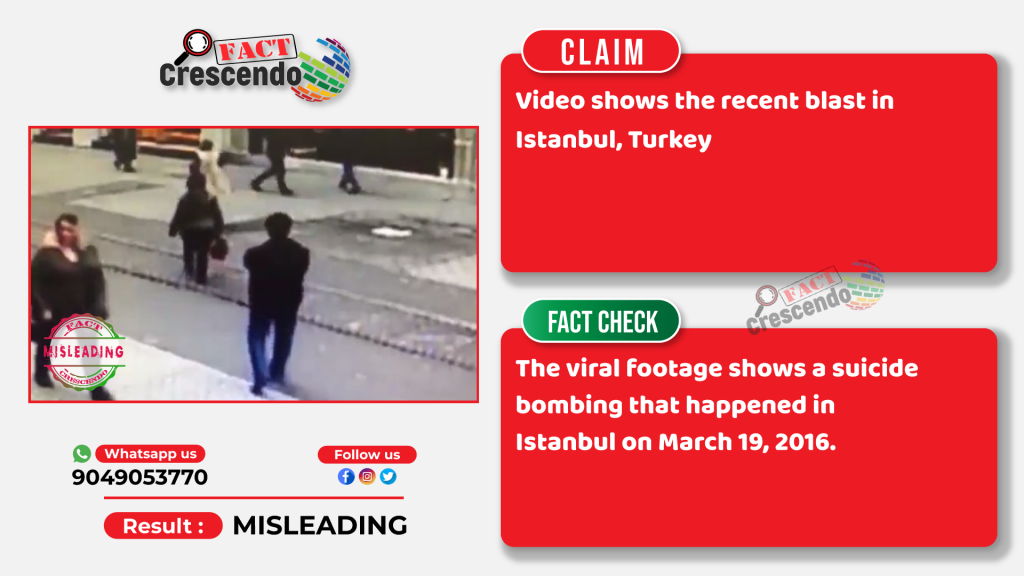 Six people were killed and 81 others wounded in an explosion rocked a busy pesdestrian street in Istikal Avenue in central Istanbul. The blast happened at about 16:20 local time (13:20 GMT) on Sunday November 13. Turkey has blamed Kurdish rebels. Interior Minister Suleyman Soylu said early on monday that the person who left the bomb that caused the explosion on Istanbul's Istiklal Avenue has been arrested and pieces of evidence show PKK/YPG terrorist group was behind the attack.
In this backdrop video showing CCTV footage of a suicide bomber denoting an explosive in the street is being circulated online, with the claim that it depicts the recent explosion in Istanbul.
Fact Check-
We discovered the date and timestamp March 19, 2016 at 10:57:55 written at the end of the viral video after closely examining it. It suggested that the video was old, so searched Google for "istanbul blast 2016" and found reports of another blast that had occurred in the same Taksim Square area of the city where the recent blast occurred. 
On 19 March 2016, a suicide bombing took place in Istanbul's Beyoğlu district in front of the district governor's office. The attack occurred at 10:55 (EET) at the intersection of Balo Street with İstiklal Avenue, a central shopping street. The attack caused at least five deaths, including that of the perpetrator. Thirty-six people were injured.
The incident which matched the date and time stamp provided in the viral video.
We also found that the same video was uploaded to Twitter on March 19, 2016, with a caption, "video footage of the suspected suicide bomber today #İstiklal #Istanbul."
We also noticed another article by The Jerusalem Post that contained the same information as well as a video that matched the one that was going viral as recent.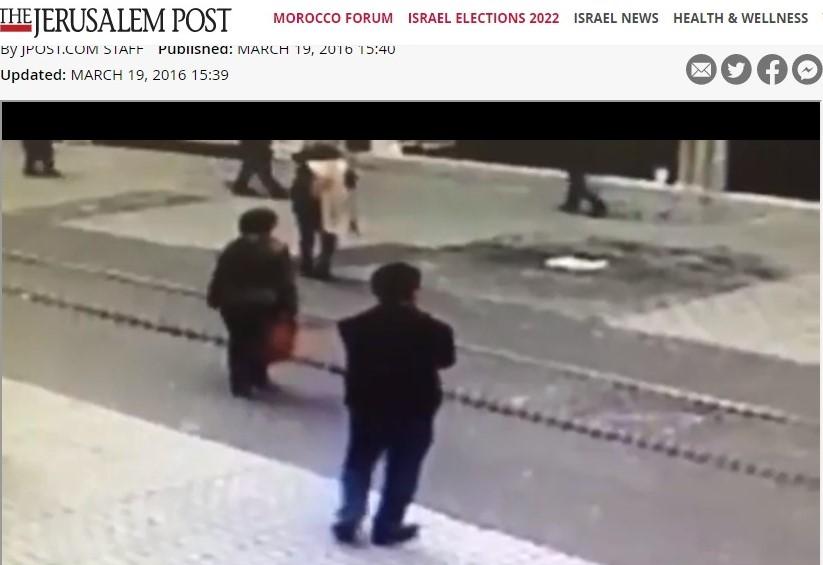 As a result, we can clearly see that a 2016 video of a similar suicide bombing that occurred not far from Taksim Square, the site of Sunday's blast, is being falsely shared as recent.
Conclusion-Fact Crescendo found the claim made along with the viral video to be Misleading. The video is from 2016, and it depicts similar suicide bombings in Istanbul that were shared as recent. 

Title:Video from 2016 shared as recent blast in Istanbul
Fact Check By: Usha Manoj 
Result: Misleading