This video is from August 2015. It shows an explosion in a chemical warehouse in the Chinese port city of Tianjin.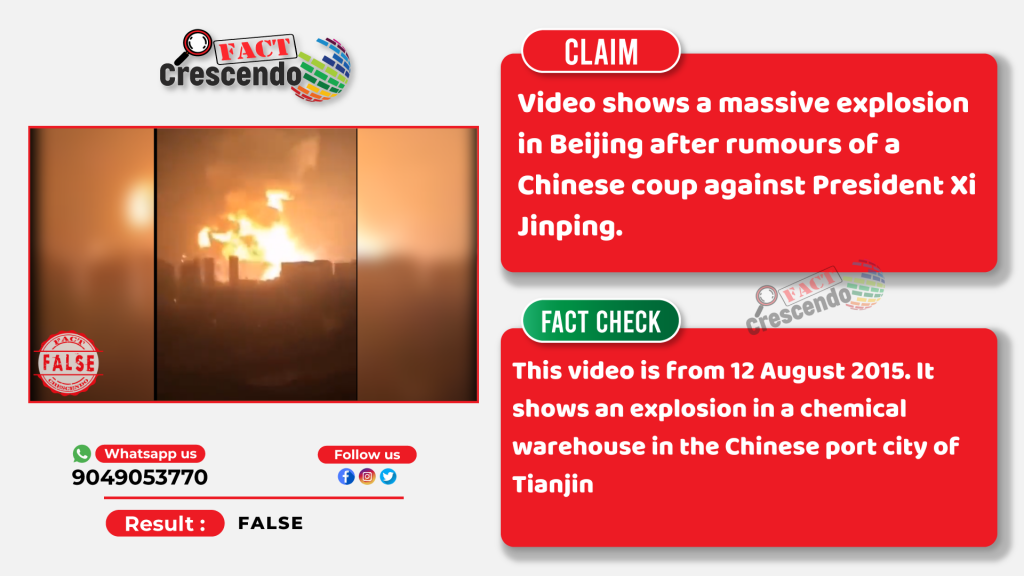 There were rumours of a coup in China due to which President Xi Jinping was removed from the control of military and placed under house arrest. A video of a massive explosion, allegedly recorded from a building's window, has gone viral in the midst of this. Social media users claim that this video shows a recent blast om Beijing after the coup in China.
The caption of the video states "Footage of big explosions coming from Beijing during the china coup against Xi Jinping. China is in turmoil! Xi Jinping is missing! Is this a coup? Has he been assassinated and I uncover a military mystery no one is talking about."
Fact check
We started our investigation by running a reverse image search on Google whose results led us to the same video uploaded by 24/7 SERGE TV and BBC News in August 2015.
A Russian text caption translates to, "The Beginning of China Explosion Tianjin". According to BBC News, the video shows an explosion in Tianjin. Footage of two massive explosions in the Chinese city of Tianjin, taken by a stunned eyewitness, captured the fear and terror of those who saw what happened. Dozens of people died and hundreds were injured when a warehouse owned by a company specialising in handling hazardous goods caught fire and exploded. Eyewitness Dan van Duren filmed the moment of the explosions, before he and others fled to avoid the danger.
We ran another keyword search to find out more information about the "Tianjin Blast"  and found that on 12 August 2015, a series of explosions at the Port of Tianjin , northern China, killed 173 people. The explosions occurred at a container storage station in the Binhai New Area of Tianjin. You can read a few of the reports on the incident here and here.
We could not find any relevant news report that stated about any recent blast in Beijing, China.
Conclusion
Fact Crescendo found the claim made along with the viral video to be False. The viral video was from 2015. It shows an explosion in a chemical warehouse in Tianjin, China's port city. This explosion claimed the lives of 173 people and injured hundreds more. 

Title:Video from 2015 shared as recent blast from Beijing in the wake of the coup rumors against Chinese President Xi Jinping.
Fact Check By: Usha Manoj 
Result: False