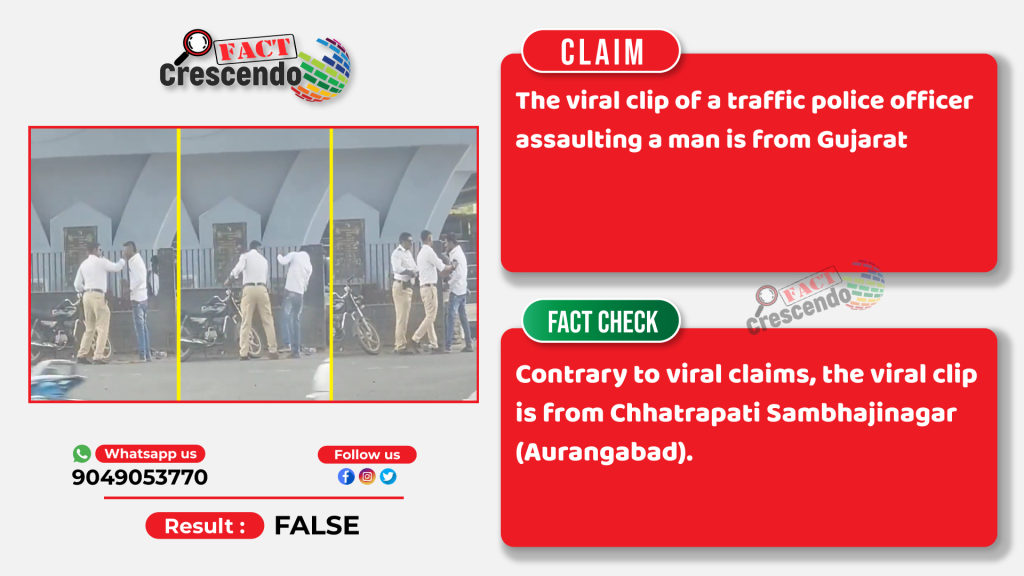 A clip showing a traffic police officer assaulting a man has sparked a controversy on social media. The viral clip has been linked to multiple cities, including Mumbai and Surat, prompting intense criticism of those respective city's authorities. 
Fact Crescendo received this video with fact-check requests on our WhatsApp Tipline (9049053770).
We confirmed that the video is neither from Mumbai nor Gujarat. Instead, the incident took place in Chhatrapati Sambhajinagar (Aurangabad).
WHAT'S THE CLAIM?
We can see in the viral clip a traffic police officer forcefully slapping and kicking a man, while another officer intervenes and attempts to separate them.
Filmed from a distance, the clip has been widely shared with claims of its occurrence in both Mumbai and Gujarat. 
FACT-CHECK
Using keyword search, we came across several Marathi news reports about this video.
According to Maharashtra Times, the incident took place at Kranti Chowk in Chhatrapati Sambhajinagar on 20 May. Traffic Police Constable Pradeep Chavhan brutally thrashed a bike rider for jumping the signal. 
Lokmat quoted Traffic Police Inspector Pradeep Kathane saying the rider was allegedly drunk and engaged in a heated argument with the police officers after violating a red signal. 
No formal case has been registered regarding this incident.
CONCLUSION
Contrary to viral claims, the clip of a traffic police officer assaulting a man is from Chhatrapati Sambhajinagar (Aurangabad). It has been wrongly shared as an incident from Mumbai and Gujarat.
(If you come across any news, videos, or images that seem too good (or bad) to be true, don't hesitate to send them our way. Our team of fact-checkers will look into it and then share our findings with you. Together, we can fight the spread of fake news and misinformation. Our WhatsApp number is 9049053770. To stay updated, follow us on Facebook, Twitter, or Instagram.)

Title:Traffic Police Assaulting A Man in Aurangabad Viral In The Name Of Various Cities
Written By: Mayur Deokar 
Result: False