RBI's official spokesperson confirmed to us that the viral video is edited and this is not RBI Governor's voice.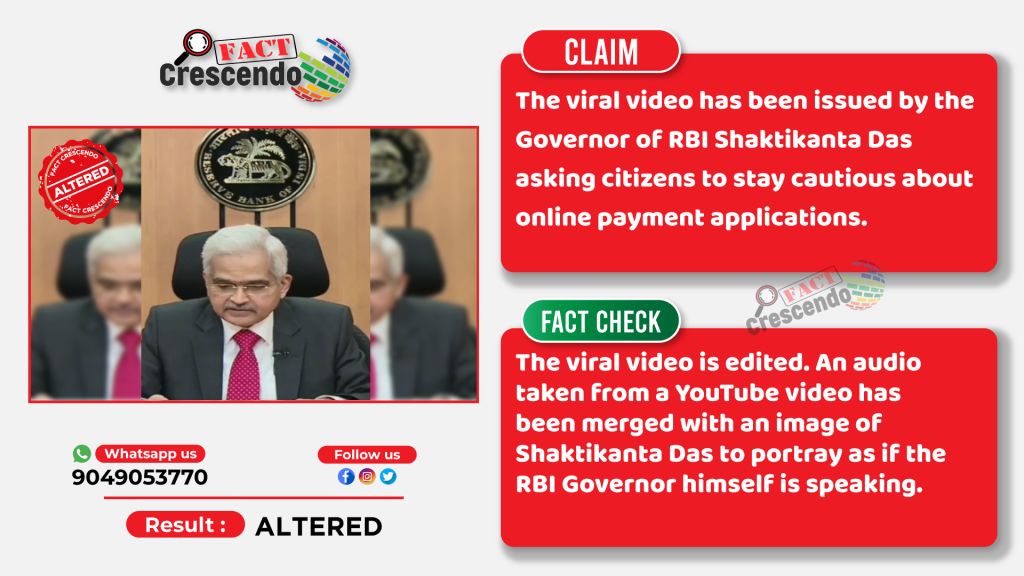 A video allegedly showing the Governor of the Reserve Bank of India (RBI)- Shaktikanta Das showing him cautioning mobile payment users about application and payment fraud is widely circulating on social media. The viral video shows Shaktikanta Das advising people on payment application fraud such as PhonePe, Google Pay and PayTM. 
Fact Crescendo received this video on our WhatsApp Factline number 9049053770 for verification.
Social media users claim that the viral video has been issued by the Governor of RBI Shaktikanta Das, asking citizens to stay cautious about online payment applications.
Fact Crescendo found that the viral video was edited. An audio taken from a YouTube video has been merged with an image of Shaktikanta Das to portray as if the RBI Governor himself is speaking.
Fact Check- 
We started our investigation by running a keyword search on Google to find relevant news reports. However, we could not find any news report that mentioned the Governor of RBI had issued a cautionary video message to online payment application users.
Next, we ran a keyword search on Google and YouTube, whose results led us to the video of the public address by RBI Governor Shaktikanta Das. The video was streamed live on 4 May 2021 with the caption "Address by Shri Shaktikanta Das, RBI Governor."
We can see that the RBI Governor is wearing the same outfit as seen in the viral video. However, we found that in the video streamed live in 2021, he was not speaking about digital wallets or protection against financial fraud.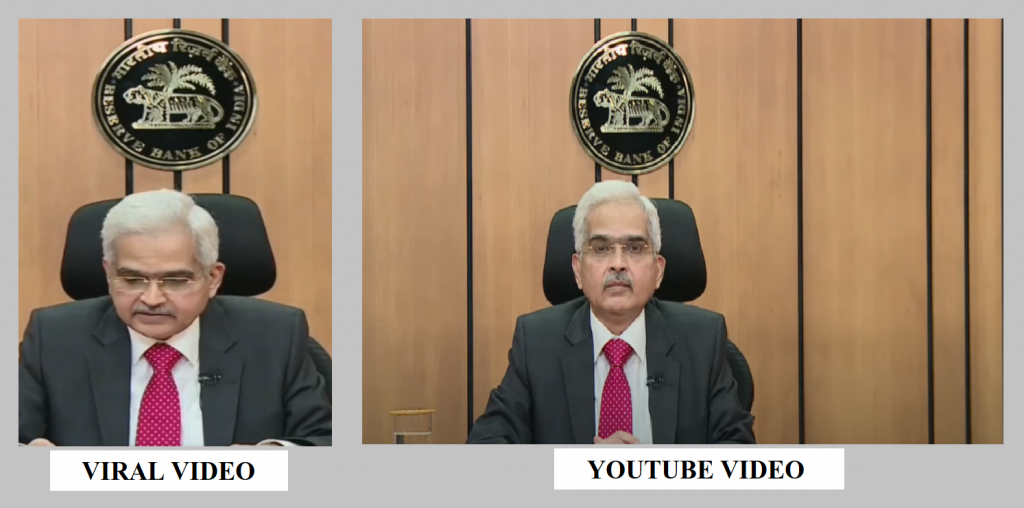 Originally, the RBI Governor was speaking about the COVID-19 pandemic, and the challenges India had faced through it. He continued to speak about the measures taken by RBI to provide financial relief to COVID-19 affected businesses to restore normalcy.
Another relevant keyword search led us to a reel made by a content creator named Mausam Nagpal uploaded in August this year. We found that the audio from this video has been edited and added to the video address by the RBI Governor in 2021.
https://www.facebook.com/reel/872014540854755
Fact Crescendo spoke with RBI's official spokesperson Yogesh Dayal, who told us that the viral video was edited and fake. This is a fake message and this is not the RBI Governor's voice.
PIB Fact Check has also issued a tweet regarding this video calling it out as Fake.
Conclusion- Fact Crescendo found the claim made along with the viral video to be False and Edited. The viral video has been edited and created to portray a cautionary message issued by the RBI Governor Shaktikanta Das. An audio of the content created has been added to the video address by the Governor. It is important to note that while the information provided in the video is accurate, but it was not shared by RBI Governor Shaktikanta Das. 
Title:This video message on online wallets has NOT been issued by RBI Governor
Fact Check By: Drabanti Ghosh 
Result: Altered