The video is a scripted and not based on any real incident.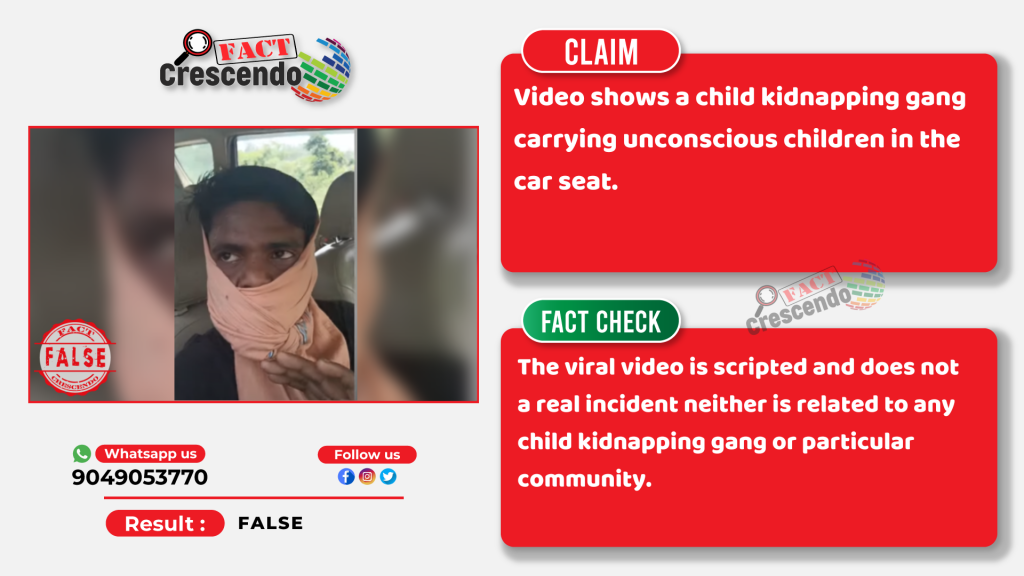 A video purportedly showing a group of child kidnappers with children lying unconscious in the backseat of car is widely circulating on social media. Users claim that the child kidnapping gang can be seen with kidnapped children in the backseat.
The caption of the post states, "These are child kidnappers, be aware."
(Hindi: "नए बच्चों को चुराने वाले लोग") 
Fact Check- 
We found this video posted by a verified YouTube channel named Social Message on 20 July 2022. According to the channel, they post videos that delivers a social message to their audiences. The caption states "Child Kidnapping gang caught by public." This video is 5.08 minutes long. 
At the timestamp of 11 seconds and 2.02 minute, we observed a disclaimer that states, "This video is a complete fiction all the events in the video are scripted and made for awareness purpose only. This does not promote any kind of activity or defame any kinds of ritual. Any similarity to actual persons, alive or dead or actual events is purely coincidental."
WHY DO YOU NEED MORE CONTEXT?
Users may wonder that staged or not, the video intends to spread awareness about being cautious of unknown or suspicious men who might turn out to be a part of child kidnapping gang.
Fact Crescendo has debunked several such videos that went viral as how villagers have thrashed or caught child kidnappers in 2019. However, we found that the suspected people were either mentally unstable or just passing by a village or town; or it was just a false suspicion. We also found that some of these videos were also scripted. Thus, it is very important to clarify whether a video is scripted or not because viewers watching the video might react believing it to be true.
Fact Crescendo has debunked several such staged and scripted videos, which were viral with communal claims or false child kidnapping gang claims. 
Many times these fictional videos are shared to spread misinformation and create communal tension.
For example:
1. A "staged" video was shared with a false communal claim that Muslim men duped Hindu girls posing as Hindu boys. (Read Fact-Check)
2. A "scripted" video was shared with a baseless claim that a Muslim boy was captured stealing the bike of a young girl. (Read Fact-Check)
3. A "fictional" video was shared as a real incident of child kidnapping. In India, rumors of child kidnappings have already led to several deaths in mob lynchings. (Read Fact-Check)
4. A "made-up" video from the same Sanjjanaa Galrani page went viral as a real incident of a man being electrocuted while using mobile phone plugged for charging. (Read Fact-Check)
5. A scripted video went viral as a real incident of a dowry case where the groom refused to marry the bride because of less dowry. Times of India falsely reported this video as well. (Read Fact-Check)
6. A scripted video went viral as a real incident showing a Muslim tailor harassing a Hindu woman. (Read Fact-Check)
7. A scripted video went viral as a real incident showing Muslim female child kidnapper kidnapping children in suitcase bags. (Read Fact-Check)
In the name of "social awareness" or "motivational" or "Comedy" videos, these scripted videos are solely made to garner views and hits on social media. 
Sometimes they are shared out of context and sometimes with outright false and dangerous communal claims. Therefore, users need to know the full context of these videos.
Conclusion- 
Fact Crescendo found the claim made along with the viral video to be False. The video is nor a real incident and neither related to any child kidnapping gang or particular community. The video is scripted and as per the creators, they intended to deliver a social message through this video. 
(If you also come across any such videos and images you think are falsely viral, send them on our WhatsApp Helpline (9049053770) or tag us on Facebook, Twitter, and Instagram.)

Title:Scripted video shared as child kidnapping gang
Fact Check By: Drabanti Ghosh 
Result: False