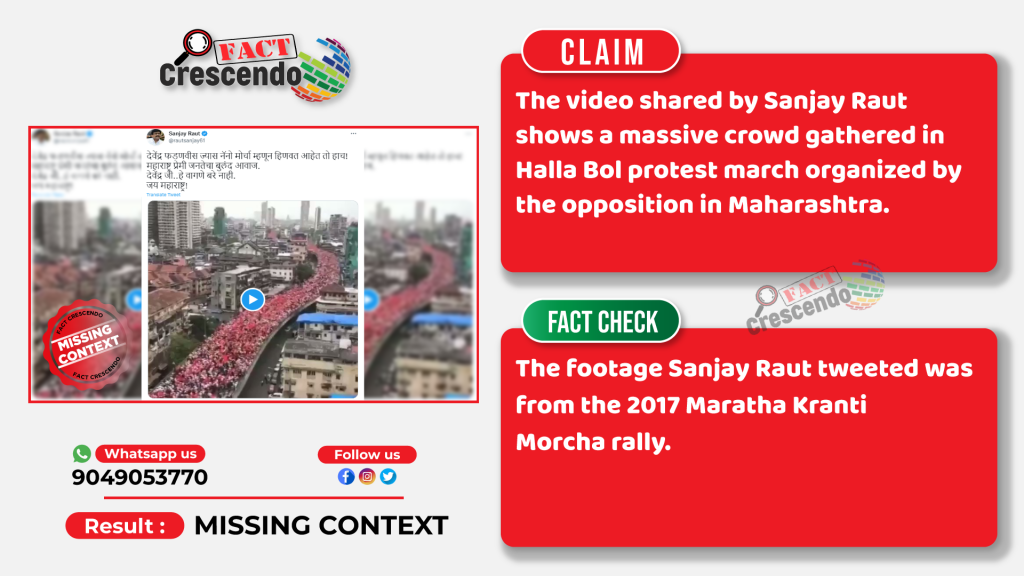 Mahavikas Aghadi, the coalition of Shivsena (Uddhav Thackeray group), Nationalist Congress Party (NCP), and Indian National Congress (INC), took out a 'Halla Bol' protest march on 17 December in Mumbai. 
It was organized against the Eknath Shinde-Bharatiya Janata Party (BJP) government in the state on various issues including Governor BS Koshyari's controversial remark on Chhatrapati Shivaji Maharaj and Maharashtra-Karnataka border dispute.
Deputy Chief Minister and BJP leader Devendra Fadnavis criticized the march by calling it a "nano morcha for political capital." 
While responding to Fadnavis' disparaging comments, Shivsena MP Sanjay Raut shared a video of a huge crowd marching on a bridge claiming it to be the visuals of the recent MVA-organised Halla Bol protest in Mumbai.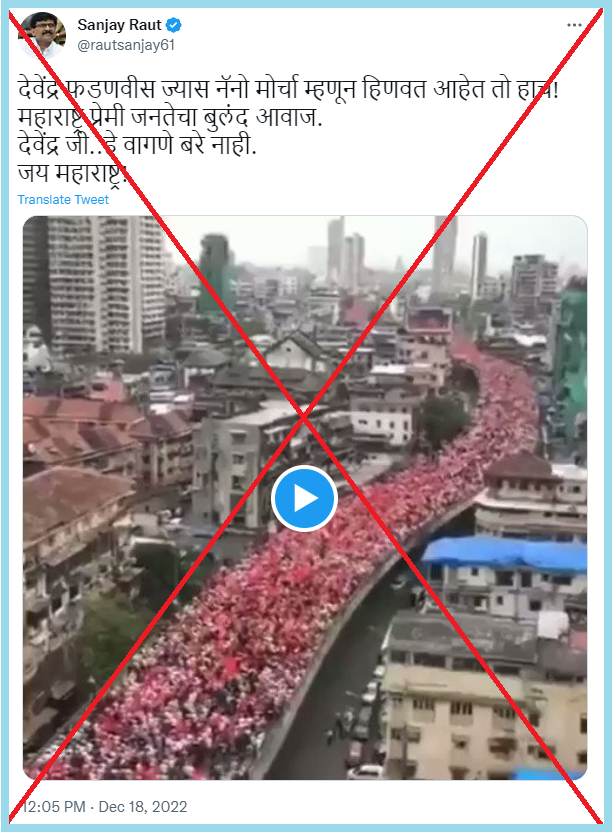 Fact Crescendo received the viral video on our WhatsApp Tipline (9049053770) with fact-check requests.
We found that the video shared by Sanjay Raut is old and not from the recent 'Halla Bol' protest. 
FACT-CHECK
Google reverse image search on the key-frames led us to the same video uploaded in 2017 on YouTube. 
Taking a clue from it, we searched and found the same video tweeted by the Times of India on 9 August 2017. According to it, it was a massive rally by Maratha Kranti Morcha in Mumbai. The video was taken at the JJ flyover. 
Under the banner of Maratha Kranti Morcha, the Maratha community organized processions in 57 different cities in Maharashtra to demand reservations in jobs and education. 
The year-long campaign culminated in Mumbai on 9 August 2017 with a mammoth rally. 
In the comparison video below, you can see that the video shared by Sanjay Raut and the 2017 video of Maratha Kranti Morcha are the same. In both videos, a white vehicle passes below the bridge.
You can see the longer version of the original video here.
Halla Bol Morcha
The opposition MVA's 'Halla Bol' protest began at J J Hospital at Byculla on Saturday and concluded at the Chhatrapati Shivaji Maharaj Terminus (CSMT) in south Mumbai.
Shiv Sena leader Uddhav Thackeray and NCP leader Ajit Pawar participated in the foot march along with various leaders and workers from Shiv Sena, NCP, and Congress.
CONCLUSION
Sanjay Raut shared an old and unrelated video to show a massive crowd at the recent Halla Bol protest march in Mumbai. The footage he tweeted was from the 2017 Maratha Kranti Morcha rally. 
(If you also come across any such videos and images you think are falsely viral, send them on our WhatsApp Helpline (9049053770) or tag us on Facebook, Twitter, and Instagram.)
Title:Sanjay Raut Shared Old Video As Recent Halla Bol Protest March Organised By MVA
Fact Check By: Mayur Deokar 
Result: Missing Context