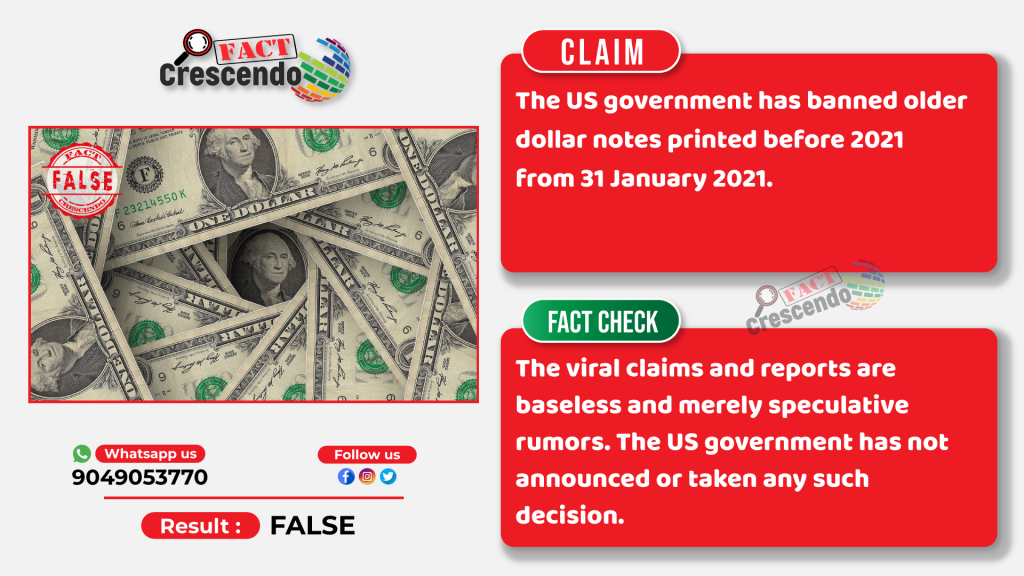 Social media is buzzing with rumors that the USA is going to have its own 'notebandi' (demonization) moment next year. 
It has been widely claimed that the US government has decided to not accept dollar notes printed before 2021 from January next year. 
Fact Crescendo received the viral message on our WhatsApp Tipline (9049053770) with fact-check requests.
We found that as many things on the internet, it is just baseless speculation.
WHAT'S THE CLAIM?
Many users have tweeted that "after 31 January 2023, older dollar notes printed before 2021 will no longer be a legal tender anywhere in the world."
Some websites also reported the same. Observer Times claims that the decision to reject older dollar notes was taken after the meeting between the US Federal Reserve Bank, International Monetary Fund (IMF), World Bank, and Governors of Africa's Central Banks.
The news report further claims that "this effort is to curb billions of illegal monies in dollar bills warehoused around African continent emanating from drug-related, terrorism, kidnapping and money from corrupt politicians."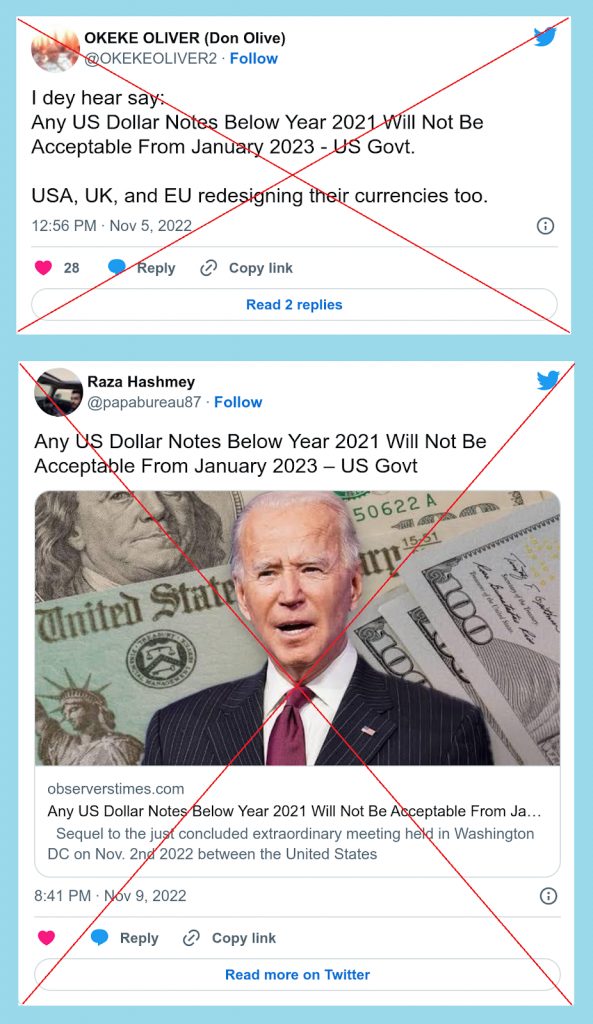 Original Post – Twitter | Archive | Twitter | Archive
FACT-CHECK
First, we checked whether such a decision was really taken or not by the US government. 
Given the gravity and magnitude of the decision, it would have been reported and discussed all over the news media. But we did not find a single credible news report on the rumored decision of this so-called 'notebandi' in the USA.
We even checked US Federal Reserve Bank, International Monetary Fund (IMF), World Bank, and various Central Banks from Africa and found no such announcement.
The absence of any reporting about the viral claim raises the question of its authenticity. 
The US Currency Notes System
The Department of the Treasury operates and maintains the production of coins and currency in the US. It also does not have any update on this speculative ban on older dollar bills. 
The US Currency Education Program (CEP) clearly states that it is U.S. government policy that all designs of US currency remain legal tender, regardless of when they were issued.

The Bureau of Engraving and Printing (BEP) has the responsibility of developing and producing US currency notes. The US currently issues $1, $2, $5, $10, $20, $50, and $100 notes. You can read the full history of US currency here. 
In the FAQ section of its website, the US Federal Reserve Bank advises that "people do not have to trade in your old-design notes for new ones."
In other words, older notes remain in circulation even after new notes are issued. 

CONCLUSION
Hence, it is false news that the US government has banned older dollar notes printed before 2021. The viral claims and reports are baseless and merely speculative rumors. The US government has not announced or taken any such decision.
(If you also come across any such videos and images you think are falsely viral, send them on our WhatsApp Helpline (9049053770) or tag us on Facebook, Twitter, and Instagram.)

Title:Rumor: Has The US Government Banned Dollar Notes Printed Before 2021?
Fact Check By: Mayur Deokar 
Result: False