Prime Minister Modi was unable to attend the Mandi rally due to heavy rain. He did, however, virtually attend the rally.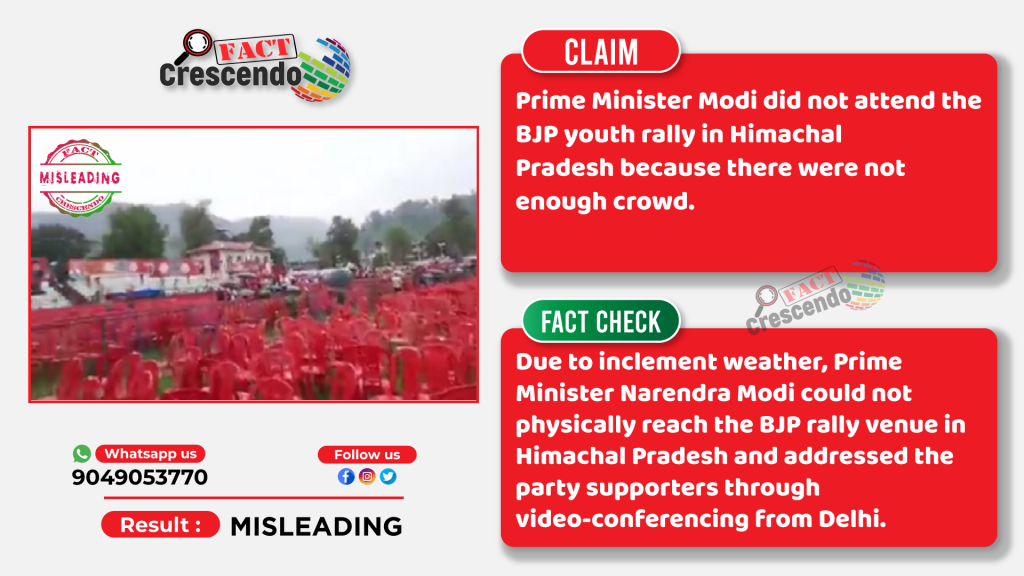 The Bharatiya Janata Yuva Morcha (BJYM) organised the 'Yuva Vijay Sankalp Rally' at Mandi's Paddal Maidan ahead of the Himachal Pradesh assembly election later this year. It was announced that PM Narendra Modi will address the rally.
Amidst this a misleading video of Prime Minister Modi's rally is circulating on social media.
The video footage shows empty chairs in a open field. In the background, Prime Minister Modi's speech can be heard. Users sharing the video claimed that Prime Minister Modi abandoned the program because the crowd did not turn up.
The caption given to the video is as follows "Modi ji's huge rally in Himachal!There was a claim of 1 lakh youth gathering in the rally. Seeing the situation, Modi did not reach Mandi..!
The post is also being shared in twitter with the caption "While streets of Gujrat are full of protests against the state BJP govt, BJP rally in Mandi Himachal Pradesh is turning out to be a waste of time, efforts and resources"
Fact Check-
We began our search with the BJYM rally at Himachal Pradesh and which led us to several reports of the media outlets. According to the reports due to inclement weather, Prime Minister Narendra Modi could not physically reach the BJP rally venue at Mandi's Paddal ground in Himachal and addressed the party supporters through video-conferencing from Delhi.   
The following day, The Newz Radar published a detailed report with the headline "Rain spoils BJP's Himachal rally, PM Modi makes virtual address from Delhi as supporters convert chairs into umbrellas" and the photograph below.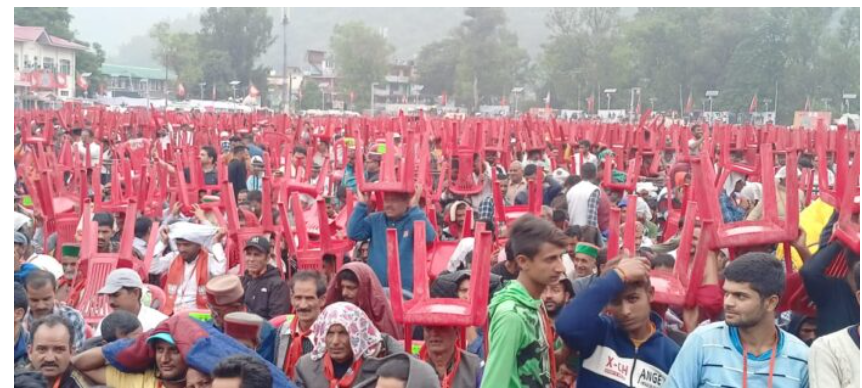 A long video of Modi addressing the rally has been posted on the Prime Minister's YouTube channel. The footage shows that the venue was not empty and the crowd was well attended. The video was streamed live on 23 September 2022. The caption of the video stated, "PM Modi addresses Yuva Sammelan in Mandi, Himachal Pradesh." Prime Minister Narendra Modi addressed Yuva Vijay Sankalp Rally in Mandi, Himachal Pradesh via video conference. PM Modi started his address by highlighting the contribution of Himachal to the development of the country as well as to the security of the country. PM Modi said, "From the attack on Jammu and Kashmir to the Kargil war, the brave people of Himachal have made the supreme sacrifice and held Maa Bharti's head high."
The Himachal Pradesh BJP's official Facebook page has explained that the viral video is misleading.
Conclusion-
Fact Crescendo found the claim made along with the viral video to be misleading, as Prime Minister Modi was unable to attend the Mandi rally due to heavy rain. He did, however, virtually attend the ceremony. The claim that Prime Minister Modi skipped the event because less crowd is false.

Title:PM Modi had virtually attended the BJYM rally in HP
Fact Check By: Usha Manoj 
Result: Misleading