Pushpak Sen confirmed to Fact Crescendo that he is not a student of JNU and his images are falsely being shared linking with the recent JNU context.
Jawaharlal Nehru University (JNU) is making headlines again. This time there is anti-Brahmin graffiti on the walls of the university. On Thursday several walls of a building at JNU were defaced with anti-Brahmin slogans, reported The Hindu. 
The images of these graffiti on the walls of JNU went viral on social media platforms. This in turn sparked outrage on social media platforms. #Brahmin_Lives_Matter started trending on Twitter. The JNU Teachers forum and Vice Chancellor Prof. Santishree D. Pandit took note of the event. VC Pandit has directed the Dean of School of International Studies and Grievances Committee to initiate an enquiry and submit a report on the entire incident.
Amidst this, an image showing a non-binary model wearing a saree is widely circulating on social media with the claim that this person is a student from Delhi's Jawaharlal Nehru University who support the anti-Brahmin slogan issue.
The caption of the post states, "This is the category of Delhi's Jawaharlal Nehru University which has problems with Brahmins and Baniyas."
However, Fact Crescendo found the viral claim to be False.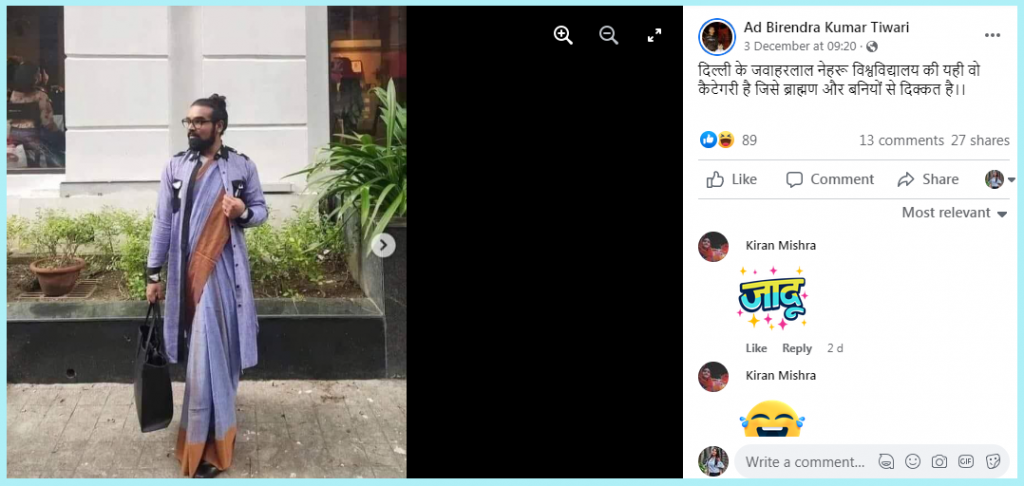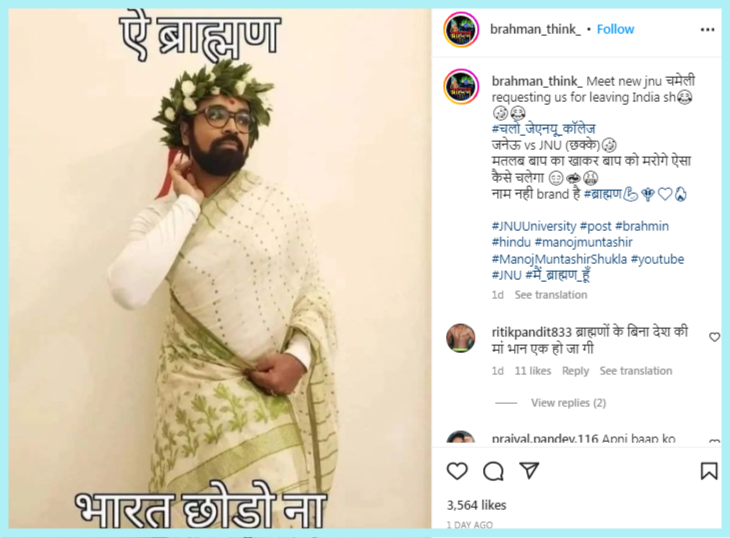 Fact Check-
Fact Crescendo ran a reverse image search on the viral image that led us to the Instagram account of the user named Pushpak Sen whose Instagram ID is "thebongmunda." The image was uploaded on 22 May 2022 and was captured at the Great Eastern Lalit hotel in Kolkata. According to the description of the account, he is from Kolkata.
He uploaded the second image on 11 December 2021 with the caption, "Master in Fashion Communication and Marketing. @polimodafirenze Class of 2021."
Fact Crescendo spoke with Pushpak who confirmed to us that he has never been a part of JNU neither the image uploaded by him has anything to do with the recent incident at JNU. He told us that he has completed his under graduation from Ashutosh College and has pursued his Masters in English Literature at the Calcutta University. He has also pursued a Masters degree in Fashion from the Polimoda Institute in Florence, Italy.
According to the Telegraph and the Indian Express, he actively promotes the idea of Gender-neutral fashion.
Conclusion-
Fact Crescendo found the claim made along with the viral image to be shared without context. The student seen in the viral image is not a JNU student. His name is Pushpak Sen whose image has been falsely used to claim that he is a part of the anti-Brahmin slogan issue at JNU.

Title:Photo of a model in saree is not a JNU student supporting the Anti Brahmin slogan row
Fact Check By: Drabanti Ghosh 
Result: False