The video is not from Pakistan but shows an incident from Indore, Madhya Pradesh in 2011.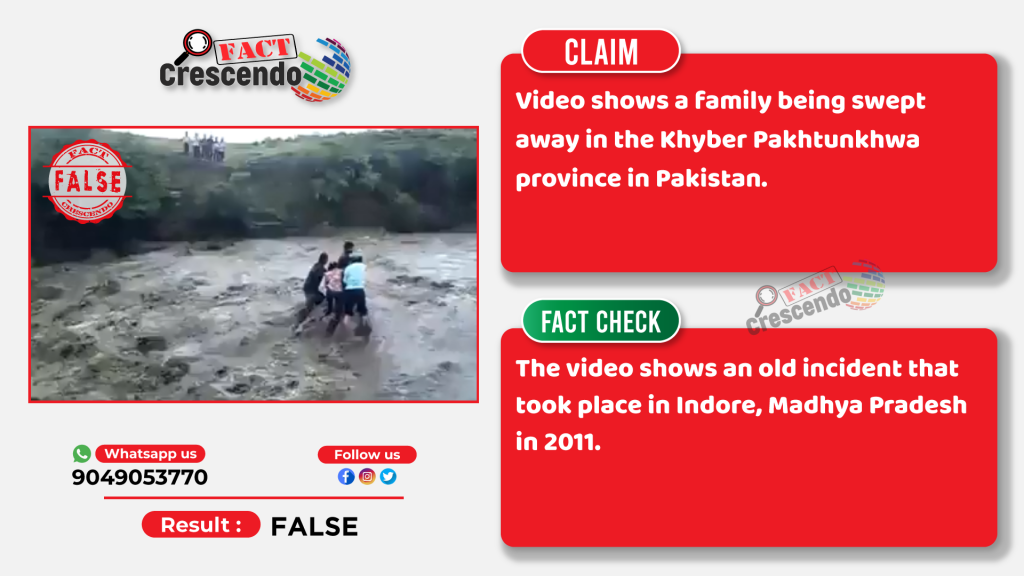 A video showing a family of five being swept away as they try to cross a waterfall is widely circulating on social media. Users claim that this video is from Khyber Pakhtunkhwa province in Pakistan.
Pakistan is experiencing its worst floods this century, with rivers breaking their banks, flash flooding, and glacial lakes bursting. At least one-third of the country is under water.
The caption of the post mentions, "Flood in Khyber Pakhtunkhwa swept away the whole family."
However, Fact Crescendo has found that the video is not from Pakistan. Let's find out where this video is from.
Fact Check-
We started a keyword search on Youtube, whose results led us to the same video published by the official account of Wild Films India on 11 December 2015. The caption of the video states, "Waterfall incident in India sweeps family into the water."
According to the video descriptions this tragic accident happened at the Patalpani waterfall in Indore, Madhya Pradesh when a father and his four kids celebrated the MBA graduation of the oldest daughter and got surprised by the freak flood. A tragedy for these 3 family members resulted – the father and 2 girls died while the 2 boys are alive.
Next, we ran another keyword search on Google to find relevant news reports and the results led us to reports published about this incident on 18 July 2011. According to NDTV and Indian Express Archives,five members of a family were swept away in the waterfall at Patalpani after the water level rose suddenly due to a flood caused by a spell of rainfall.
According to the Bargauda Police, the body of Chhavi (22) was recovered, efforts are on to trace the bodies of the other two victims identified as Chandrasekhar Rathi (51), and Modika Rathi (22). 
The bodies of Mudita's friend Chavi Dhoot and her father Chandrashekhar were found on July 18 and 19 respectively. 
Conclusion- 
Fact Crescendo found the claim made along with the video to be False. The viral video is not from Pakistan but shows an old incident that took place in Indore, Madhya Pradesh in 2011. The video has no relation with the ongoing flood situation in Pakistan. However, it is true that Pakistan is experiencing one of the worst floods of the century which has swept away a lot of houses and people.

Title:Old video from Indore viral as family swept away in Pakistan floods.
Fact Check By: Drabanti Ghosh 
Result: False