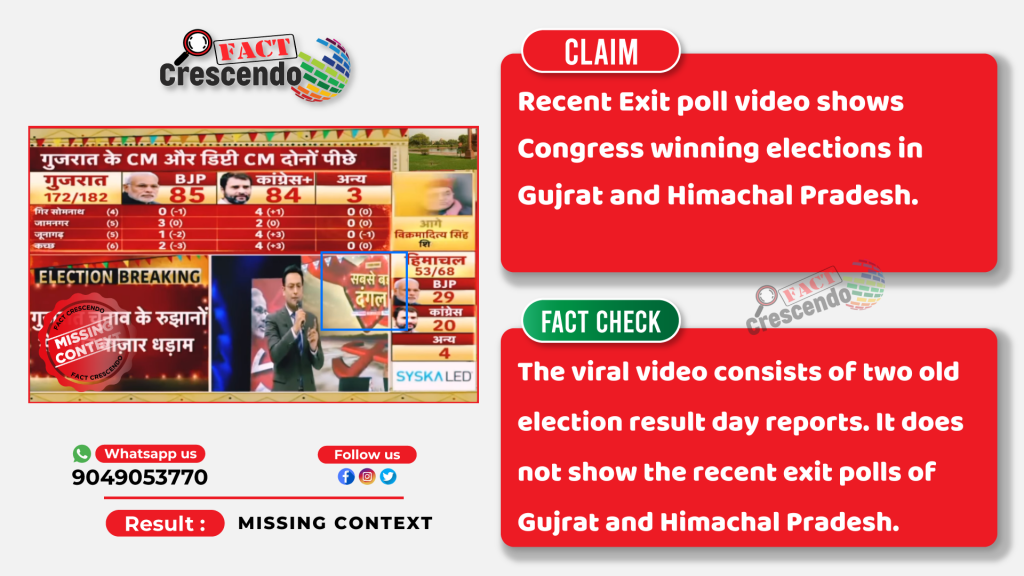 As the Gujrat assembly elections are approaching, social media is abuzz with speculations about which party is going to score the largest number of seats. 
Amidst the election frenzy, a video of an alleged exit poll showing Congress ahead of BJP in Gujrat is doing round on social media. It has been claimed that a recent exit poll predicts Congress's win in the both of upcoming assembly elections. 
Fact Crescendo received the viral video on our WhatsApp Tipline (9049053770) with fact-check requests.
We found that the video is old from the 2017 assembly election's result day. 
WHAT'S THE CLAIM?
The viral video shows the BJP tally at 85 seats, closely followed by Congress with 84 seats. The ticker reads that Gujrat CM and deputy CM both are trailing behind in their respective constituencies.
The caption along with this video reads: "Exit Polls of Gujrat and Himachal Pradesh Elections."
Original Post – Facebook
FACT-CHECK
Close viewing of the viral video points at a few details which cast doubts on the accompanying claim. 
We noticed the name of the news show is 'Sabse Bada Dangal'. Taking clues from it, we looked for the original news report. 
We found the same video on the News-18 India channel's YouTube channel uploaded on 18 December 2017. 
The news show was broadcasted on the result day of the Gujrat and Himachal Pradesh assembly elections in 2017. 
The numbers we see on screen are not of some exit polls but of vote counting. 
In the viral video, we can see Rajasthan and Madhya Pradesh numbers as well.
A keyword search led us to the News-24 channel's report published on 11 December 2018.
It shows seat counting on the result day of the Rajasthan and Madhya Pradesh assembly elections in 2018. 
Hence, this video is also old and not related to recent assembly elections in Gujrat and Himachal Pradesh. 
Exit Polls in India
According to the Election Commission advisory, exit polls can be telecast only after the final phase of polling.
Section 126A of the Representation of the People's Act, 1951 clearly states that "No person shall conduct any exit poll and publish or publicize by means of the print or electronic media or disseminate in any other manner, whatsoever, the result of an exit poll during such period as may be notified by the Election Commission in this regard."
Himachal Pradesh elections were held in a single phase on November 12. 
Gujarat is going to poll in two phases on December 1 and December 5. 
The results for both assembly elections will be declared on December 8.
CONCLUSION
Hence, it is clear that the viral video consists of two old election result day reports. It does not show the recent exit poll of Gujrat and Himachal Pradesh. 
(If you also come across any such videos and images you think are falsely viral, send them on our WhatsApp Helpline (9049053770) or tag us on Facebook, Twitter, and Instagram.)
Title:Old Video Falsely Viral As Recent Exit Poll Showing Congress Winning Gujrat Election
Fact Check By: Mayur Deokar 
Result: MISSING CONTEXT