A video is being circulated showing an anchor repeatedly stressing that old Rs. 2 coin can make you rich overnight as buyers are ready to pay lakhs of rupees. finally, she urges you to open Quikr account and asks you to upload a picture of the Rs. 2 coin and wait for a buyer.
Several news publications like Zeenews.com/business have also put out such information giving ste-by-step information on how to open a Quikr account. Here's the result when you search Google for Rs. 2 coin sale for lakhs and Digiteye India received above video for fact checking.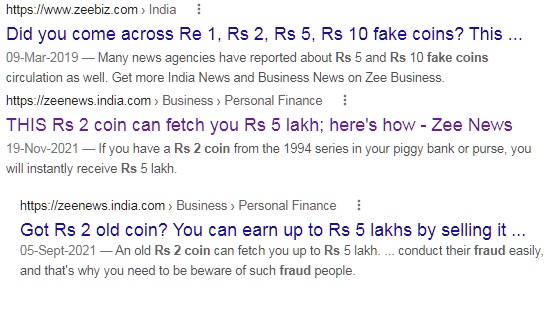 FACT CHECK
When the Digiteye team searched on Google, the claim was going on for over two years. A quick look at numismatics or old coins section of Quikr revealed that many old Rs.2 coins are being sold for not more than Rs.500. Moreover, Rs. 2 coins are not rare and minted in thousands even if they are for special events or memorial coins.
Some people on Quora have shared a warning that this could lead to another fraud whereby the purported buyer could eventually mislead the seller into giving away his bank account details, Aadhar card number and and even OTP before transferring the promised money. In turn, he or she would easily transfer amounts from your bank account.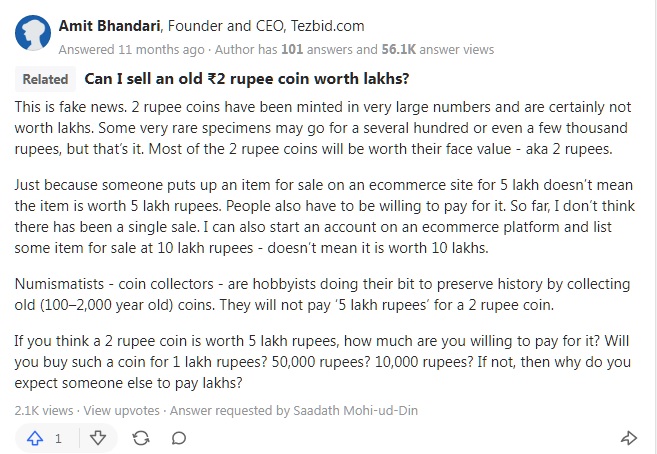 Amit Bhandari, Founder and CEO of Tezbid.com, an online numismatics e-commerce website for old coins, has categorically denied the claim and warned the public not to fall prey to such fraudulent tactics. Here's what he replied to such queries on Quora:
"This is fake news. 2 rupee coins have been minted in very large numbers and are certainly not worth lakhs. Some very rare specimens may go for a several hundred or even a few thousand rupees, but that's it. Most of the 2 rupee coins will be worth their face value – aka 2 rupees.

Just because someone puts up an item for sale on an ecommerce site for 5 lakh doesn't mean the item is worth 5 lakh rupees. People also have to be willing to pay for it. So far, I don't think there has been a single sale. I can also start an account on an ecommerce platform and list some item for sale at 10 lakh rupees – doesn't mean it is worth 10 lakhs.

Numismatists – coin collectors – are hobbyists doing their bit to preserve history by collecting old (100–2,000 year old) coins. They will not pay '5 lakh rupees' for a 2 rupee coin.

If you think a 2 rupee coin is worth 5 lakh rupees, how much are you willing to pay for it? Will you buy such a coin for 1 lakh rupees? 50,000 rupees? 10,000 rupees? If not, then why do you expect someone else to pay lakhs?

2 rupee coins are neither old, nor rare and can still be found in common circulation."
When the Digiteye India team followed the process as specified and put up such a coin of from 1994 on Quikr, a purported buyer finally offered to take it for Rs. 2 lakh but sought all the details such as bank details, Aadhar card number and other credentials on the pretext of verification. Finally, the person asked for OTP to be shared on the pretext of verification, which could have led to transfer of cash from the team member's  bank account instantly. This has been the experience of many as revealed in our online search.
What RBI says:
The Reserve Bank of India on Aug 24, 2021, cautioned the public against any bogus offer to buy or sell old banknotes and coins through various online or offline platforms as part of ongoing fraudulent activities.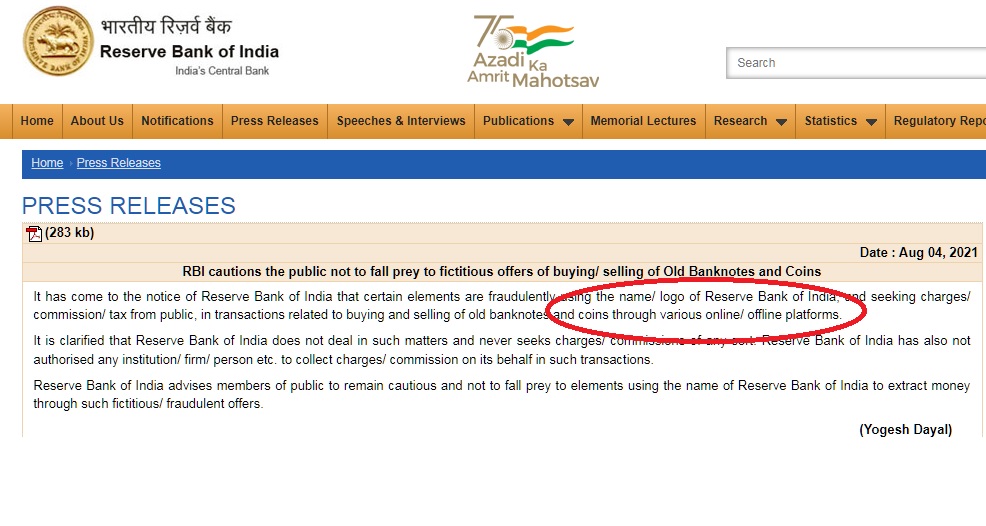 In a press release, the RBI advised members of the public to remain cautious and not to fall prey to elements using the name of Reserve Bank of India to extract money through such fictitious/ fraudulent offers.
"It has come to the notice of the Reserve Bank of India that certain elements are fraudulently using name/logo of RBI, and seeking charges/commission/tax from the public, in transactions related to buying and selling of old banknotes & coins through various online/ offline platforms," news agency ANI quoted RBI.
Digiteye India has, in the past, debunked several such claims on WhatsApp where people were assured of gifts, cars and home appliances on anniversaries of major companies such as Maruti Suzuki. The new Rs. 2 coin trick is another such fraudulent means to cheat the public.
Claim: Sell old Rs.2 coin online for lakhs of rupees.
Conclusion: Rs. 2 coin sells maximum for Rs.500 on online e-commerce websites of Quikr or Tezbid.com and the claim is false and could be part of online fraud to siphon off money from bank account.
Rating: Totally False —