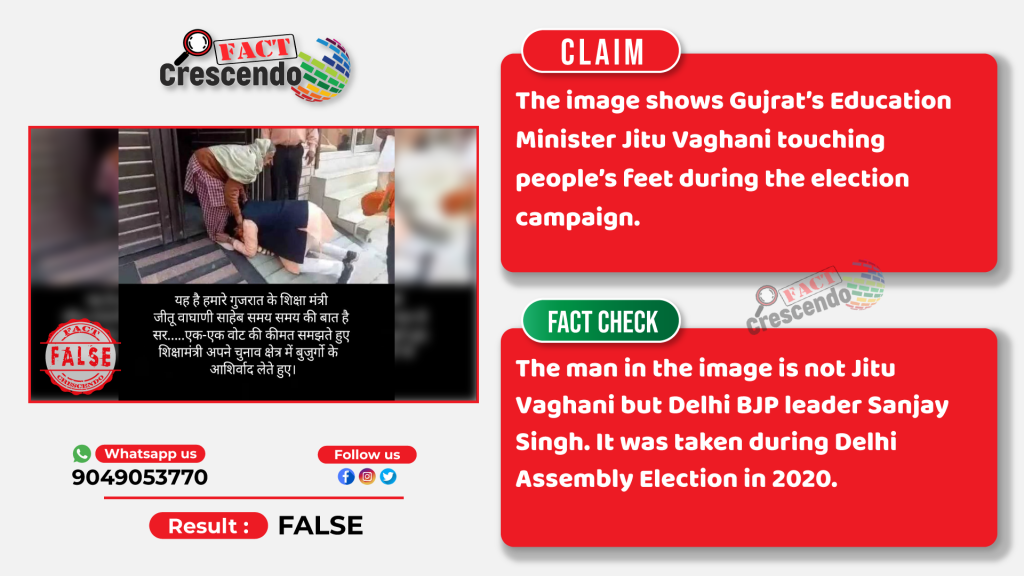 As the Gujrat Assembly Election is just a week away, political leaders of all parties are reaching out to voters to get their support. Apart from rallies, they are also knocking on the doors of common people soliciting their votes. 
One such image of a man leaning before an elderly woman is going viral. It has been claimed that it shows Gujrat's Education Minister Jitu Vaghani falling down on people's feet during the election campaign. 
Fact Crescendo received the viral video on our WhatsApp Tipline (9049053770) with fact-check requests.
We found that the image is from Delhi, not from Gujrat. It has been falsely shared with a misleading caption. 
WHAT'S THE CLAIM?
A viral image shows a man touching the feet of an elderly woman. The text along with the image reads: He is Gujrat's Education Minister Jitu Vaghani. He knows the value of one vote. That is why he is taking blessings of the elderly in his constituency. It shows the level of development in Gujrat that BJP leaders must lean before people to get votes. This is called Modi's Gujrat Model.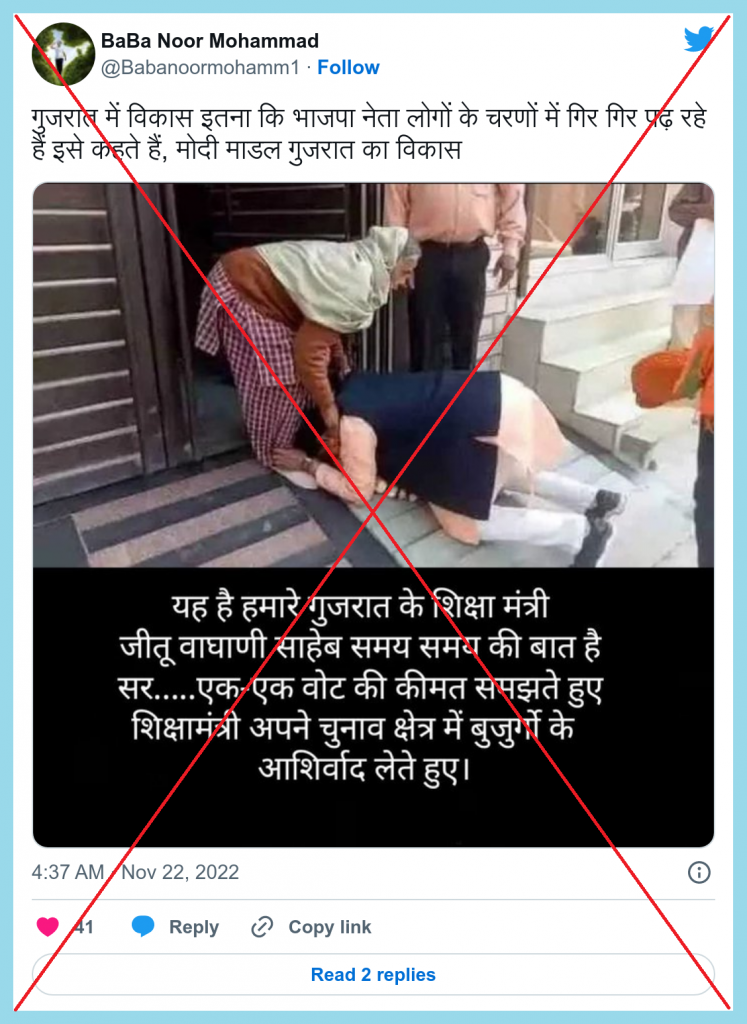 Original Post – Twitter | Archive | Facebook
FACT-CHECK
Google's reverse image search led us to a YouTube video uploaded two years ago. 
We can see the same man taking blessings of a woman in the video from the 26-second mark.
One India reported that he was BJP leader Sanjay Singh. He was campaigning during Delhi Assembly Election in 2020.
Sanjay Singh was a BJP candidate from the Vikaspuri constituency in West Delhi. 
To verify the identity, Fact Crescendo reached out to Sanjay Singh in Delhi. 
He confirmed that he is the man in the viral image. 
"I was BJP campaigning for Delhi Assembly Elections at the time. The image is going viral with a false claim. It is not from Gujrat but Delhi," he told. 
CONCLUSION
Hence, an old image from Delhi has been shared with a false claim. The viral does not show Gujrat's Education Minister Jitu Vaghani falling on voters' feet during the assembly election campaign. (If you also come across any such videos and images you think are falsely viral, send them on our WhatsApp Helpline (9049053770) or tag us on Facebook, Twitter, and Instagram.)

Title:Old Image From Delhi Viral As Gujrat Education Minister pleading on Voter's Feet
Fact Check By: Mayur Deokar 
Result: False