An image showing Finance Minister Nirmala Sitharaman with a woman officer is going viral with a claim that she is Nirmala Sitharaman's daughter who joined the Indian armed forces. People are praising her for serving the nation and not opting for career in politics. 
Fact Crescendo received the viral photo on our WhatsApp Tipline (9049053770) with fact-check requests.
We found that the image has been shared with the wrong caption. The officer seen in the viral photo is not the daughter of Nirmala Sitharaman.
WHAT'S THE CLAIM?
The viral images are being shared with the caption that reads, "Our finance minister Smt. Nirmala Sitharaman's daughter is now a part of Indian Army….serving our nation….she didn't aspire to become an MLA or MLC."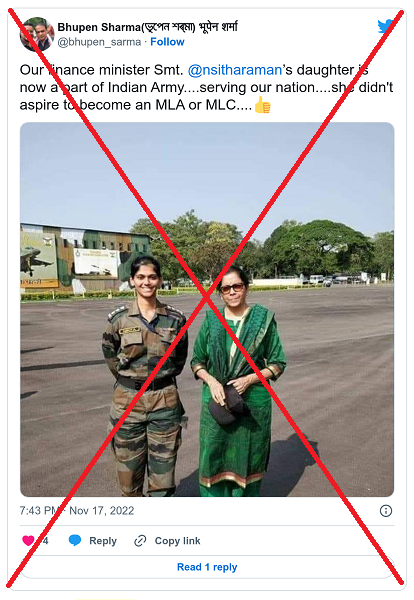 Original Post – Twitter | Twitter | Archive | Archive | Facebook | Facebook
FACT-CHECK
First, we performed a reverse image search on the viral photo. The results led us to the same photo shared by the official handle of the Defence Minister on November 7, 2018.
According to the tweet, Nirmala Sitharaman, who was Defence Minister at the time, had celebrated Diwali with troops along the Line of Actual Control at Hayuliang in Arunachal Pradesh.
She cautioned soldiers not to believe what appear on social media and advised them to stay away from negative news appearing about forces on Facebook and Twitter, reads the official press release. 
Further, we found a tweet by the Principal Spokesperson of the Ministry of Defence giving clarification about this viral photo. 
Debunking the viral claims, the ministry clarified that the woman officer in the viral photo is not the daughter of Nirmala Sitharaman. 
"This is the photograph clicked at the request of the Army officer appointed as the LO to the RM during an official visit," reads the tweet posted on 2 January 2019. "She is NOT the daughter of the RM as suggested in some social media platforms."
The name of that woman officer was said to be Niki VN from Mangalore.
Who Is Sithraman's Daughter?
Nirmala Sitharaman has only one daughter whose name is Vangmayi Parikala. 
She is a multimedia journalist currently working as a features writer at Mint Lounge. Previously she had worked at The New Indian Express, The Voice of Fashion, The Hindu, Literary Hub, Hindustan Times, and Pacific Standard.
She had completed her master's degree in English from Delhi University and MS in Journalism from Northwestern University.
CONCLUSION
It is clear that the viral photo is being shared with the wrong information. The woman officer is not the daughter of Nirmala Sitharaman. Sitharaman's only daughter is a journalist. 
(If you also come across any such videos and images you think are falsely viral, send them on our WhatsApp Helpline (9049053770) or tag us on Facebook, Twitter, and Instagram.)

Title:No, Nirmala Sitharaman's Daughter Did Not Join Indian Armed Forces
Fact Check By: Mayur Deokar 
Result: False