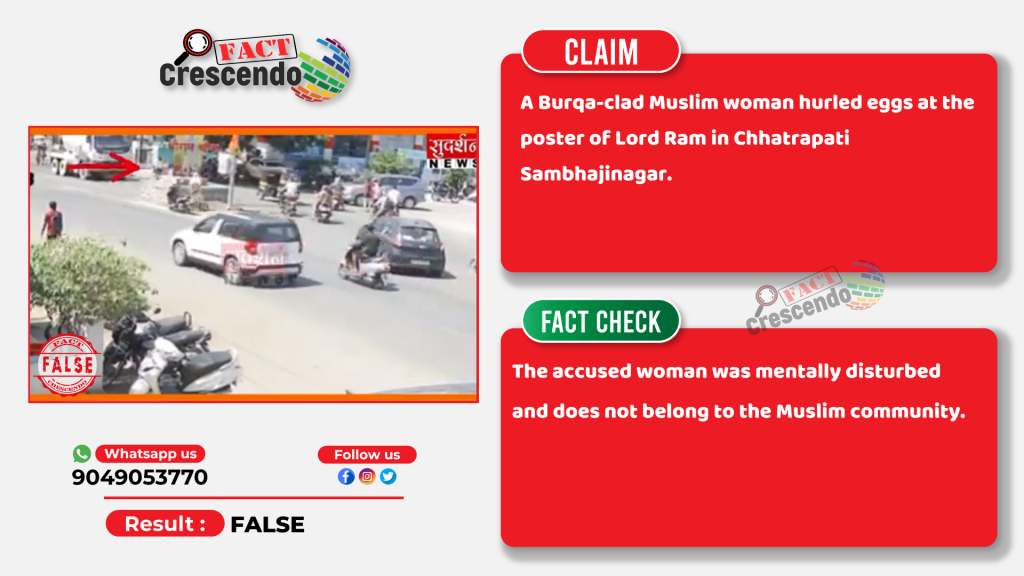 A video clip of a woman apparently desecrating a Hindu deity has gone viral on social media. It has been claimed that a Burqa-clad Muslim woman hurled eggs at the poster of Lord Ram in Chhatrapati Sambhajinagar (Aurangabad).
Fact Crescendo received this video with fact-check requests on our WhatsApp Tipline (9049053770).
We found out that the woman seen in this video was not a Muslim. It has been shared with a false communal claim.
WHAT'S THE CLAIM?
Sudarshan News tweeted this video with a caption that reads: What could be the source of such venom? Why does the woman wearing a burqa hate Lord Shriram so much? She parked her scooty on the road and hurled eggs at a poster of Lord Shri Ram. This incident took place in Chhatrapati Sambhajinagar, Maharashtra.
FACT-CHECK
Using keyword search we came across several Marathi news reports about several religious sites being vandalized in Chhatrapati Sambhajinagar on 20 May. 
Sakal reported that a woman on a scooter defaced religious photos in the Satara, Usmanpura, Pundliknagar, and Jawaharnagar areas of the city. Once the incident came to light, the police swiftly arrested the woman within a matter of hours.
Fact Crescendo obtained the press release issued by the local city police.
According to the press note, the name of the accused woman is Shailaja Udavet (name after marriage), also known as Shilpa Garud (name before marriage). She is a 38-year-old clerk in a post office.
The police investigation concluded that Shailaja acted under mental distress caused by family-related issues. She had no intention of inciting religious tensions between the two communities. She was depressed due to reasons relating to her family.
She was charged under sections 295 and 427 of the IPC.
In a video statement released on Twitter, Police Commissioner Manoj Lohiya clarified that there was no communal angle to the incident. He attributed her actions to mental depression and urged everyone to refrain from sharing misleading videos on social media. 
He further said the incident should not be misconstrued as a reflection of tensions between different communities.
CONCLUSION
Thus, it is clear that the video of a woman defacing Hindu deities in Chhatrapati Sambhajinagar has been shared with a false communal claim. The woman in the video does not belong to the Muslim community, debunking any claims suggesting otherwise.
(If you come across any news, videos, or images that seem too good (or bad) to be true, don't hesitate to send them our way. Our team of fact-checkers will look into it and then share our findings with you. Together, we can fight the spread of fake news and misinformation. Our WhatsApp number is 9049053770. To stay updated, follow us on Facebook, Twitter, or Instagram.)

Title:No, Muslim Woman Did Not Hurl Eggs At Lord Ram Poster in Chh. Sambhajinagar
Written By: Mayur Deokar 
Result: False