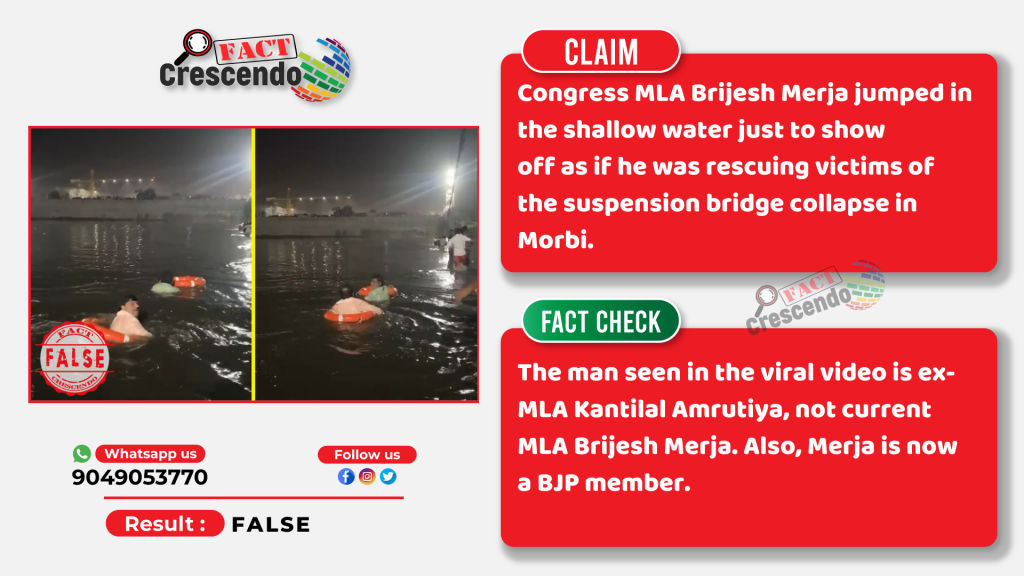 A video of a man apparently saving people from drowning is doing rounds on social media. It has been claimed that the man is Congress MLA Brijesh Merja who jumped in the shallow water just to show off as if he was rescuing victims of a suspension bridge collapse in Morbi. 
People are slamming Merja for hindering the actual rescue operation at Machhu River in Morbi. 
Fact Crescendo received the video on our WhatsApp Tipline (9049053770) with a fact-check request.
We found that the viral claim is false. The man seen in the video is not MLA Brijesh Merja. 
WHAT'S THE CLAIM?
A 17-second clip shows a man in the water. The caption claims that "Congress MLA Brijesh Merja crossed all the limits of decency. Jumping in the shallow water he only pretends to rescue the victims."
Original Post – Twitter | Twitter
FACT-CHECK
Keyword searches led us to a TV-9 Hindi report that mentions this video shows Ex-MLA of Morbi Kantilal Amrutiya. 
According to the news, Amrutiya was present when the suspension bridge over the Machu River in Morbi collapsed on Sunday. At least 141 people died in the accident. 
Amrutiya immediately jumped into the river to rescue people from drowning.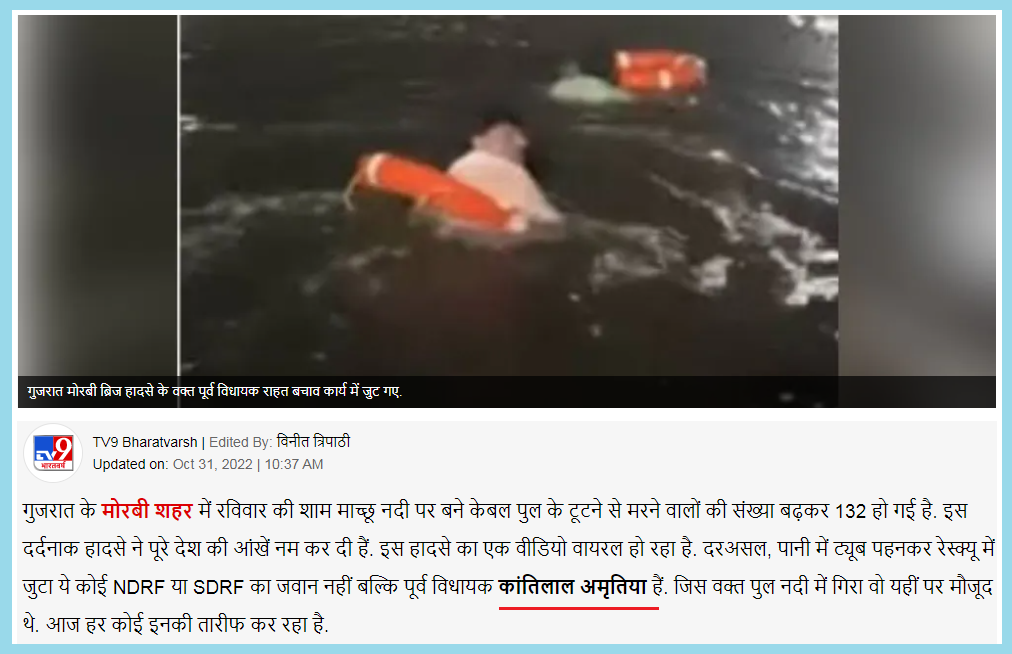 Original Post – TV9 Hindi
Kantilal Amritya also shared the same video along with other clips on Twitter. In this better-resolution video, you can see the face of the man. 
Fact Crescendo contacted Amrutiya who confirmed to us that this is his video. He clarified that man seen the viral video is not MLA Brijesh Merja. 
Kantilal Amrutiya was five-time MLA of Morbi. He is a member of the BJP. He lost the seat in the 2017 Gujrat assembly election to then-Congressman Brijesh Merja.
Who is Brijesh Merja?
Brijesh Merja is current MLA of Morbi. Interestingly, he was in Congress when he won the Morbi assembly seat in the 2017 election. 
Later, he resigned from Congress and joined BJP in 2020. Then, re-elected again on BJP's ticket.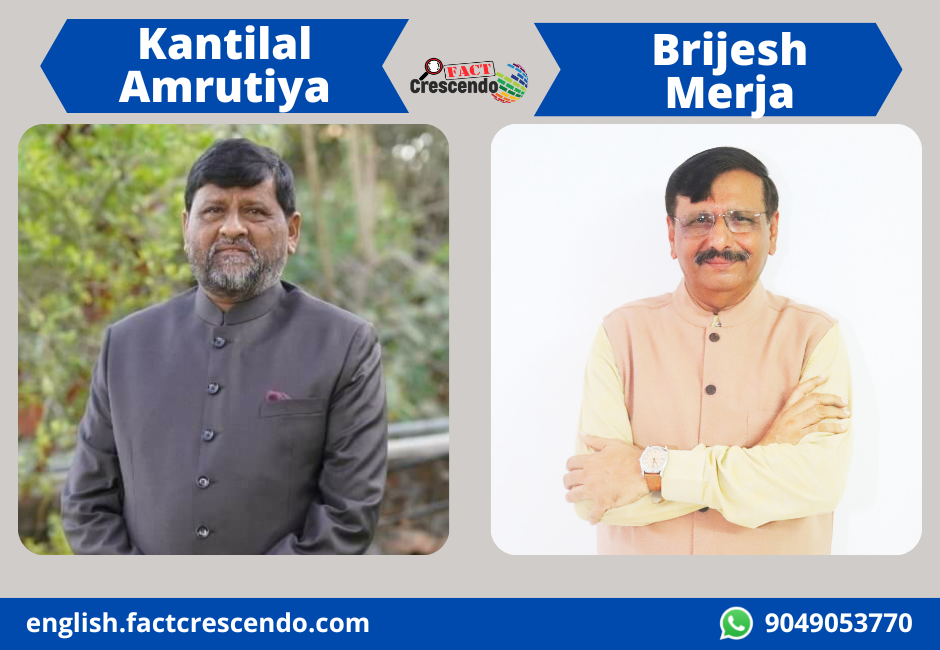 CONCLUSION
Hence, it is clear that the viral video of the man rescuing in Morbi is ex-MLA Kantilal Amrutiya, not current MLA Brijesh Merja as claimed in posts. Also, Merja is now a BJP member, not Congress MLA anymore. 
(If you also come across any such videos and images you think are falsely viral, send them on our WhatsApp Helpline (9049053770) or tag us on Facebook, Twitter, and Instagram.)

Title:No, Man Rescuing People in Morbi is Not Congress MLA but a BJP leader
Fact Check By: Mayur Deokar 
Result: False