The man in the video is NOT PM Modi but shows Kerala Governor Arif Muhammed Khan's visit at the Sabarimala temple in 2021.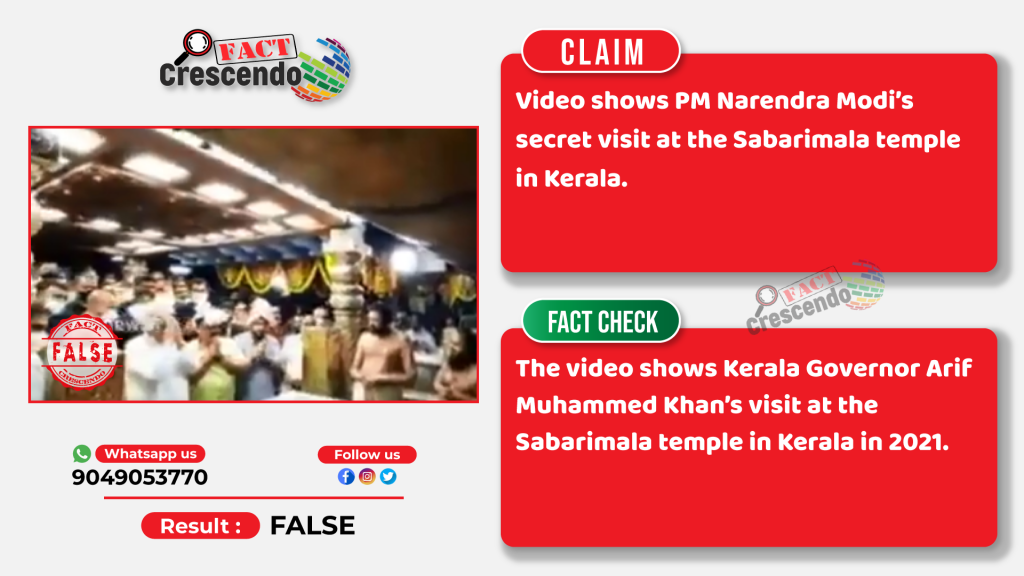 A video of a man praying at the Sabarimala temple is circulating on social media, with the claim that Prime Minister Narendra Modi secretly visited the Sabarimala temple in Kerala.  
The caption of the viral post states, "Our honourable P.M. *Sri Narendra Modi* had a darshan of *Lord Sri Ayyappa Swami* at Sabarimala with *Irumudi climbed 18 Holy Steps* without any publicity – advertisement. Mudirajrk – forwarded as received."
This video is also being circulated on Facebook.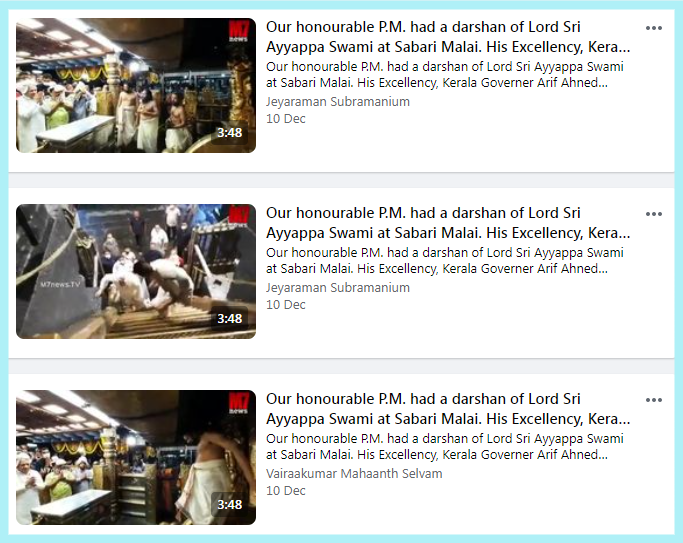 Another version of this video is being circulated on Facebook with the claim "Our Honourable Prime Minister Sri Narendra Modi had a darshan of Lord Sri Ayyappa Swami without any Publicity Courtesy."
Fact Check-
We started our investigation by running a keyword search on Google to find relevant news reports about PM Modi's visit to Sabarimala. However, we could not find any recent news report of this visit.
Next, we carefully observed the video and found the logo of 'M7 News' on the left corner of the viral video. Keeping this in mind, we ran a keyword search on YouTube whose results led us to the same video published by M7 News on their YouTube channel on 11 April 2021. The caption of the video states, "Kerala Governor visits Sabarimala | Arif Mohammad Khan."
According to the description, Kerala Governor Arif Muhammad Khan visited Lord Ayyappa in Sabarimala and offered prayers at the hilltop shrine. The Governor reached Pamba carrying the traditional "irumudikettu," (which are sacred offerings to the Lord) and offered prayer. After the Padipuja he ascended the 18 steps carrying the irumudi and performed Lord Ayyappa darshan. Along with the governor, his younger son Kabir Muhammad Khan also came to pay a visit to the Ayyappa temple.
According another YouTube user, the video shows Arif Muhammed Khan, Kerala Governor visiting the temple of Swami Ayyappan at Ayyappan Kovil Sabarimala, with Irumudi via 18 steps. Manorama News also published news about this incident on 12 April 2021. The video shows Arif Muhammed Khan climbing the steps as seen in the viral video.
Manorama News also reported that the video shows the Kerala Governor and not PM Modi.
Several media house such as ABP News and Times of India have reported Arif Muhammed Khan's visit to the Sabarimala temple in 2021. 
Conclusion-
Fact Crescendo found the claim made along with the viral video to be False. The video shows Kerala Governor Arif Muhammed Khan's visit at the Sabarimala temple in Kerala in 2021. The video is being falsely being shared with the claim that it shows PM Modi secretly visiting the Sabarimala temple.

Title:Kerala Governor's visit at the Sabarimala temple falsely shared as PM Modi's visit
Fact Check By: Drabanti Ghosh 
Result: False