Aerial view of the Mittraphap road in Thailand falsely shared as visuals of Samruddhi Mahamarg in Maharashtra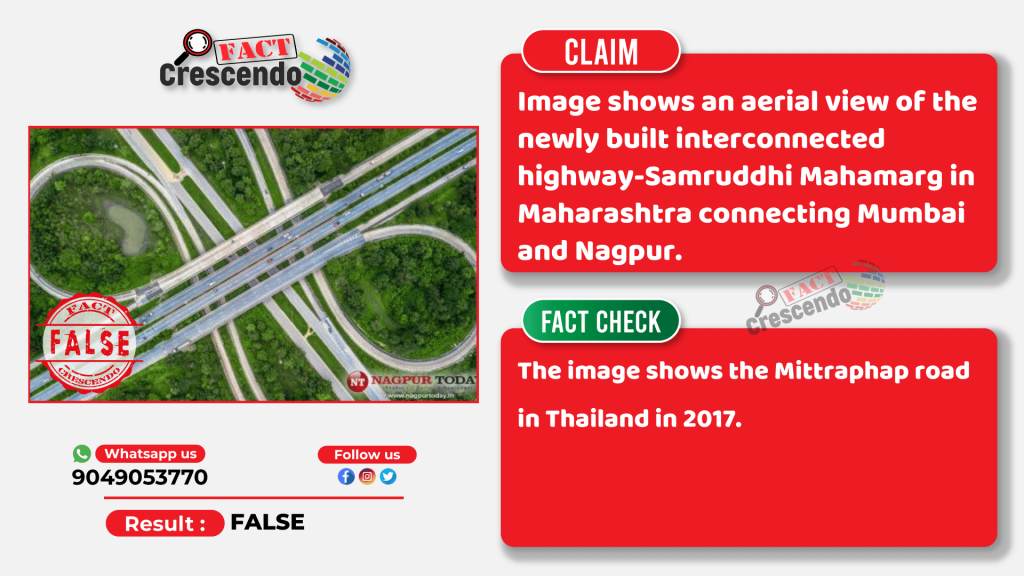 A graphic card with the image of a highway alongside the image of Maharashtra Deputy Chief Minister Devendra Fadnavis is widely circulating on social media. 
Sharing this image, users claim that the graphic card shows an aerial view of the newly built interconnected highways in Maharashtra connecting Mumbai and Nagpur. This highway is known as the Samruddhi Mahamarg, which was inaugurated by Prime Minister Modi on 11 December.
This graphic card has been shared by BJP national media in-charge Yaser Jilani. He wrote, "The foundation of the 701 kilometer long expressway was done by the government of Devendra Fadnavis is now ready to open."
BJP MLA from Uttar Pradesh Dr Avadhesh Singh tweeted the picture stating, "The project which was started by Devendra Fadnavis ji when he was the chief minister, is now being seen as being completed.
We found that Nagpur Today used this image claiming it to be a glimpse of the Samruddhi Mahamarg.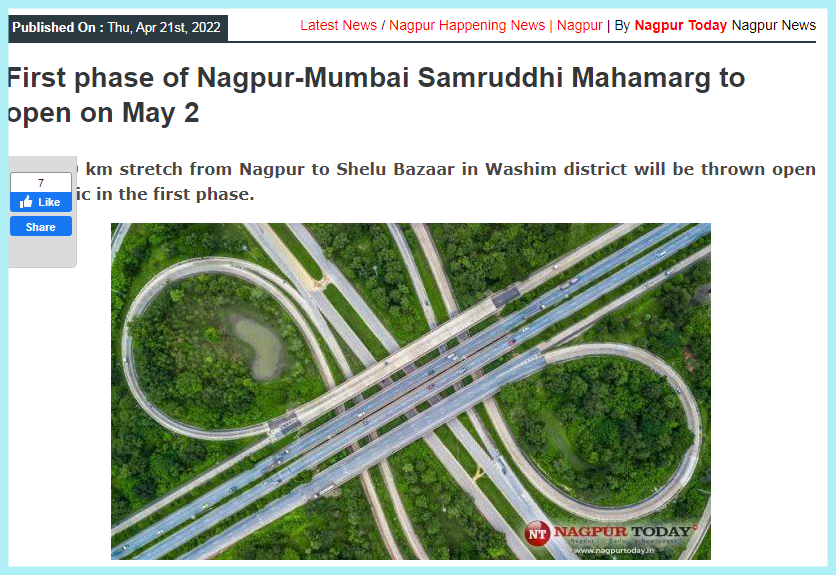 Fact Check-
We started our investigation by running a simple reverse image search on Google, whose results led us to the stock image website of Alamy, which had uploaded the image on 6 October 2017. The image is said to be from Ban Mittraphap in Thailand.
Keeping the above information in mind, we ran a keyword search on other stock image websites as well. According to Getty Images, the caption of the video states, "Aerial top view expressway road multi Lenses, Mittraphap road, Nakhon Ratchasima" in, Thailand." The same image is also available on Stock Adobe's website as well.
Next, we searched for Samruddhi Mahamarg's original images and found that the District Information Office of Pune had posted the aerial view of the newly inaugurated expressway. The caption of the image states, "Hindu Hrudaysamrat #BalaSahebThakre Inauguration of first phase of Maharashtra Samruddhi Highway from Nagpur to Shirdi by Prime Minister Narendra Modion 11th December. The path of developmentof the state's prosperity."
Conclusion-
Fact Crescendo found the claim made along with the viral graphic card to be False. The image of the expressway seen in the graphic is from Thailand and it does not show the recently inaugurated Samruddhi Mahamarg expressway in Maharashtra.

Title:Image from Thailand shared as visuals of newly inaugurated Samruddhi Mahamarg in Maharashtra
Fact Check By: Drabanti Ghosh 
Result: False