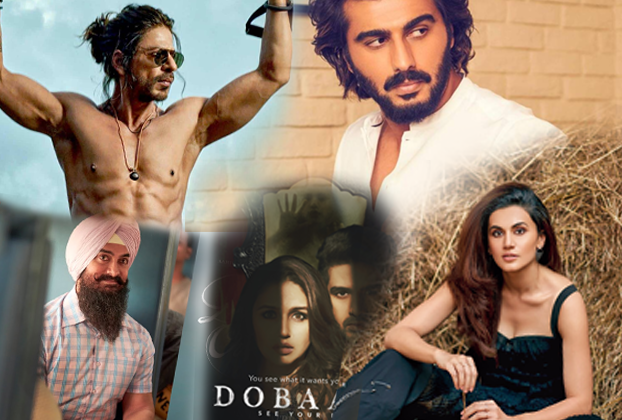 Loads of posts on social media platforms are calling for a boycott of Bollywood films and many of its stars, causing tension in an industry where a lot of money is riding on top actors. 
Twitter has recently been buzzing with trends calling for a boycott of Bollywood. Some Twitter users have been using anti-Bollywood hashtags such as #BoycottBrahmastra, #BoycottBollywood, Arrogance, AliaBhatt, BoycottLigerMovie, Hrithik_Roshan_Maafi_Maang, BoycottBollywoodforever and many others with abusive slurs against actors or Bollywood have been trendingamong others. Many users tweeting these hashtags have accused Bollywood of insulting Hindu Gods and Goddesses.
Recent Bollywood releases, such as Aamir Khan's Lal Singh Chaddha and Taapsee Pannu's Dobara, have been targeted by these users, who have called for a boycott of these films. These users have also targeted upcoming films such as Pathan by Shah Rukh Khan and Brahmastra by Ranbir Kapoor, among others.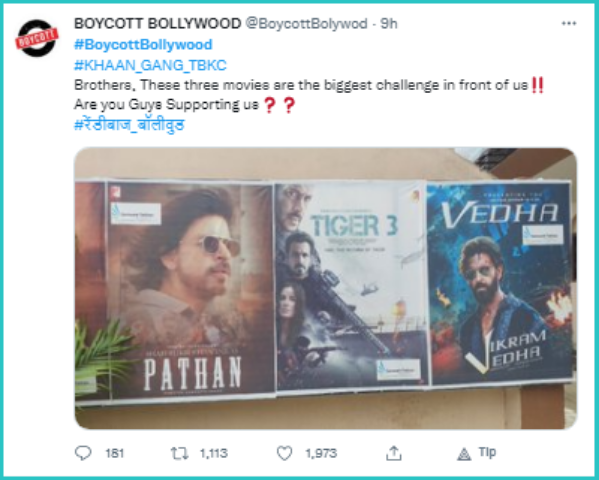 With this trend, social media also witnessed several misinformation related to the Bollywood actors and their movies. We have found several of these posts to be misleading and false. Let us go through them one by one.
Fact Check- 
Claim 1- 
A post on social media claimed that R. Madhavan lost his house to fund his film Rocketry and directed this movie when the original director had opted out due to prior commitments.The movie 'Rocketry' is the directorial debut of Madhavan and is based on the life of  former ISRO scientist Nambi Narayanan, with the actor himself playing the lead role.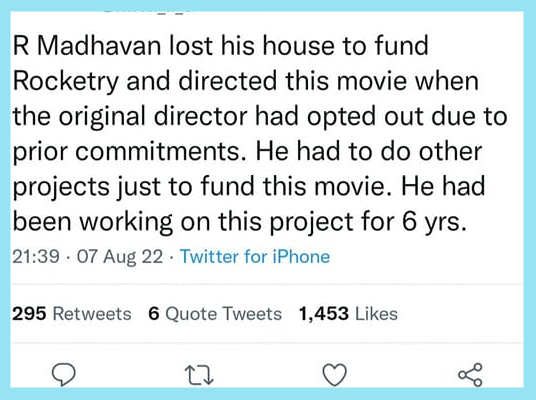 However, this claim is false. Ranganathan Madhavan himself has clarified this claim as Fake. In a clarification tweet, he mentioned that he is still living in the same house and wrote "Oh Yaar. Pls don't over patronize my sacrifice. I did not lose my house or anything. In fact, all involved in Rocketry will be very proudly paying heavy Income Tax this year. Gods grace. We all made very good and proud profits. I still love and live in my house."
Claim 2-
An image showing Aamir Khan praying at a temple is circulating with the claim that Aamir Khan is attending a puja after his movie 'Laal Singh Chaddha' underperformed at the box office due to the boycott calls. Users are also making sarcastic comments, like saying that Aamir Khan had earlier made fun of Hindu gods in his film 'PK' but now after his film is not performing well, he is praying to Hindu Gods. The movie is an adaptation of the 1994 Hollywood classic Forrest Gump.
The movie has faced calls for a boycott by several right-wing groups across the country, with which they targeted Aamir Khan calling him 'anti-Hindu' and referring to his past comments on growing intolerance in India.
We found that this image has no relation with Aamir Khan's film, Laal Singh Chaddha's performance. The viral image is from September 2017, when Aamir Khan offered aarti during the Navratri festival in Vadodara, Gujarat. Aamir Khan has tweeted a video from the same event on September 2017. "My 1st Garba in Vadodara! What an atmosphere! What a feeling! Thank you Vadodara" said Aamir Khan.
Claim 3-
This image showing Tapsee Pannu posing with a bag of Shri Siddhivinayak temple's Prasad is circulating on social media with the claim that she is visiting the temple after her film 'Dobaara' flopped at the box office.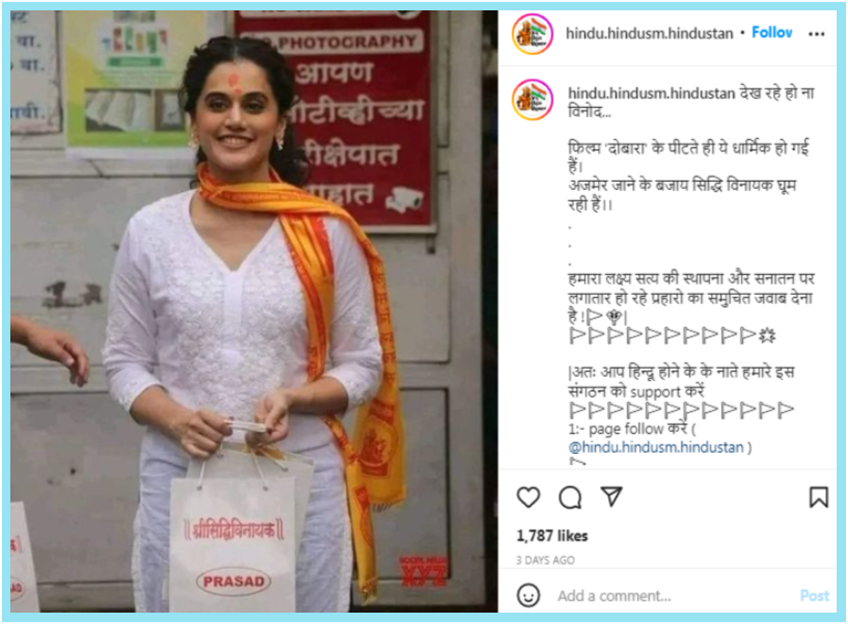 However, we found that this image dates back to October2019. According to reports, the image shows Tapsee Pannu along with her parents, who had visited the Siddhivinayak temple in Mumbai during the release of her film Saand Ki Aankh.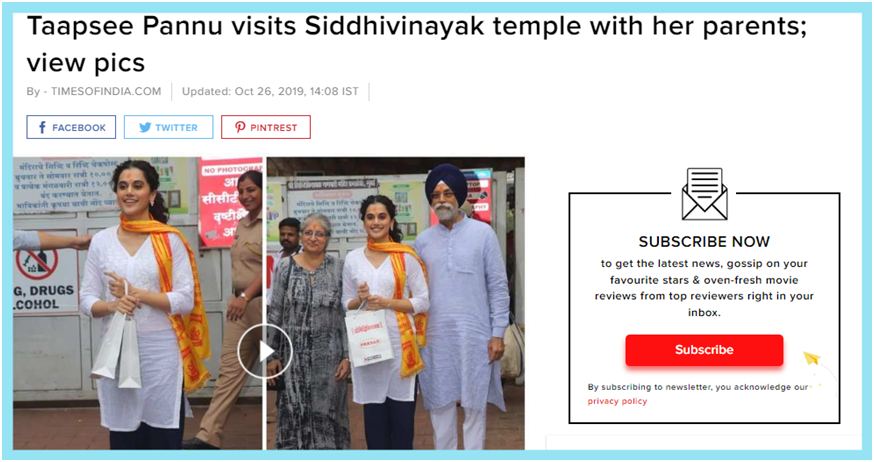 Claim 4-
Users sharing this video claimed that Aamir Khan can be seen admitting that he is aware that his newly released film 'Laal Singh Chaddha' is flop.
However, we found that the viral video dates back to November 2018 when Aamir Khan was speaking about his film 'Thugs of Hindostan' tanking at the box office. This video has no relation with the film 'Laal Singh Chaddha'.
You can see the comparison between the viral video and the original video below.
Claim 5-
Another image showing an empty theatre is circulating on social media with the claim that nobody attended the premiere show of Aamir Khan's 'Laal Singh Chaddha', despite the actor attending the same.KRK also posted the same image with a similar claim.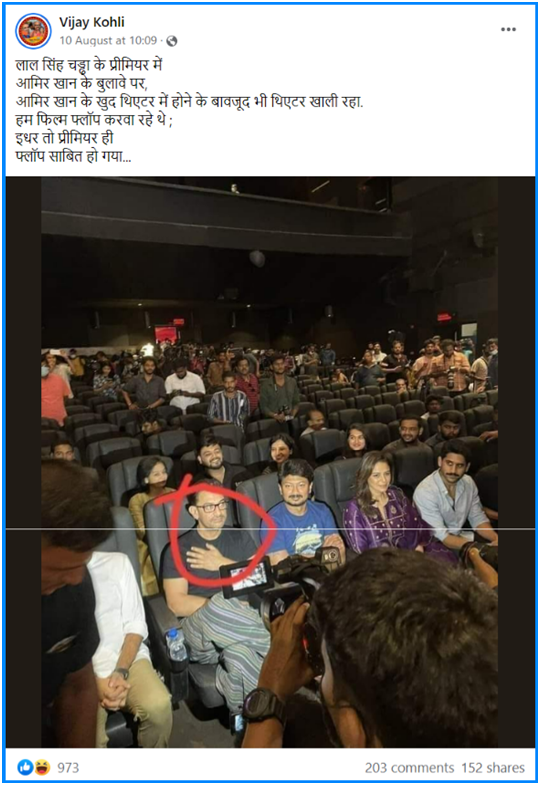 However, we have found that this image is from an event held for media people at the Sathyam theater in Chennai, Tamil Nadu, on August 7, 2022. This press conference was held days before the release the movie 'Laal Singh Chaddha' was released in theatres on 11 August 2022.
Claim 6-
A screenshot of a tweet by the official account of SRK is circulating on social media with the claim that Shah Rukh Khan will buy all the theatres in India and make his upcoming film, Pathaan, a superhit, if people boycott it in India.
SRK and Deepika Padukone's upcoming film 'Pathaan,' is set to be released on 25 January 2023.
This screenshot in Hindi states, "If my film 'Pathan Se Panga' is banned, then I will make the film a superhit by buying all the theaters and buying all its seats, which is uprooted. I am the king of Bollywood. Blown Bhau's account, now what do you want me to blow up yours too!"
However, we found that this tweet has not been made by the official account of SRK even though we can see a blue verification tick beside the Twitter handle, but the username below the account is '@fakesrk'. Originally, this tweet was not made by the official account of the actor – @iamsrk. The viral post showed a fabricated tweet and had the username '@fakesrk'. Below you can see a comparison between SRK's official account and fake account.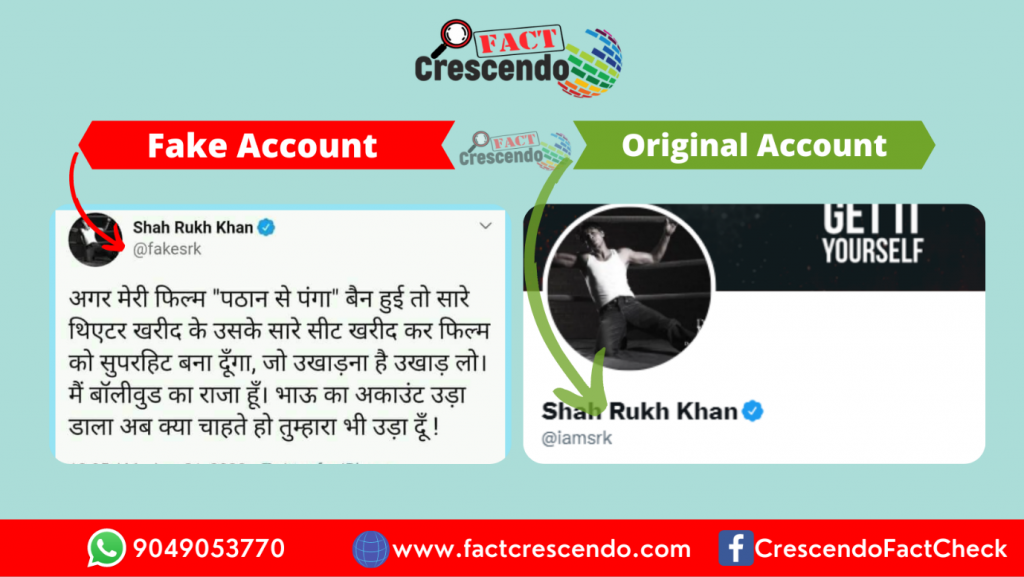 Claim 7-
Amidst the boycott Bollywood trend, an image showing Bollywood actors holding a placard with 'Boycott People' written on it is widely circulating on social media. Users claim that actors and singers join in protest against the 'Boycott Bollywood Campaign'.
This image came in when Actor Arjun Kapoor recently spoke about the trend of boycotts against Bollywood movies. He said that the Bollywood fraternity must  come together and do something about people running such trends.
However, we discovered that the viral image has been edited. The images are from 2018 when actors and singers protested against the gang rape and murder of eight-year-old Asifa Bano in Khatua, Jammu and Kashmir.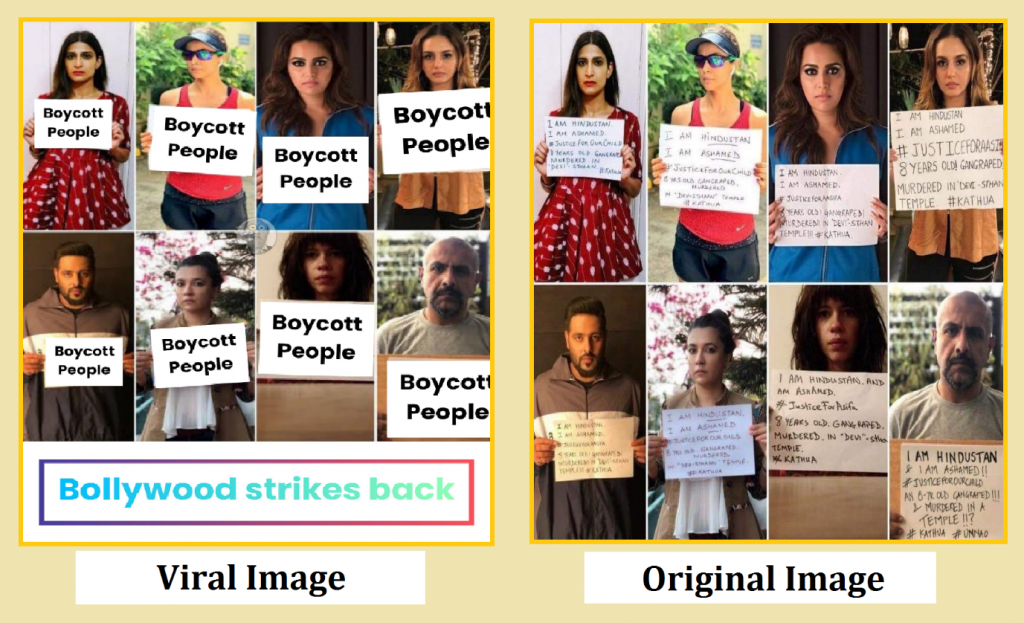 Claim 8-
An image of football player Cristiano Ronaldo and Bollywood actor Arjun Kapoor with the claim that Ronaldo called out Arjun Kapoor saying that he was a loser who forced him to take a selfie with him. Users are mocking Arjun Kapoor sharing this tweet.
The tweet reads, "This unknown guy forcefully rushed in to my dressing room and forced me to take a selfie with him the way we look like friends. What a looser."
However, we could not find any such tweet made by Ronaldo on his Twitter account. We found the same image posted on Arjun Kapoor's Instagram page on 16 May 2018. He wrote in the caption: "Amazing feeling meeting &talking football with Cristiano!!! Heck of a player, heck of a guy. All the best for Kiev & Russia." Arjun Kapoor had tagged the luggage brand American Tourister on his Instagram post. We found that nineteen influencers from around the world met Ronaldo in Madrid. Indian actor Ayushmann Khurrana was also a part of this event.
Claim 9-
This video showing viewers praising a film outside the film theatre is widely circulating on social media with the claim that it shows the audience praising Aamir Khan for his recent movie 'Laal Singh Chaddha'.
We found that the video dates back to 23 December 2016 showing the public reaction to Aamir Khan's film 'Dangal' that had smashed the box office records then. The video has no relation with 'Laal Singh Chaddha'.
Below you can see the public reacting to 'Laal Singh Chaddha'on 11 August 2022.
Claim 10-
BJP Worker Arun Yadav shared an image showing Sikh men holding a poster of Aamir Khan's recent film 'Laal Singh Chaddha'. He claimed that it shows a protest against Laal Singh Chaddha in Jalandhar where slogans of Aamir Khan Murdabad were raised.Sadhvi Prachi also shared the same image with similar claim on Facebook.
However, we found that the Sikh Talmel Committee demonstrated outside a cinema hall in support of the film Laal Singh Chaddha. They also said that they would not allow any other organization to stop the screening of the film. This image does not show Sikh protestors demonstrating against the film but in reality, they were supporting the film, 'Laal Singh Chaddha.'

Title:How fake news is used to boost anti-Bollywood campaigns on social media.
Fact Check By: Drabanti Ghosh 
Result: Misleading