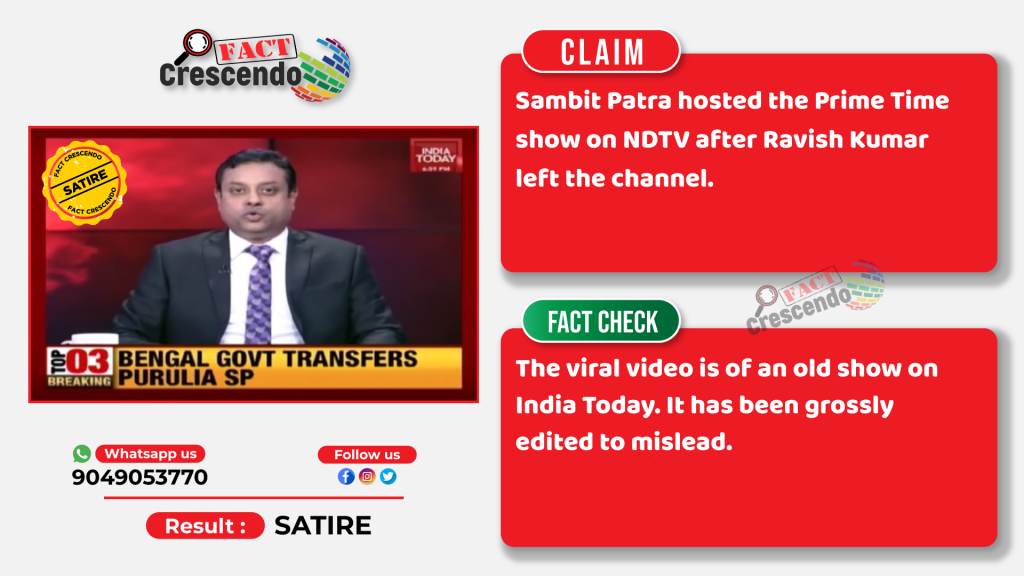 Journalist Ravish Kumar resigned from NDTV as the Adani Group neared a takeover of the television channel. Social media users are now speculating about who will host Ravish Kumar's popular news show Prime Time. 
One thing that netizens know well is how to have and make fun of everything. A video apparently showing BJP Spokesperson Sambit Patra giving news on NDTV is going viral on the Internet. 
Although edited and altered, it has been humorously shared as Sambit Patra replacing Ravish Kumar on NDTV. 
A Parody Twitter account tweeted this video on 1 December sarcastically saying Sambit Patra a Prime Time news anchor on NDTV. 
The viral clips show Sambit Patra entering the studio and acting as a news anchor. 
"Welcome to the weekend special of 'To the Point.' But before I begin, I will take a pledge," declares Sambit Patra. "I will be neutral and non-partisan on the anchor seat and give everyone an equal chance to speak today."
He conducts the debate on 'Is the united opposition a real challenge to Modi.' 
The video bears the NDTV logo along with tickers that read 'Gujrat Votes in First Phase', 'High Stakes Battle For Gujrat', and '#ElectionsWithNDTV.' 
89 assembly seats went to polls on 1 December in the first phase of assembly polls in Gujarat.
Although the video is mostly being shared sarcastically, a few people also fell for it at the face value.
One user quipped that Sambit Patra becoming prime time anchor of NDTV is the most bizarre news on the internet today.
Sharing the video, one wrote 'Sambit Patra going to host NDTV after Ravish Kumar's resignation.'
The same video is also shared on Facebook. You can check here and here. 
FACT CHECK
With the help keyword search, we found the original video uploaded in 2018. 
India Today news channel had invited BJP spokesperson Sambit Patra to be a 'guest anchor' on their 'To The Point' show. 
The original full-length video of the program led by Sambit Patra as a news anchor is available on India Today's YouTube channel. It was broadcasted on 3 June 2018.
Here, you can clearly see that the viral video is altered and digitally manipulated to make it appear as of NDTV clip. 
India Today used to invite spokespersons of various political parties as 'guest presenters' on certain weekends. Congress's Abhishek Manu Singhvi has also appeared on this show to take the anchor seat to conduct debates.
Journalist Rajdeep Sardesai also shared the video of this debate commenting, 'super send up/parody of prime time news debate.'
You can see the difference between the viral clip (with the NDTV logo) and the original video (with the India Today logo).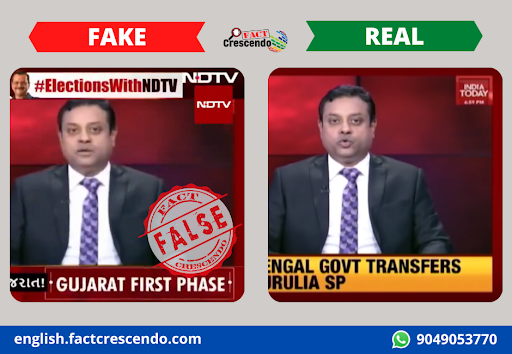 CONCLUSION
Hence, it is clear that the Video of Sambit Patra acting as a news presenter is not from NDTV. It is a four-year-old video of a show on India Today. It has been grossly edited and humorously shared on the Internet.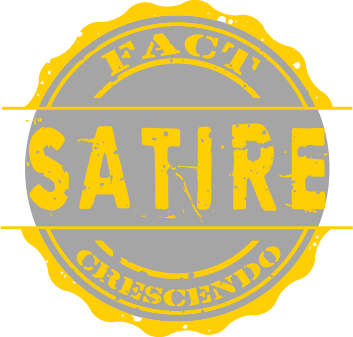 Title:Hilariously Edited Clip Viral as Sambit Patra replacing Ravish Kumar on NDTV
Fact Check By: Mayur Deokar 
Result: Satire