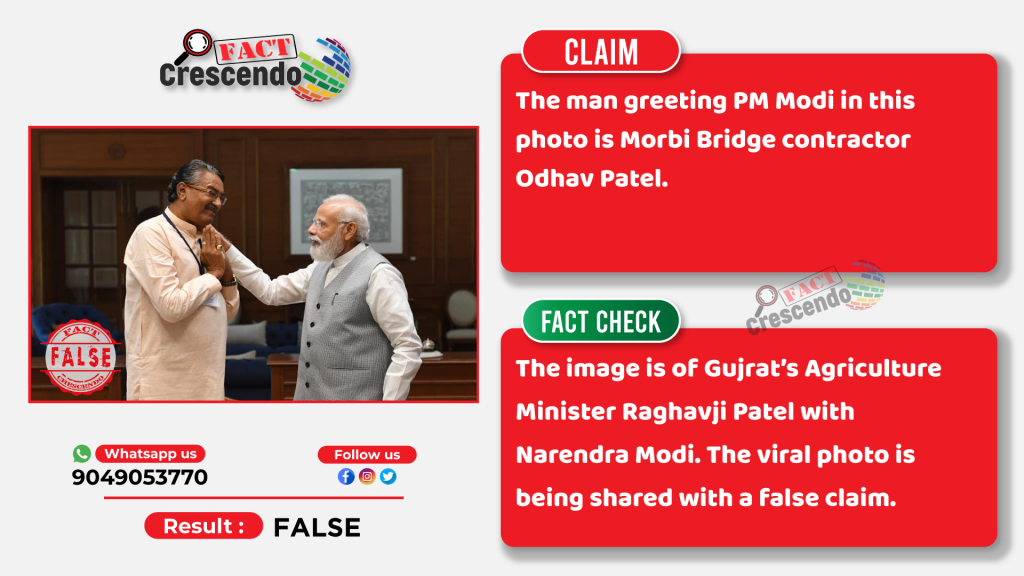 An image of a man greeting Narendra Modi is going viral on social media. It has been shared with a claim that the man seen with PM Modi is the owner of the company which had been given the contract to repair the recently collapsed bridge in Morbi village of Gujrat. 
Many people have shared this image criticizing the prime minister and BJP government. 
Fact Crescendo received the image with a fact-check request on our WhatsApp Tipline (9049053770).
We found that the viral claims are false. The man in the image is not the Morbi Bridge contractor.
WHAT'S THE CLAIM?
Viral posts contain the image of a man greeting PM Modi along with the caption that reads: "Then the man with Modi is Odhav Patel who had been given the tender to repair Morbi Bridge. Odhav Patel owns three companies – Ajanta, Orpat, and Oreva. No doubt Modi has hand in all of them."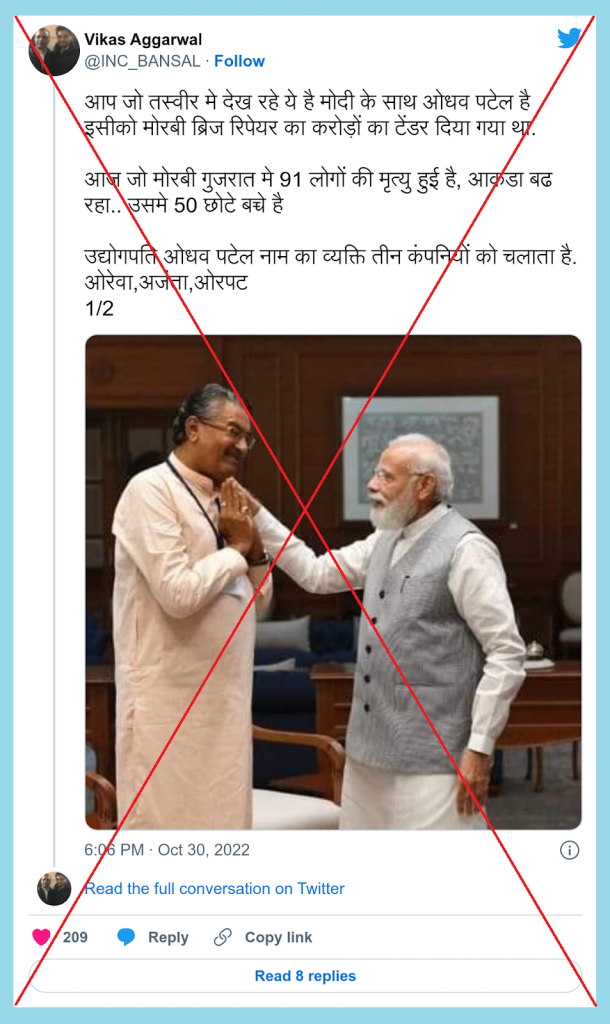 Original Post – Twitter
FACT–CHECK 
We performed Google reverse image search on the viral image which led us to the Facebook page of Raghavji Patel who is Cabinet Minister of Agriculture, Animal Husbandry in the Government of Gujarat.
He shared the same photo on 14 October 2021. According to the post, Patel had met the prime minister in Delhi. 
Divya Bhaskar had also reported that the meeting between Patel and PM Modi lasted more than 15 minutes in which he gave a detailed state agricultural report.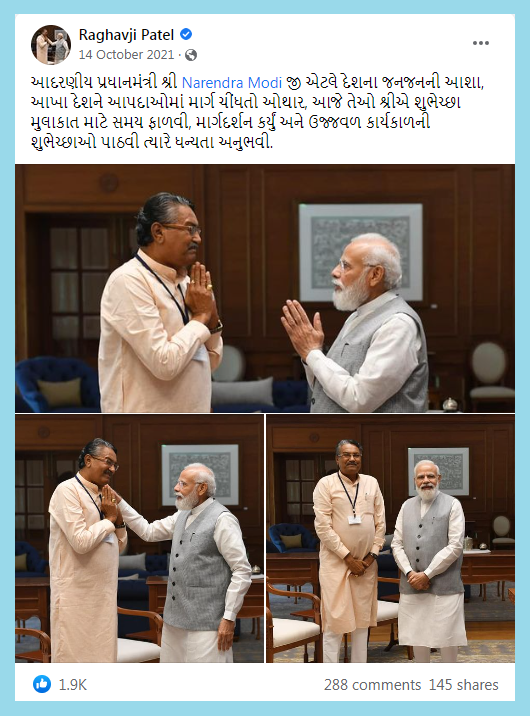 Original Post – Facebook
Who is Odhav Patel?
Odhav Patel is the founder of the world's biggest wall clock manufacturer Ajanta Group. The group consisted of three brands – Ajanta, Orpat, and Oreva.  He died at the age of 87 in 2012. 
It is true that the Oreva group was enlisted to repair the Morbi Bridge. The British-era Bridge had been shut for seven months for repairs. It reopened on 26 October before collapsing on 30 October claiming 135 lives.
It has come to light that the bridge was reopened without a fitness certificate from the civic authorities.
Police filed a case against nine people including two managers of Oreva Group.
During the hearing before the magistrate's court on Tuesday, the prosecution told the court that the contractors who carried out repairs of the Morbi suspension Bridge were not qualified to carry out such jobs. 
You can see the difference between Odhav Patel and Raghavji Patel in below comparision image.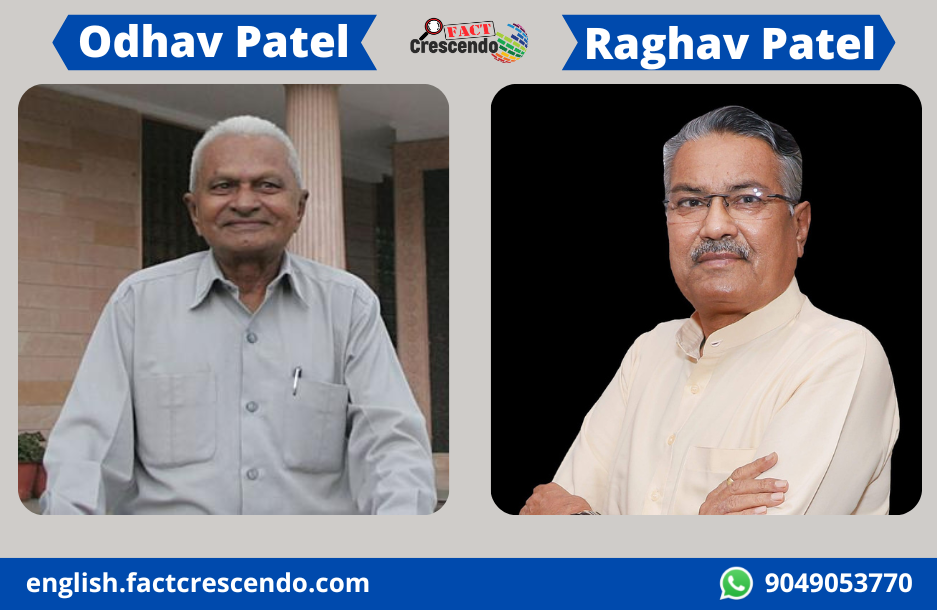 CONCLUSION
It is clear that the viral image is not of Odhav Patel but of Gujrat's Agriculture Minister Raghavji Patel. The viral photo is being shared with a false claim.
(If you also come across any such videos and images you think are falsely viral, send them on our WhatsApp Helpline (9049053770) or tag us on Facebook, Twitter, and Instagram.)

Title:Gujarat Agriculture minister falsely claimed to be Morbi bridge contractor with PM Modi
Fact Check By: Mayur Deokar 
Result: False