Originally, the flag was made as a part of an installation by Belgian visual artist Edith Dekyndt from 2014. 
Protests against hijab have erupted in Iran following the death of 22-year-old Mahsa Amini in police custody. Amini was arrested earlier this month by the so-called morality police for allegedly not properly wearing the hijab (women's dress code). So far, 92 people have died due to violence during the protests.
The news of this protest is rapidly spreading on social media. In the midst of this, it was claimed that Iranian women hoisted the flag by tiding up the chopped hair on a stick in protest against the hijab. This news has been even covered by several media houses. Firstpost's report titled "Flag of Honour: Iranian women hoist chopped hair on stick as most powerful symbol of dissent." 
According to the report, in rage over the incident, female agitators cut their hair and burnt hijabs to express their anger over veiling of women.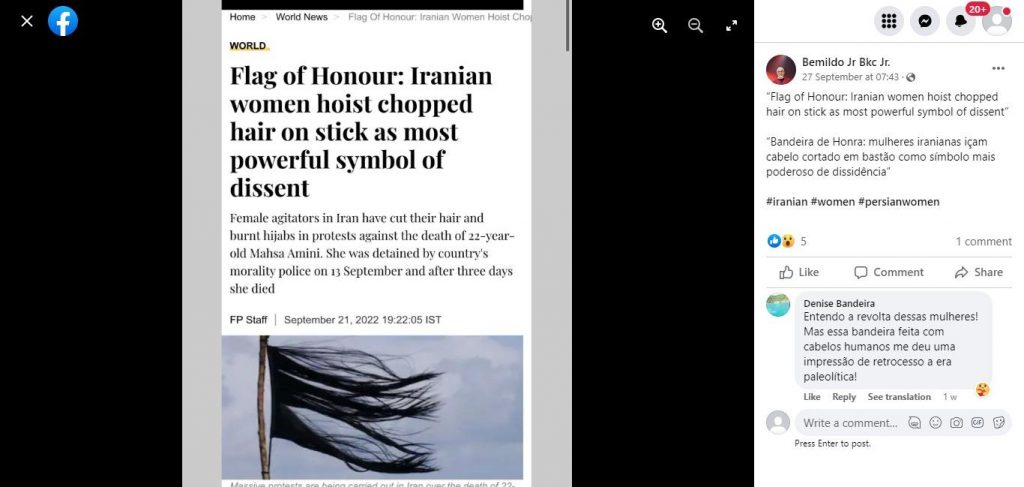 Fact Check-
We started our search with the reverse image search to verify the picture's authenticity, which led us to the 'Announcements' page of the art publishing platform e-Flux, which features the image of the hair flag as its cover photo. It is credited to Belgian visual artist Edith Dekyndt. This photo was posted on January 27, 2016, with Edith Dekyndt: Indigenous Shadow. Also, the picture was captioned – Edith Dekindt, Native Shadow Part. 2 (Martinique Island), 2014.
Edith Dekindt is a visual artist. She lives and works in Brussels and Berlin. We checked Edith Dekyndt's portfolio for confirmation and found a picture of the installation on page 31.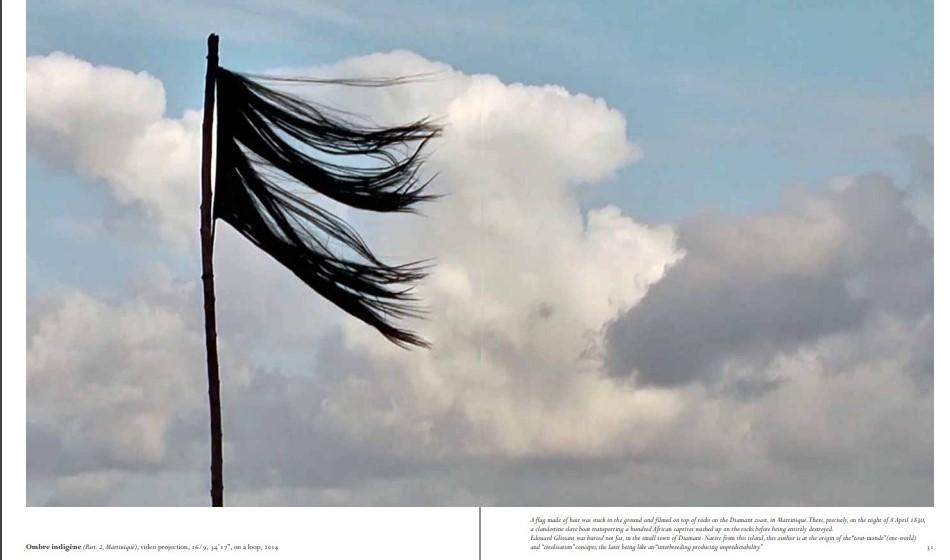 According to the information provided about this photograph is that a flag made of hair was stuck in the ground and filmed on the rocks on the Diamond Coast in Martinique.
The same installation is shown in a close-up view in a video titled "Wiels.mp4" on her channel Studio Edith Dekyndt. 
Conclusion-
Fact Crescendo found that the viral image shows a 2014 installation by Belgian visual artist Edith Dekyndt. It has been misleadingly portrayed as a flag made of chopped hair on a stick amid protests in Iran over the death of Mahsa Amini.

Title:Flag made of hair misleadingly related to Mahsa Amini protests in Iran
Fact Check By: Usha Manoj 
Result: Misleading