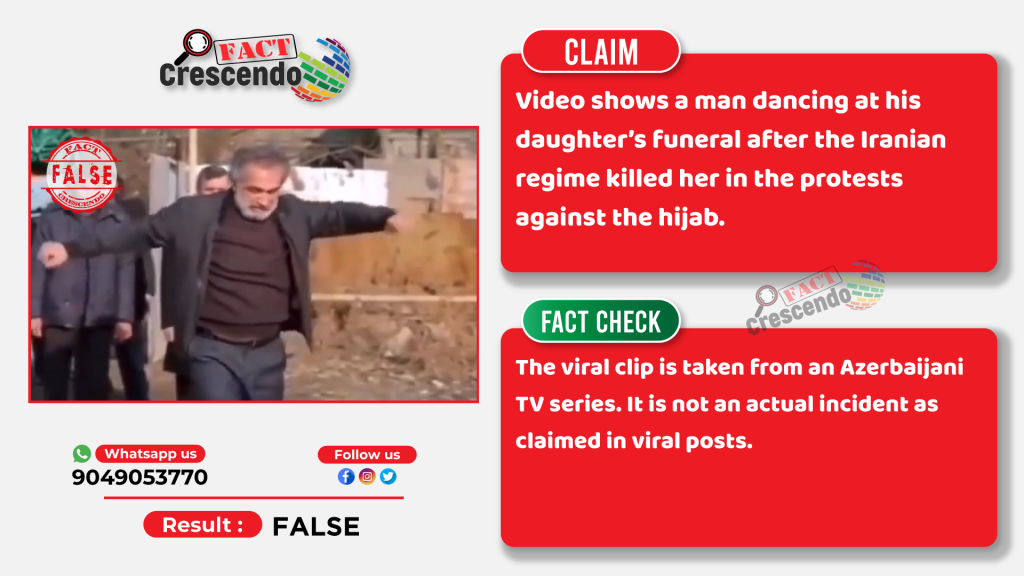 The death of a young girl Mahsa Amini in police custody has sparked massive protests all over Iran. Amini was arrested earlier this month by the so-called morality police for allegedly not wearing the hijab (dress code for women) properly. 
UN condemned the violent crackdown against hijab protests. 41 protesters have been killed by Iran's security force, reports the State media. Although, the actual number could be higher. 
Amidst this, a one-minute clip of a man seemingly dancing in front of a coffin is going viral on social media. 
Users from worldwide have been sharing it claiming the man danced at his daughter's funeral "after she was killed by the Iranian regime in the protests."
The text on the video reads: "Saddest thing I have ever seen in my life: a father who promised his daughter he will dance at her wedding now dancing at her grave after she was killed by Iranian regime in the protests against killing people for forced hijab."
You can see Facebook posts here, here, and here. 
FACT-CHECK
Google reverse image search on the key-frames of the viral clip revealed that the same video was shared last year as well. Although, it was not shared in the context of the ongoing Iran protests. 
The earliest online posting of the video we could find was on 14 April 2021.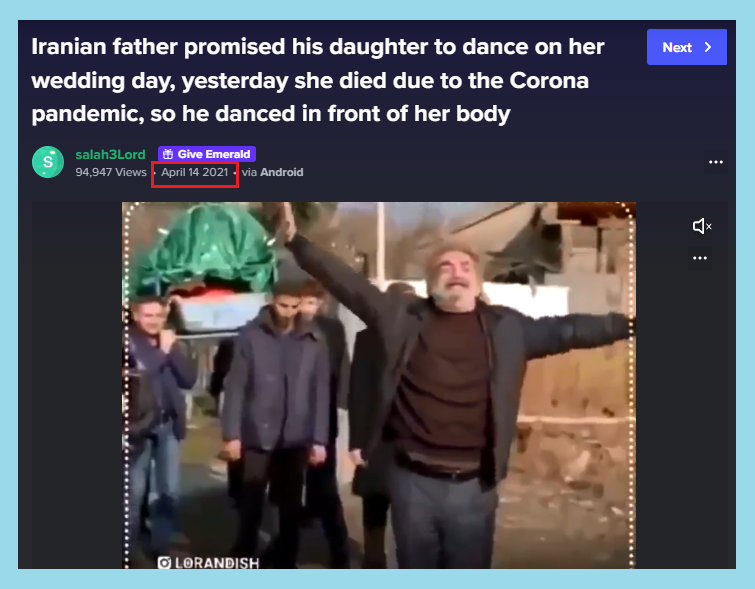 Taking clues from journalists from Iran, we traced the original video from which the viral clip was taken. 
This is a scene from an Azerbaijani TV series called Ata OcağI. It was broadcasted on Khazar TV in 2017.
The series description says it is about a family conflict where children do not agree with the social status of their family. The head of the family, the father, is isolated in the grip of social problems.
The scene of a man dancing at the funeral was from the 78th episode. It is available on YouTube. From the 17.53 mark, you can see the original scene. 
CONCLUSION
The claim of the father dancing at the funeral of his daughter after she was killed by the Iranian regime is false. It is a scene from a TV drama that is being falsely shared in the context of the Iran protests.
(If you also come across any such videos and images you think are falsely viral, send them on our WhatsApp Helpline (9049053770) or tag us on Facebook, Twitter, and Instagram.)

Title:False Claim Viral That Father Danced at Funeral of his Daughter Killed in Iran Protest
Fact Check By: Mayur Deokar 
Result: False