The Uttarakhand Police has not tweeted any such guidelines and has clarified that the image is Photoshopped.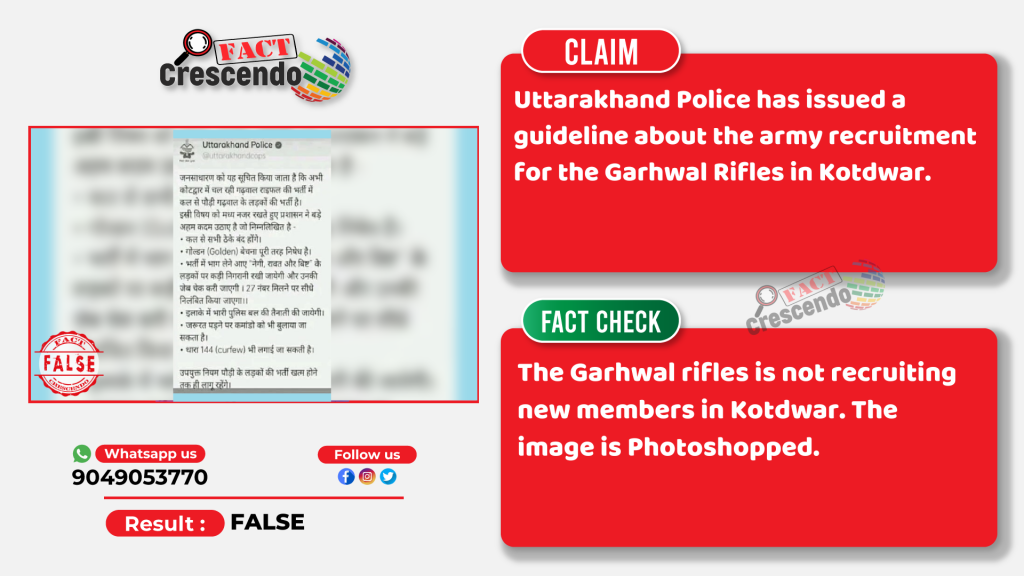 A screenshot of a tweet by Uttarakhand Police is widely circulating on social media with the claim that it has been issued by the Uttarakhand Police. The tweet states that the recruitment for Garhwal Rifle is going to start in Kotdwar, Uttarakhand. Thus, the government has passed certain guidelines that needs to be followed. The guidelines state that all the liquor shops will be closed henceforth; the aspirants with the sir name "Negi, Rawat and Bisht" will be checked at regular intervals; police force will be present for more vigilance and Section 144 of CrPC might be imposed in the area.
This image is circulating as the army aspirants continue to protest against the Agnipath scheme brought forward by the Modi government. 
Fact Crescendo received this screenshot on our WhatsApp Factline number 9049053770 for verification.
However, we have found that the viral screenshot is Fake.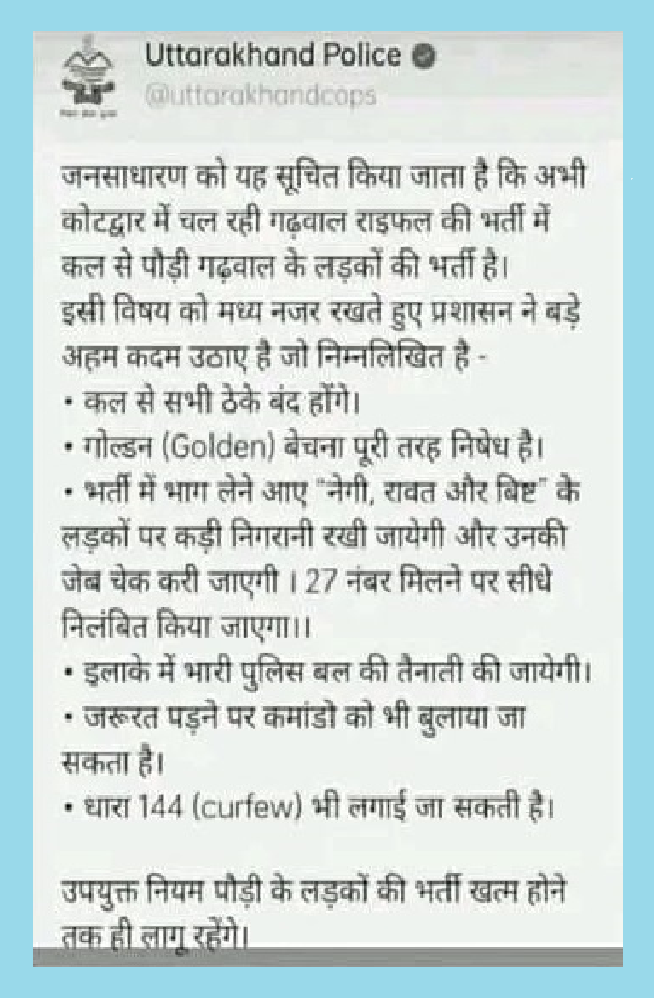 Fact Check- 
We started our investigation by checking the official Twitter account of the Uttarakhand Police but we could not find the same tweet as seen in the viral screenshot.
Next, we ran a keyword search on Google to find relevant news reports about the Garhwal Rifle recruitment and its notification. However, we could not find any news report that talks about the Garhwal Rifle recruitment.
We contacted Pauri Garhwal's SSP Yashwant Singh who confirmed to us that the viral image is Fake and no such tweet has been made with the Uttarakhand police neither they are starting the Garhwal Rifle recruitment. 
We also found a clarification tweet by the Uttarakhand Police on Twitter. It stated, "A misleading and untrue news is being circulated on social media regarding the ongoing army recruitment in Kotdwar. This is baseless and false news. The photo is completely fake and photoshopped. Legal action is being taken by registering a case against those promoting / broadcasting."
Conclusion-
Fact Crescendo found the claim made along with the viral image to be False. The Uttarakhand Police has not made any such tweet and has clarified that the image is Photoshopped. The Garhwal rifles is not recruiting new members in Kotdwar.

Title:Fake tweet goes viral as army recruitment guideline by Uttarakhand Police
Fact Check By: Drabanti Ghosh 
Result: False