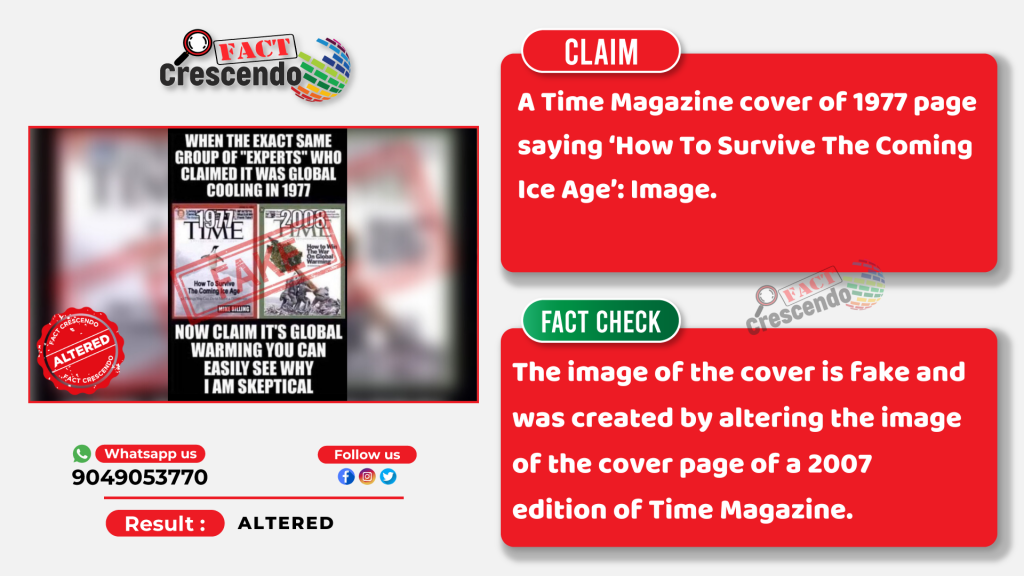 We continue to witness the consequences of climate change across the globe in the form of wildfires, devastating floods and scorching heatwaves. It becomes difficult to deny the existence of climate change day by day as it is affecting millions of people, globally. Despite this, Climate Change Deniers do not seem to budge. While denying Climate Change, they often use misinformation as arguments.
A poster containing a meme showing comparison between TIME Magazine covers from the year 1977 and 2008 has reappeared on social media. This piece of misinformation has been spreading on social media since past many years and has been returning periodically. This time, we found a tweet containing this meme.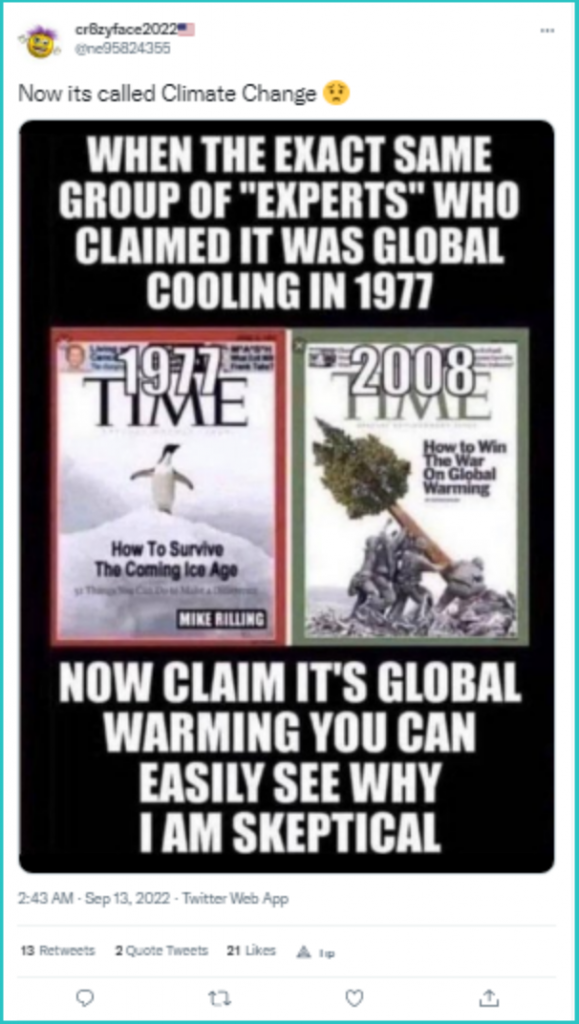 The meme says, "When the exact same group of "Experts" who claimed it was global cooling in 1977, now claim it is global warming you can easily see why I am skeptical."
However, the 1977 poster is doctored. TIME Magazine never published such cover photo in 1977. Let's know the truth.
Fact Check
We checked the archives of TIME Magazine covers published in 1977. However, we could not find any such cover photo. 

We did a keyword search on Google with relevant keywords gathered from the meme and found TIME magazine website refuting this fake cover photo way back in 2013.
As per the article, this fake photo has been circulating for a while. In addition, this photo was made by editing the photo of another Time Magazine cover titled, 'The Global Warming Survival Guide' published on April 9, 2007.
You can see the comparison between the edited and the original image. We can see clearly that the text "The Global Warming Survival Guide" has been replaced by "How To Survive The Coming Ice Age".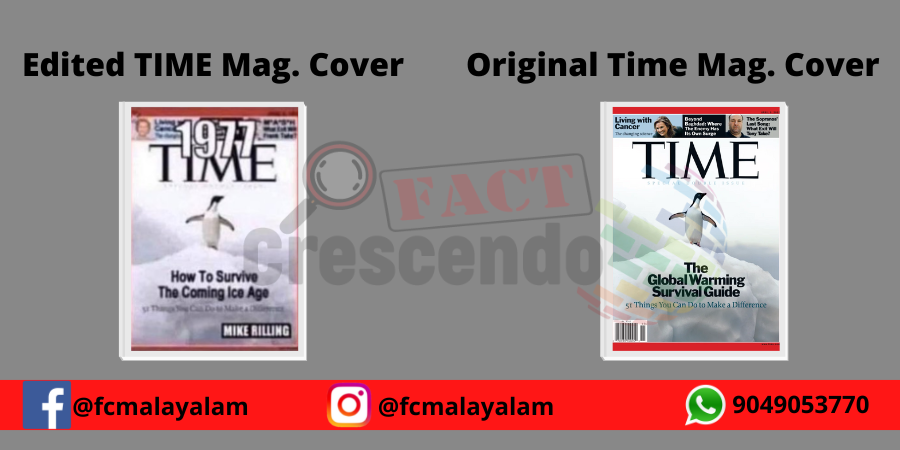 Besides TIME, organizations such as Reuters and Climate Feedback have debunked this piece of misinformation before. However, it still finds its way back frequently on social media platforms. 
For more content related to misinformation around climate change, follow Climate Fact Checks. Climate Fact Checks is a joint initiative of Fact Crescendo and Aranyak striving to fight misinformation on social media. You can follow us by clicking on the links given below:
Twitter | Facebook | Instagram
Conclusion
 The TIME Magazine photo cover alleged to be from 1977 predicting The Coming Ice Age is fake. The photo was created after editing a 2007 TIME magazine cover that said 'The Global Warming Survival Guide'.
Title:Fake 1977 Edition TIME Magazine Cover Photo Predicting 'Coming Ice Age' Revived To Spread Misinformation about Climate Change
Fact Check By: Harish Nair 
Result: Altered