A message on Twitter in the name of English cricketer Moeen Ali claims that he is boycotting IPL over former Bharatiya Janata Party (BJP) spokesperson Nupur Sharma's controversial statements against Prophet Muhammad.
The viral tweet using the handle "@Moeen_Ali18" said: "If India does not apologize for its blasphemous statement, I will never go to India to play match again, I will also boycott the IPL. And I will appeal to my fellow Muslim brothers to do the same… I Love Muhammad P.B.U.H"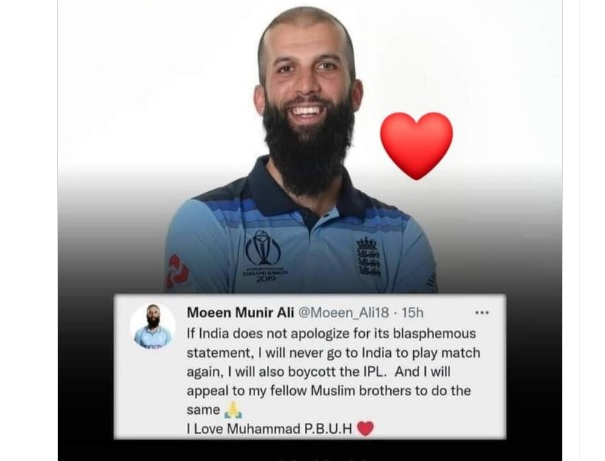 The screenshot of the tweet is making rounds on social media here and here. It has been shared widely claiming that Moeen Ali has demanded an apology from India. The claim further stated that he will boycott the Indian Premier League (IPL) and will never visit India to play any match.
It may be noted that 16 Muslim countries and the Organisation of Islamic Cooperation (OIC) consisting of 56 member states, have asked the Indian government to take action against Nupur Sharma's remarks. The BJP suspended Sharma on 5 June 2022, while it expelled Naveen Jindal, another Delhi BJP spokesperson for sharing tweets on it.
FACT CHECK
When Digiteye India team checked the purported Twitter account of cricketer Moeen Ali, where the statement was made, it was found that the account was a fake one and not an official account of the English cricketer.
Now, the account has now been suspended and the available archives show that the bio clearly states that it was "not official" account.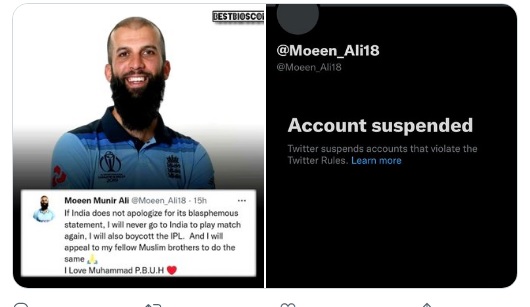 Created in May 2022, with over 8,000 followers, the Twitter account profile claims that it was "Commentary account of Moeen Ali".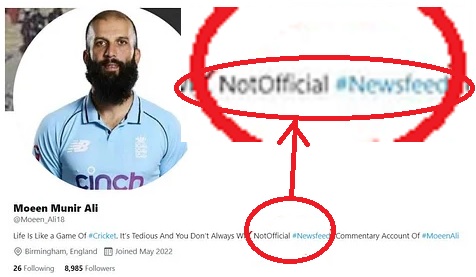 When checked for the official account of Moeen Ali on Twitter, we found that the account linked to Ali's social media handle was '@MoeenAli', which was created in 2014 and it had only three posts dated November 2014 and remained inactive since then.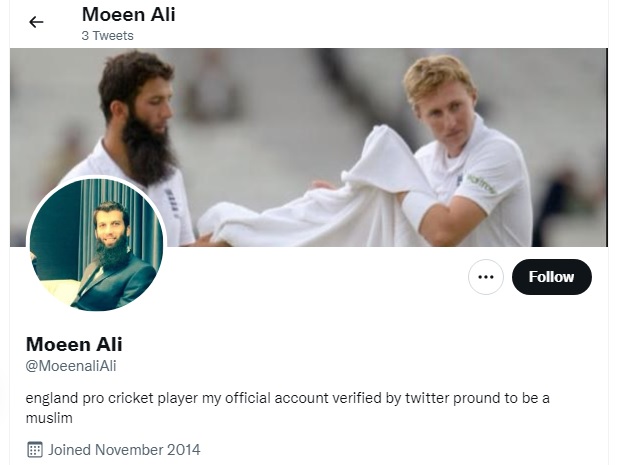 Moeen Ali had played the IPL last month for Chennai Super Kings and no official statement has been made by him about his participation in future IPL events. Hence, the claim is false.
Claim: English cricketer Moeen Ali tweeted that he will boycott the Indian Premier League (IPL) and will never visit India to play any match.
Conclusion: The Twitter account was a fake one and no such statement has been made by Moeen Ali.
Rating: Misrepresentation –