The original image was posted in 2014 when Narendra Modi was elected as the Prime Minister.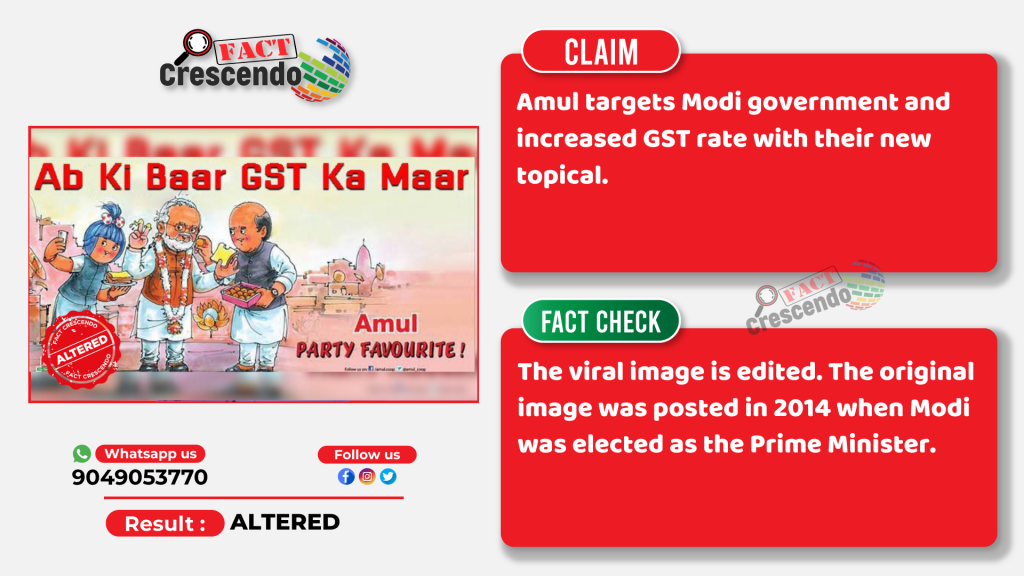 Previously several topical made by Amul were edited to falsely represent the brand. This time, social media users are back with another such image showing the Amul topical. 
This viral image claims that the Amul Company created a topical (cartoon made on recent topics) taking a dig at Prime Minister Narendra Modi over the increased GST rate. The image shows PM Modi and Defence Minister Rajnath Singh taking a selfie with the Amul girl who is mascot of the company. The caption on top of Modi's head mention, "Ab ki Baar GST ka Maar"
This image is circulating after the GST Council decided for a rate hike from 18 July 2022 on daily essentials such as pre labelled curd, buttermilk and lassi. These essentials will be charged with a rate of 5 percent GST. Earlier there was no tax on these items.
This image was posted by social media convenor of Telangana Rashtra Samithi (TRS), Krishnan K on 20 July 2022 with the caption, "Galat Sarkar Tax 5% Hike on Milk." 
Gandra Venkataramana Reddy, MLA from TRS also posted the same on 20 July 2022. 
Fact Check- 
We started our investigation by running a reverse image search on Google, whose results led us to the original tweet published by Amul Co-Op on 16 May 2014. The caption of the tweet mentions, "Amul Topical: Modi's landslide victory! This image was posted when Modi was elected as the Prime Minister of India.
Below you can see a comparison image between the viral image and the original image. The caption in the viral image states "Ab ki baar GST ki Maar" while the original image states "Ab ki baar, Bhajap Sweekar." The viral is edited. 
Amul has previously posted two topical related to GST. The first one was posted on 5 August 2016 stating, "Where there is a bill, there is a way" while the second one was posted on 4 July 2017 stating "Easy to Digest, Good service at Table!"
Fact Crescendo has previously debunked another edited image related to Amul. You can read it here.
Conclusion- 
Fact Crescendo found the viral image to be digitally edited. The viral image is not Amul's topical taking a dig at the Modi government over the increased GST rate. The image dates back to 2014 when Modi was elected as the Prime Minister of India.
Title:Edited image shared as Amul targeting Modi and GST rate in their Cartoon.
Fact Check By: Drabanti Ghosh 
Result: Altered