Writing on the currency notes will not make them invalid. RBI has not issued any such guidelines.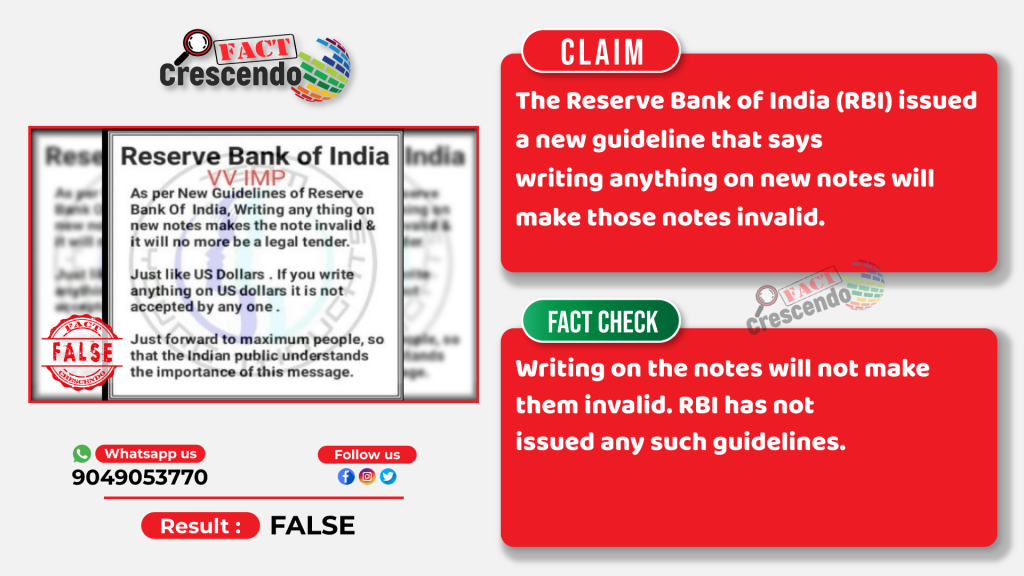 These days a post is going viral on the social media claiming that as per RBI's new guidelines, writings on currency notes will make the note invalid and it will not be considered a legal tender. Users are sharing it on social media thinking it to be true. 
You can see the viral post below.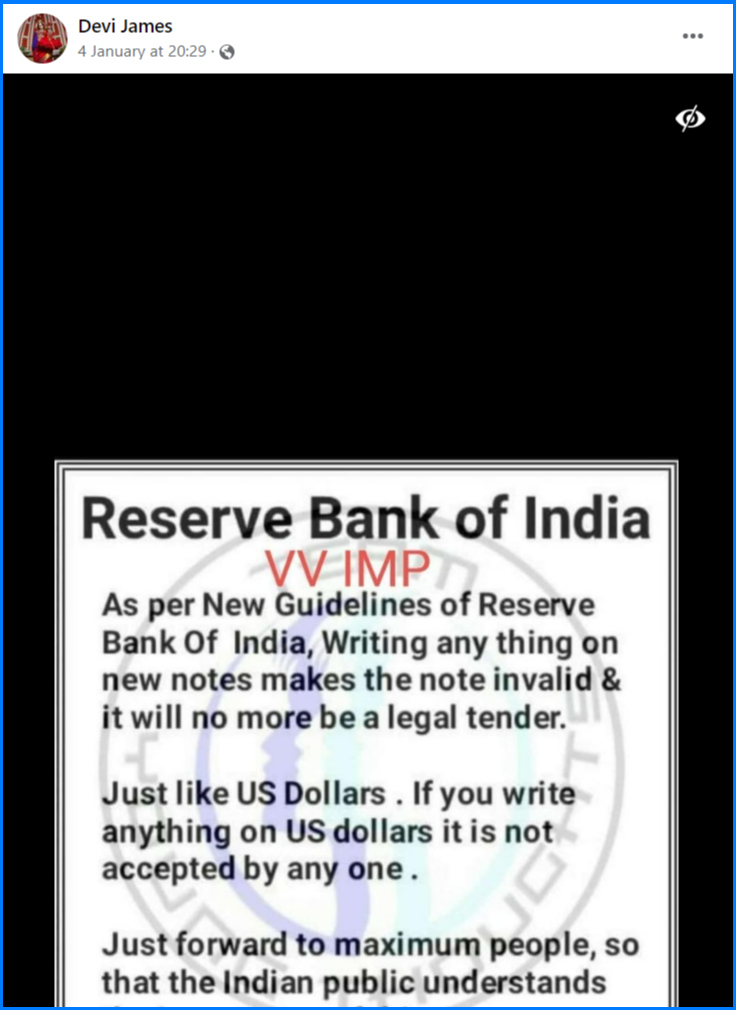 Fact Check– 
At first we checked the website of RBI and so far website has not carried any notice regarding such guidelines. We discovered information published on the RBI website after searching a little deeper. It is clearly written in it that "All Bank notes with scribbling / stain (including colour stain) on them continue to be legal tender. Such notes can be deposited or exchanged in any bank branch".
We can understand from this that bank notes with writing on them are not illegal.

The FAQ section also mentions the Clean Note Policy "The objective of the Reserve Bank's Clean Note Policy is to give the citizens good quality currency notes and coins while the soiled notes are withdrawn out of circulation. The Reserve Bank has also instructed the banks to issue only good quality clean notes to the public and refrain from recycling the soiled notes received by them over their counters. The Reserve Bank has installed high speed Currency Verification and Processing Systems (CVPS) machines at all its offices which deal with currency. These machines are capable of processing 50,000-60,000 pieces per hour and soiled notes are shredded and briquetted on-line.

The Government, through Press Bureau of India (PIB) Fact Check unit, on 8 January clarified that bank notes with scribbling are not invalid and continue to be legal tender. However, it added that writing on currency notes is not recommended as it "defaces them and reduces their life". 
 You can see the tweet below.
Hence, it is clear that even though it is advised not to write on the banknotes, it will not make the notes invalid.
Conclusion- 
Fact Crescendo found the claim made along with the viral image to be False. Writing on the notes will not make them illegible. RBI has not issued any such guidelines.

Title:Does writing on bank notes make them invalid?
Fact Check By: Usha Manoj 
Result: False