SRK is not endorsing Kejriwal led government or AAP. AAP created the video using footages of a commercial that Shah Rukh Khan did for Godrej.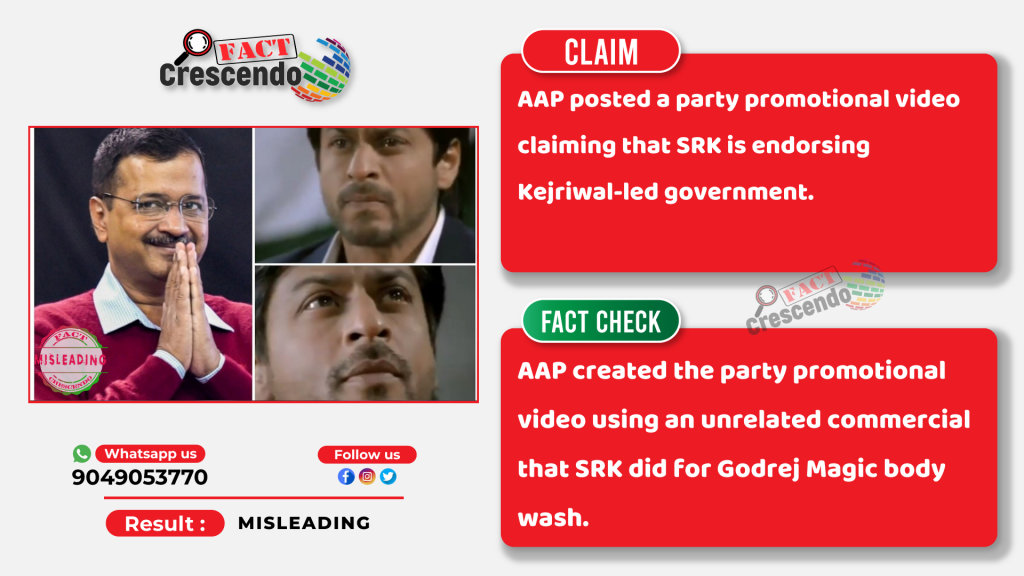 Image Credit- News18
A video posted by the Aam Aadmi Party (AAP) on their official Instagram and Facebook handles is widely circulating on social media. The spliced video shows Bollywood actor Shah Rukh Khan saying 'Do you believe in Magic?' followed by visuals of schools, hospitals and zero electricity bill policies of the states where AAP has the power. The video is edited in a format that implies that Shah Rukh Khan is endorsing the AAP government through this political advertisement. Several AAP members that imply Shah Rukh Khan endorsing the party through this advertisement have shared this video.
The caption stated, "King of Bollywood meets the King of Governance."
Fact Crescendo found that the video shared by AAP is edited. The clip showing Shah Rukh Khan was originally picked up from a beauty product commercial. He was endorsing a beauty product and not AAP.
Instagram Link | Archive Link| Facebook Post
Fact Check-
We started our investigation by running a keyword search whose results led us to a YouTube short with the caption "Shah Rukh Khan latest short clip do you believe on magic godrej ad."
Since the short mentions that this video is from a Godrej ad, we ran a relevant keyword search on Google, which led us to the Instagram profile of Godrej Magic on 7 July 2022. The caption of the video states, "What do you think @iamsrk is hinting at? Stay tuned to find out. Something magical is coming real soon!"
This video shows the first part of the viral video where SRK can be heard saying 'Do you believe in Magic?'
Following this video, Godrej Magic posted another video on their Instagram starring Shah Rukh Khan who can be seen promoting a body wash by Godrej. He can be seen promoting Godrej Magic body wash.
The video posted on 8 July 2022 mentions, "Who would have thought that a tiny sachet could make a full bottle of bodywash? We did! Introducing Godrej magic bodywash – India's first ready-to-mix bodywashthat's @iamsrk approved!Now that's what we call #magic."
Thus, it is clear that the spliced video showing SRK endorsing AAP was actually picked from a body wash commercial that SRK was enacting in.
Conclusion-
Fact Crescendo found the viral video to be Misleading. AAP created the party promotional video using an unrelated commercial that SRK did for Godrej Magic body wash. The video is being shared misleadingly as SRK endorsing Kejriwal-led government.

Title:Did Shah Rukh Khan endorse Kejriwal-led AAP government in this video?
Fact Check By: Usha Manoj 
Result: Misleading