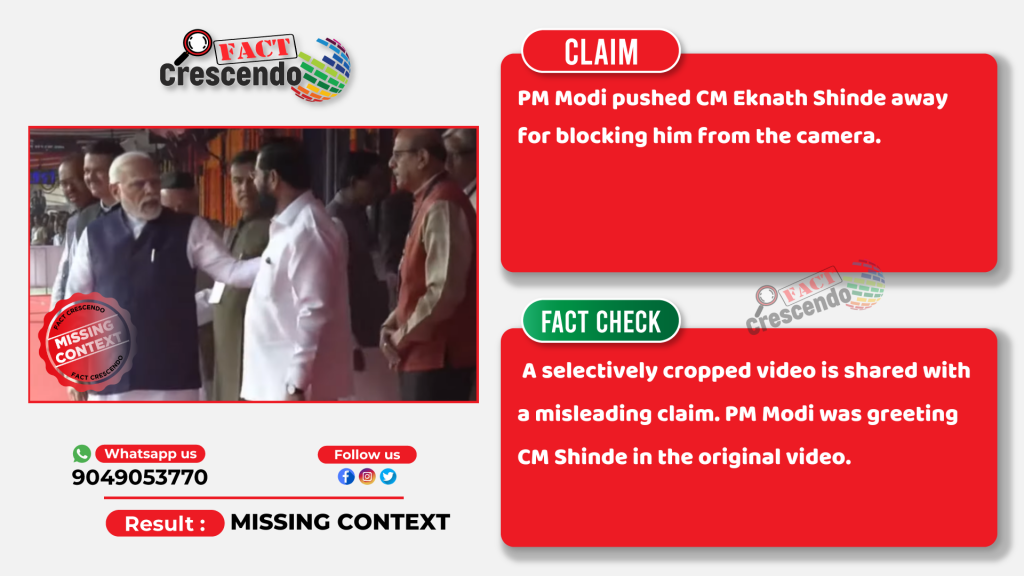 Prime Minister Narendra Modi is known for his penchant for cameras. Now, a video of him apparently pushing Maharashtra CM Eknath Shinde away from the camera is going viral. 
It has been shared to claim that PM Modi insulted CM Shinde because he had come in between him and the camera.
Fact Crescendo received the viral video on our WhatsApp Tipline (9049053770) with fact-check requests.
We found that the viral clip is selectively edited and shared out of context. 
WHAT'S THE CLAIM?
In a 10-second clip, Narendra Modi seemingly pushes Eknath Shinde back. 
Users have shared this clip interpreting that PM Modi pushed CM Shinde because he blocked him from the camera's view.
FACT-CHECK
Close inspection of the viral clip revealed that it has been taken from a news coverage by ABP Majha, a Marathi news channel.  
We found the original news on a YouTube account ABP Majha uploaded on 11 December. 
PM Modi flagged off the sixth Vande Bharat Express that will run between Maharashtra's Nagpur and Chhattisgarh's Bilaspur.
On this occasion, Governor Bhagat Singh Koshyari, Chief Minister Eknath Shinde, and Deputy Chief Minister Devendra Fadnavis were present.
In the longer version above, you can see that Narendra Mod did not push Eknath Shinde away to keep him out of frame. Shinde was standing beside him during the whole flagging-off ceremony. 
At first, PM Modi flags off the train. All the dignitaries wave off the passengers. Eknath Shinde can be seen beside PM Modi. 
Once the train leaves the station, Modi turns to greet Eknath Shinde. In doing so, Shinde inadvertently steps back. They shake hands and exchange a few words. 
On comparing the viral clip to the unedited version, you can see the difference. 
CONCLUSION
It is clear that a selectively cropped video is shared with a misleading claim. PM Modi did not push CM Eknath Shinde away for blocking him from the camera. (If you also come across any such videos and images you think are falsely viral, send them on our WhatsApp Helpline (9049053770) or tag us on Facebook, Twitter, and Instagram.)
Title:Did PM Modi Push CM Eknath Shinde Away From Camera? Selectively Clipped Video Viral
Fact Check By: Mayur Deokar 
Result: Missing Context