When a woman in village Dhadkai of district Doda, Kashmir, reaches the eighth month of pregnancy, the family's fear and anxiety grow with each passing day. A child's birth is a joyous moment that is celebrated across the world. However, in village Dhadkai, a child's birth is considered harassment not only for the parents but for the entire village. Dhadkai, also known as the 'silent village', is famous for the birth of deaf, mute child, or even both.
At the time of delivery, the females of the village encircle the women with anxiety and curiosity praying that the child should not be deaf or mute. The inhabitants of Dadhkai pray for the birth of a normal kid rather than a boy or girl. Having a child who is deaf and mute only adds to the problems and sorrow. Out of the 105 families in this tribal hamlet, 55 families have at least one person who is unable to talk or hear.
The village is situated on a hillock connected to the mainland by a footbridge with no road. It constitutes a sizable population in an area of fewer than 3 square miles. Mir Ali, a Jammu district native, founded the village in 1901. Who migrated to this place from somewhere in the Jammu district.
Sad part of the story
Hanief Ahmed, 60, a resident of the silent village told THIP Media that in this age of technology and advancement, the government's lofty claims of improving health facilities fall short in village Dakdhai, where villagers still check the normalcy of a child by washing him; if the infant opens his eyes after three to six hours and cries in a thin voice, the child is considered normal. If the baby cries in a thick voice and keeps its eyes closed for days, the child is either deaf or mute. 
Hanief Ahmed has four children, all of them are deaf and mute. Dhadkai has a population of around 2,800 people. It is also estimated to have the highest prevalence of deaf-mutism which is not explained by a specific syndrome in the world. A faulty gene has afflicted 55 households in the community, largely affecting women.
The community is cut off from the rest of the region as there are no roads for public transportation to connect it to surrounding areas. It is separated from the neighboring region by a river. A team of scientists and doctors from an Indian health institute investigated the village's situation decades ago, but no conclusive findings were made to the public.
Sushil Razdan, a well-known neurologist, conducted extensive research on deaf mutism in Dhadkai. He claims that the village has had a high prevalence of deaf-mutism for about a century. However, no other country in the world has such a high rate of deaf-mutism. According to Razdan, there were certain myths that the village's plight was linked to its water, soil, and vegetables.
The plight of people
Haji Lateef, 62, a Dhadkai resident, told THIP Media that Dr. Sushil Razdan had previously visited the village along with his team. "They did tests on soil, water, and vegetables, but had not achieved any breakthrough yet. The number of cases is continuously increasing," Lateef says.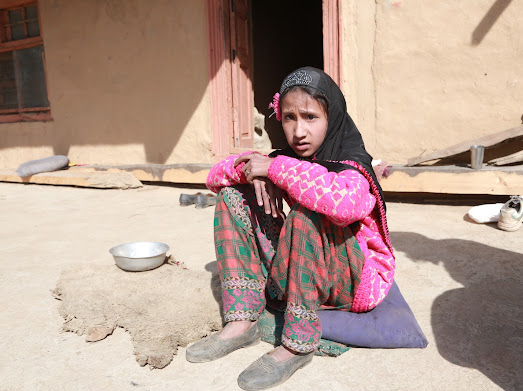 While bursting into tears, Lateef adds that village folks walk from house to house and work as cow-dung pickers and grass mowers in the houses of rich families. "No one is ready to marry our daughters, we wish to bury ourselves alive with them. People are hesitant to marry girls of rural Dhadkhai. Hundreds of village girls are waiting for getting married, "Lateef added. Some residents attribute it to pollution in the water or air, while others say they are cursed because no other villages in the area have experienced similar problems.
Sushil Razdan told THIP Media that between 2010 and 2011, the team of doctors Sunil Kumar Raina, Sandeep Dogra, and others conducted extensive surveys which read, "Deaf epidemiological surveys have repeatedly revealed that hereditary reasons account for around half of all childhood deafness, but these surveys have also shown that the cause cannot be ascertained in a significant proportion of the population. Genetic causes are common and exceedingly heterogeneous in this category of 'cause unknown' deafness, according to recent molecular research."
The research further adds that many deaf people and their families are curious about the cause of their deafness, especially if it is inherited. Proven genetic identification may enable reliable genetic counseling and family planning, as well as carrier testing for relatives and information on environmental risk factors aminoglycoside antibiotics in those with the A1555G mtDNA mutation, or risk of progression of hearing loss in those with dilated vestibular aqueducts.  Furthermore, precise molecular diagnosis may be required for the planning and evaluation of interventions such as cochlear implants for future gene therapy.
Ray of Hope
This village was ignored by the government until a local took up this matter again with higher officials and politicians, and a team of health experts was sent to investigate in 2014.
A delegation from the Indian Council of Medical Research (ICMR) screened 2,473 villagers in 2014. They discovered 33 children under the age of ten with hearing problems, as well as 39 adults who were deaf and dumb. Since then, 11 more cases have been discovered, bringing the total to 83. Otoferlin has been identified as the gene responsible for a large number of cases of hearing loss.
Marya Begum, 50, a Dhadkai resident, adds tearfully, "Woh din EiD hogi hamare liye, jab yehan bacha normal paida Hoga" (a day will be declared Eid when a normak kid will born here). Having such children create problems for families. It's practically impossible to leave small children alone or send them outside the village. They also find it challenging to talk about their illnesses with others.
To bring relief to the residents of Dhadkai, The Indian Army last year supplied high-tech specialized hearing devices to deaf and mute people. They have adopted the village to assure the total welfare of the community, with a variety of social security programs aimed at providing them the confidence to survive and make a livelihood on their own. 
Apart from looking at their necessities such as clothes, food, and healthcare, the Army has started providing mute youngsters with individualized teaching classes. To provide comprehensive and long-term assistance to these villagers, two teachers were sponsored by the Army to receive specialized training in Hyderabad and Secunderabad (Telangana) to teach them the best possible sign language, and they are now teaching the deaf and mute population at their homes.
Disclaimer: Medical Science is an ever evolving field. We strive to keep this page updated. In case you notice any discrepancy in the content, please inform us at [email protected]. You can futher read our Correction Policy here. Never disregard professional medical advice or delay seeking medical treatment because of something you have read on or accessed through this website or it's social media channels. Read our Full Disclaimer Here for further information.