Is a natural remedy capable of saving a heart attack patient?
No, our research shows that while natural remedies can help with the prevention of cardiac conditions and could be beneficial for certain cardiac conditions, they cannot cure medical emergencies like heart attacks and strokes. It should be noted that a heart attack is a medical emergency that requires immediate medical attention.
Quick Take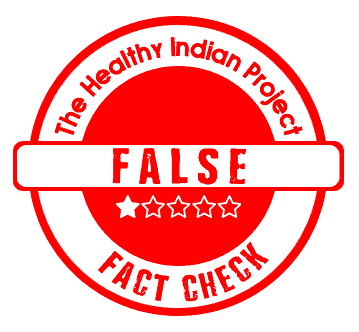 According to a Facebook post, a natural recipe could save someone suffering from a heart attack. We verified the claim and found that the assertion is False.
The claim
A viral Burmese post with the caption "How to immediately save a person who has a sudden heart attack?" says that consuming a natural preparation apparently containing hot water and chili powder may cure people suffering from heart attacks.
Fact Check
Is this a genuine post?
No, not at all. We used Google reverse image search and discovered that images of hot tea and red chilies had been combined to create a collage. We even translated the written portion of the shared image, which does not even mention the exact herbal recipe that could save a patient suffering from a heart attack. Also, the claim does not specify how the shown herbal therapeutics are used to save a heart attack patient. Additionally, no cardiologist, alternative medicine practitioner, or cardiac research institute has shared this post. As a result, our analysis shows that the assertion is false and should not be trusted. The translated image of the post has been shared for your reference.
What accounts for the majority of heart attacks?
Heart attacks and strokes are typically sudden events caused by an obstruction that prevents blood from flowing to the heart or brain. The most common cause is an accumulation of fatty deposits on the inner walls of blood vessels that supply the heart or brain. Strokes can also be caused by blood clots or bleeding from a blood vessel in the brain. These conditions are usually caused by a combination of risk factors such as tobacco use, an unhealthy diet, obesity, physical inactivity, harmful alcohol use, hypertension, diabetes, and increased lipid levels. It should be noted that elderly patients are more likely to develop CVD symptoms in response to the stress of systemic disorders or relatively minor cardiovascular insults.
What are the most prevalent warning signs of a heart attack?
Heart condition is one of the world's leading causes of death. These conditions include hypertension, thromboembolism, coronary heart disease, heart failure, endocarditis, stroke, peripheral vascular disease, and many others.
It should be noted that some people experience no symptoms, while others feel pressure, tightness, pain, squeezing, or aching in the chest; pain that spreads to the shoulder, arm, back, neck, or even the jaw; cold sweats; weakness; heartburn; sudden dizziness; nausea; and shortness of breath.
Is it true that ayurvedic remedies can save a person who is having a heart attack?
No, not for now. Herbal ayurvedic formulations can help lower cholesterol and improve certain cardiac conditions, but they cannot treat heart attacks. Chandraprabha and cinnamon with honey are two herbal remedies that are commonly used to lower blood cholesterol levels. The combination of Arjuna, Ashwagandha, and Shatavari not only promotes healthy cholesterol levels but also helps regulate blood pressure. Amla promotes the growth and maintenance of new tissues, as well as the production of red blood cells. And garlic is the most important ingredient for controlling blood pressure, lowering cholesterol, boosting immunity, fighting infections, and even preventing cancer.
Please keep in mind that, while Ayurveda has provided novel remedies for the management of cardiovascular diseases, herbs such as Arjuna, garlic, and cinnamon and their formulations appear to be very beneficial in the treatment and prevention of heart diseases. However, more research is needed to determine their role in cardiac emergencies such as heart attacks and strokes. The detailed investigation of plants and their constituents for pharmacological actions will aid in the development of new therapies for the treatment of cardiovascular diseases.
We asked our Ayurvedic expert, Dr. Annusuiya Gohil, if ayurvedic therapeutics could save a person suffering from a heart attack, and she advised that, "A person experiencing a heart attack should not look out for immediate ayurvedic treatment. Despite the fact that ayurveda has many medicines and procedures for maintaining good cardiac health, there is still a lot that needs to be done for emergency care and treatment of vital organs. There are also many restrictions due to the prohibition on the use of certain drugs. Allopathy has done an excellent job in terms of emergency care and treatment, and it should be used whenever possible. Once the patient is out of danger, he can seek alternative medicine to maintain his cardiac health.
What is the correct way to handle a heart attack?
The most commonly used treatment for CVDs remains conventional drug therapy and surgical management. The majority of risk factors for cardiovascular disease and stroke are modifiable or completely avoidable. Tobacco use, high blood pressure, physical inactivity, high blood cholesterol, obesity, heavy alcohol consumption, and poor nutrition are all modifiable risk factors. Modifying risk factors can reduce the likelihood of developing heart disease. While age and family history are not modifiable risk factors, remember that a heart attack necessitates emergency management.
THIP Media Take: We conclude that the post claiming the use of a herbal remedy to save a person from a heart attack is untrustworthy. Our analysis also reveals that, while natural remedies may aid in the treatment of cardiac conditions, they cannot be relied on to manage medical emergencies such as heart attacks and strokes. Hence, the claim is false.
Disclaimer: Medical Science is an ever evolving field. We strive to keep this page updated. In case you notice any discrepancy in the content, please inform us at [email protected]. You can futher read our Correction Policy here. Never disregard professional medical advice or delay seeking medical treatment because of something you have read on or accessed through this website or it's social media channels. Read our Full Disclaimer Here for further information.