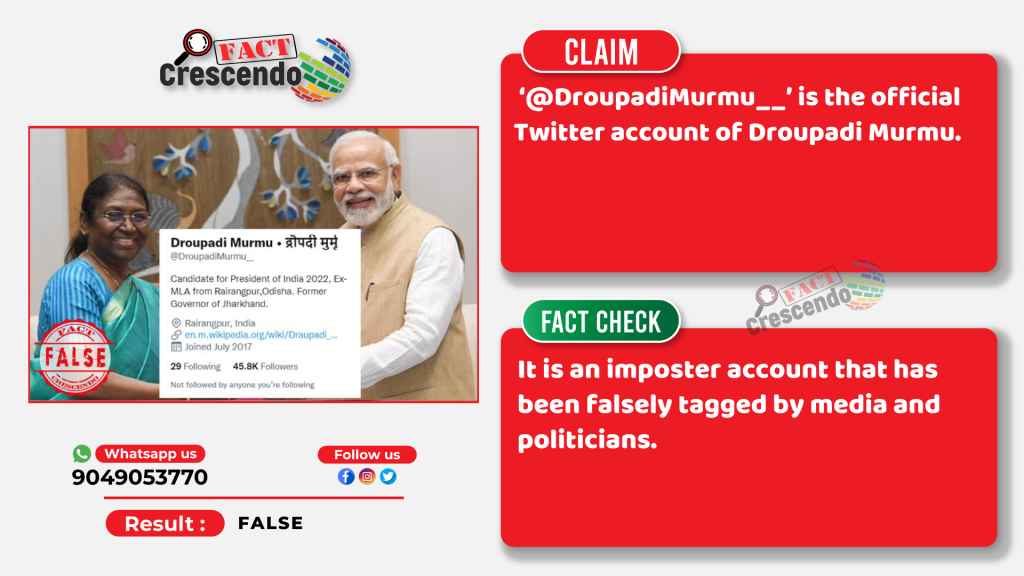 After the announcement of Droupadi Murmu as the presidential candidate of the BJP-led National Democratic Alliance, hundreds of Twitter accounts pretending to be her turned up on social media.
Some of them even garnered a considerable number of followers. One such account by the Twitter handle "DroupadiMurmu__" has more than 45 thousand followers, of which 20 thousand were added only in the last five days and the count is growing. 
Many BJP ministers, MPs, MLAs, journalists, and news media organizations are tagging this Twitter account believing it to be the official account of Droupadi Murmu.
Fact Crescendo's investigation established that this is a fake account impersonating Droupadi Murmu.
What Are We Investigating?
The Twitter account (@DroupadiMurmu__) has been tagged by BJP MLAs Maheshkumar Raval, Nimishaben Suthar, Shailesh Mehta, Pankajkumar Desai, Jagdish Vishwakarma, Purnesh Modi, and Harsh Sanghavi; BJP MPs Rambhai Mokariya, Arun Sao; BJP IT Cell Members Lokendra Parashar, Devang Dave and others. 
News websites like Live Law, Air News Gujrat, BBC News Marathi, ET Now, Dynamite News, News1 India, Zee UP UK, NewsMobile, Asianet Suvarna News, and The Week; Journalists Arun Sharma and Manoj Shrivastav have also mentioned this account as Droupadi Murmu's. 
This account is receiving congratulatory and welcome tweets and replying to them in the first person. Also, this account has tweeted a comment on the recent controversy related to the National emblem.
FACT CHECK
The absence of a blue tick is the first red flag. The concerned account is not verified by Twitter. Droupadi Murmu was governor of Jharkhand before she was nominated for the Presidential election. 
It is improbable that a person of her stature would not have a verified account. It raises doubt about this account.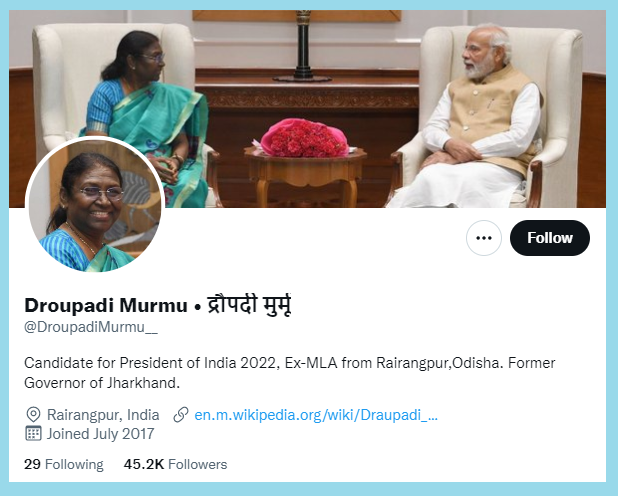 Few Observations:
PM Narendra Modi, Defence Minister Rajnath Singh, and Odisha CM Naveen Patnaik have not tagged any Twitter account in relation to Droupadi Murmu as per usual practice. 
Also, This account was created in July 2017. But the oldest tweet available on this account is from 23 June 2022. It seems unusual.
Then what is the history of this account?
Twitter assigns a unique identifier to every user when they open an account on the platform. It is called 'Twitter ID' or 'User ID'. 
Unlike username (or handle), users cannot change their Twitter ID. You can check the Twitter IDs of any account here. 
The Twitter ID of this account (@DroupadiMurmu__) is 886647907537080321.
So, this account may change its username any number of times but it will always have 886647907537080321 as its permanent Twitter ID.
Upon searching this unique Twitter ID on Google, we found a Twitter API dataset on GitHub created in 2019. 
In the dataset, it is mentioned that this Twitter ID is associated with a username called '@imkjtiwari'.
Searching it on Twitter, we came across a tweet by a user (@JasvarJitendra) in reply to a now-deleted tweet. There you can see this tweet was given in reply to a tweet whose username is now '@DroupadiMurmu__'

If the Twitter ID associated with '@imkjtiwari' and @DroupadiMurmu__ are the same, then it will be established that they are the same account.
For that, we used Twitter API. In the below screenshot, you can see that the above tweet by Jitendra Jasvar was posted in reply to an account (@imkjtiwari) whose Twitter ID is 886647907537080321.
Twitter ID of '@DroupadiMurmu__' is also 886647907537080321. Hence, they are the same.
Also, the same account used to go by the username '@kajjlam' in 2017.
Twitter search on this username shows people had called it by the name of Kajal.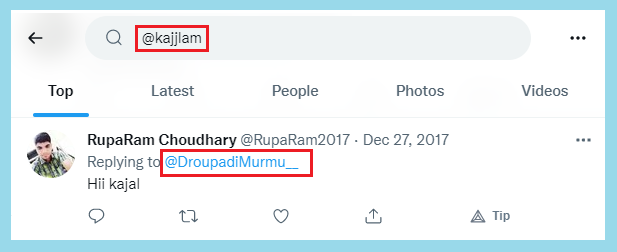 As per the Twitter API details, '@kajjlam' and '@DroupadiMurmu__' have the same Twitter ID. 
Hence, they are the same account.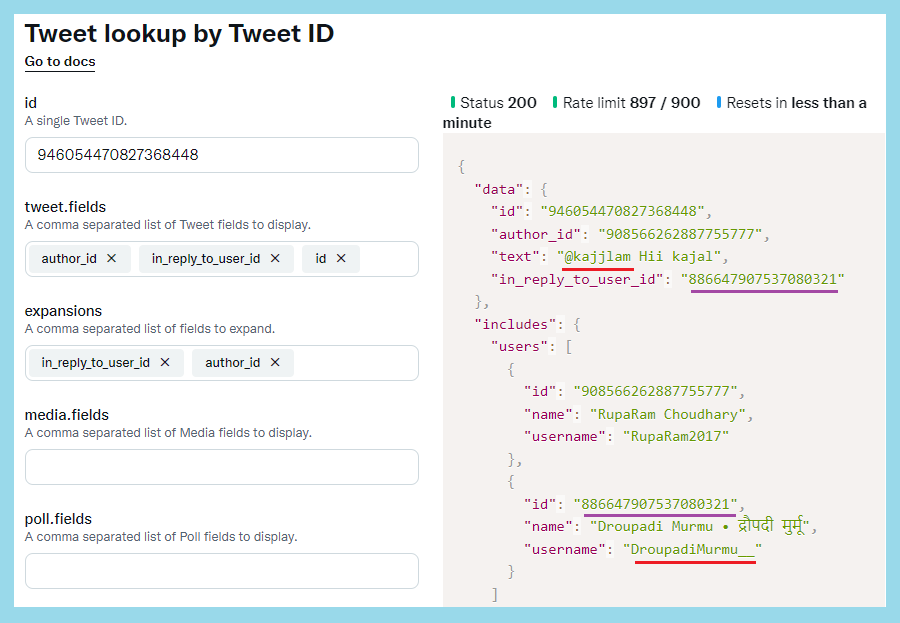 From above the information, we can say that this account has changed its username over the period. Once, Droupadi Murmu's name was announced on 21 June, it assumed the identity of Murmu by impersonating her. 
We can see, that tweets were posted by this account in 2017 and 2019. But those tweets have now been deleted. Now, the earliest tweet on this account is from 23 June. 
| | | |
| --- | --- | --- |
| Username | Twitter ID | Year |
| @kajjlam | 886647907537080321 | 2017 |
| @imkjtiwari | 886647907537080321 | 2019 |
| @DroupadiMurmu__ | 886647907537080321 | 2022 |
The So Called Website
The archived version (13 July) of this account (@DroupadiMurmu__) mentions a website (draupadimurmu.in) in its bio.
As per details available on the WHOIS domain database, the website draupadimurmu.in was created last month on 21 June. PM Narendra Modi also announced Droupadi Murmu's nomination on the same day. What a coincidence, right? 
The website was registered by Neucent Technologies Pvt Ltd, which is a software development company in Noida, though it was registered in Kanpur.
If it was her official Twitter account and this was her official website, why was it removed and replaced by her Wikipedia page link? Also, the official spelling of her name is Droupadi, not Draupadi.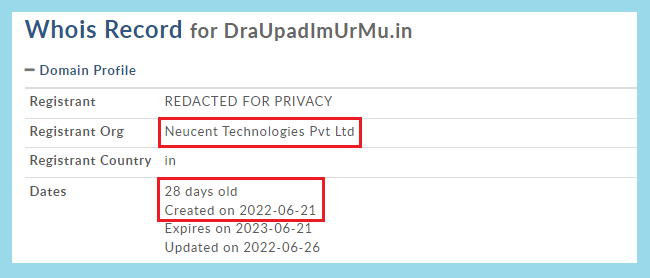 FIR Against Imposter Accounts 
Rampur police in Uttar Pradesh have opened a case against fake and imposter Twitter accounts in the name of Droupadi Murmu on the complaint filed by an RTI activist Danish Khan. 
"We are investigating the matter. Cyber Cell is also looking to identify the culprits who have created fake accounts. Strict action will be taken on those who are responsible," told Rampur police inspector Ashok Kumar.
Many news articles reported that Droupadi Murmu does not have any social media account. India Today spoke to Murmu's personal assistant Suraj Kumar Mahato who also confirmed that "all these accounts are fake. She has no social media presence."
CONCLUSION
It is sufficiently clear that '@DroupadiMurmu__' is not Droupadi Murmu's official account. It is an imposter account that has been falsely tagged by media and politicians.

Title:BJP MP, MLA, Media All Fell for Fake Twitter Account of Droupadi Murmu
Fact Check By: Mayur Deokar 
Result: False