Different angles of the video shows Jitendra Singh tying his own shoelace. Rahul Gandhi is not wearing shoes that has shoelaces.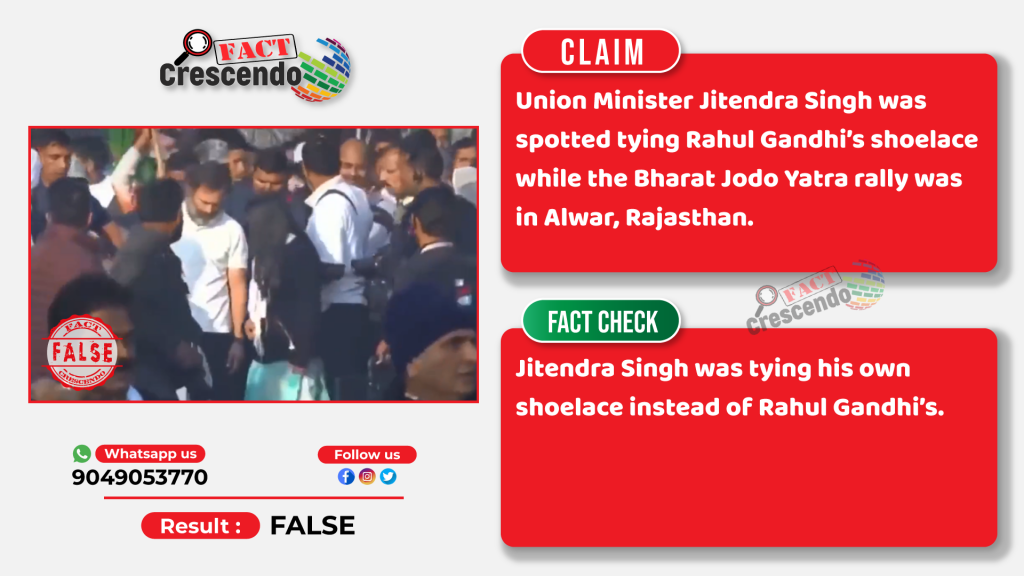 A video showing the former Union Minister Jitendra Singh bending in front of Congress leader Rahul Gandhi is circulating on social media. Users claim that Jitendra Singh was spotted tying Rahul Gandhi's shoelace while the Bharat Jodo Yatra rally was in Alwar, Rajasthan. However, users also said Rahul Gandhi instead of helping himself to tie his shoelace he could be seen patting Jitendra Singh's back.
This video was shared with the same claim by BJP's IT National In-charge, Amit Malviya, BJP Leader- Tajinder Pal Sigh Bagga, BJP National General Secretary-RohitChahal.
The caption with this video state, "Former union minister Bhanwar Jitendra Singh goes down on his knee to tie Rahul Gandhi's shoe lace. The arrogant entitled brat instead of helping himself is seen patting his back."
Fact Check-
We found that several users have pointed out Malviya's tweet to be Misleading. After looking at the same video from different angles, we found that Jitendra Singh was actually tying his own shoelace and not Rahul Gandhi's.
We found a tweet by Jitendra Singh Alwar on his official Twitter account. Calling out Amit Malviya's tweet as a "Lie", he shared a screengrab of a video on his profile. The makes it very clear that Jitendra Alwar was originally tying his own shoelace and he had bent down to tie them, while Rahul Gandhi had paused walking to let Jitendra Alwar tie his shoes.
We found that Supriya Shrinate, chairperson for Congress social media and digital platforms had shared a video from a different angle. This video clearly shows Jitendra Singh Alwar bending down and tying his own shoelace instead of Rahul Gandhi's as claimed by BJP Ministers. 
Technical head of Congress social media, Prashant Pratap also tweeted several other images of the same spot where we can see Jitendra Singh Alwar's untied shoelaces. He wrote, "**FAKE NEWS ALERT** Shoes laces of @JitendraSAlwar are untied and can be seen clearly in picture. He was tying his own laces." He had also shared another tweet with a video shot from a different angle where Alwar can be seen tying his own shoelace.
We found a tweet by an independent journalist Ranvijay Singh who had shared an image in which Jitendra Singh's untied shoelace can be seen.
What did Jitendra Singh say?
The official Twitter handle of Congress posted a clarification video by Jitendra Singh Alwar who can be heard categorically denying the viral claims and stating that he was not tying Rahul Gandhi's shoelaces. He stated that he had asked Rahul Gandhi to stop while tying his own shoelaces so that he would not be pushed. He claimed that Rahul Gandhi's shoes had no shoelaces at all.
Conclusion-
Fact Crescendo found the claims made along with the viral video to be False. BJP ministers falsely claimed that Union Minister Jitendra Singh was seen tying Rahul Gandhi's shoelace at Congress's Bharat Jodo Yatra in Rajasthan. Originally, Jitendra Singh was tying his own shoelace instead of Rahul Gandhi's.

Title:BJP leaders falsely claims Congress leader was spotted tying Rahul Gandhi shoelaces.
Fact Check By: Drabanti Ghosh 
Result: False