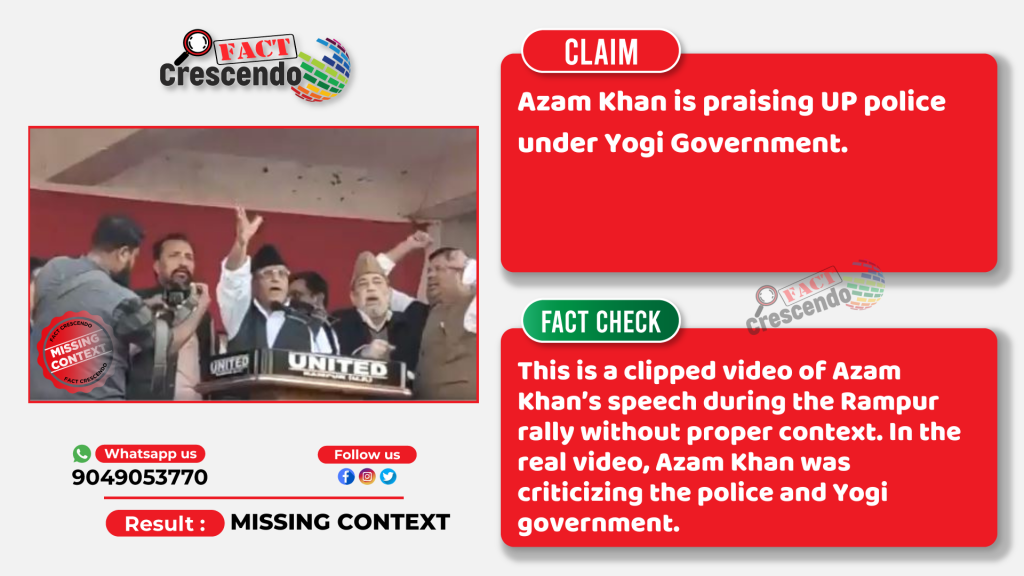 Currently, a video of Azam Khan is going viral on social media. In the video, Azam Khan along with a few other leaders can be heard praising UP police. 
In this few seconds video, Azam Khan can be heard saying, SP saheb zindabad, CO sahib zindabad, police walon zindabad, tumhare dande zindabad. 
It is being claimed that during his recent speech in Rampur, UP, Azam Khan praised police under Yogi government. 
However, fact Crescendo found the claim to be out of context. This is a clipped video. In the original video, Azam Khan sarcastically criticizes the police. 
Sharing the same video, a Twitter user claimed, "Now Azam Khan also praised Yogi Ji's police." He said SP saheb SP saheb zindabad, CO sahib zindabad, police walon zindabad, tumhare dande zindabad. 
Fact Check: 
A Google Keyword search led us to the TV9 Uttar Pradesh Uttarakhand YouTube channel. Azam Khan was addressing the public of Rampur prior to By-Election. During his speech he said, "you have insulted me during the parliament election. As a result, I lost my place in the party. You, your weakness, and your cowardness are responsible for that. I am spreading my arms like a beggar. Give us votes, not for us but for you.""Tumne parliament election main mera muh kala kar diya. Iska anzaam yeh hua ki meri sadasyata bhi chali gayi tumhare wajah se, tumhare kamjori aur tumhare buzdili ki wajah se. Abhi laaj rakh lo. Ek bhikari ke hath tumhare samne faile hain. Apne liye nahin, tumhare liye vote mang rahe hain. Azaan bhi toh yeh keh rahi hai." 
After that Azan from a nearby mosque started, then Azam Khan targeted Up police saying that they should go and check which mosque it is and how they disobeyed the SP of Police. Police should go and remove the loudspeakers. 
In the video, we can see Azam Khan saying Inquilab Zindabad, Akhilesh Yadav Zindabad, Chandrasekhar Azad Zindabad, GaribAwaam Zindabad, Desh Ke Jawan Zindabad. After that we saw Azam Khan saying SP saheb zindabad, CO sahib zindabad, police walon zindabad, tumhare dande zindabad. The viral clip can be seen from 11.50 to 13.07
(YouTube Link)
Below you can see the comparison between viral video and real video. 
A longer version of the viral clip was also tweeted by TV9 Uttar Pradesh. 
According to a report by Jansata, Akhilesh Yadav, Chandrasekhar Azad and other SP leaders joined Azam Khan in Rampur prior to by-election. During his speech, Azam Khan praised Akhilesh Yadav, Chandrasekhar Azad and others. He also reminded the public how he helped Rampur by building universities and providing better education to children. Criticizing Yogi government and police he pointed out that now Rampur changed a lot as Police is roaming in the city and threatening locals. 
Conclusion: 
Fact Crescendo found that the users are sharing a clipped video of Azam Khan's speech during the Rampur rally without proper context. In the real video, Azam Khan was criticizing the police and Yogi government.
Title:Azam Khan did not praise UP police under Yogi government during his speech in Uttar Pradesh
Fact Check By: Siddharth Sahu 
Result: Missing Context