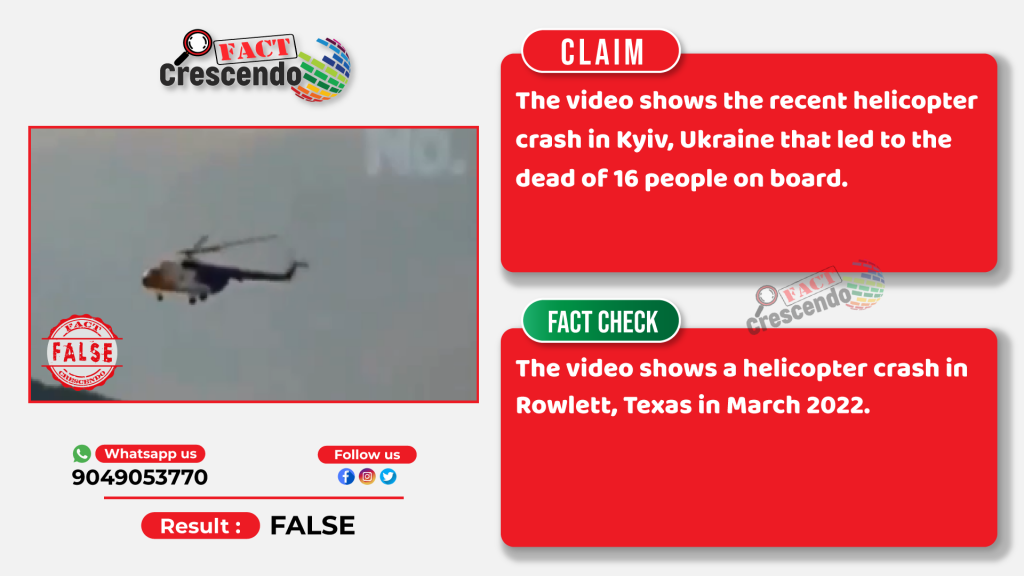 The video shows a helicopter crash in Texas, USA in March 2022 and not the recent helicopter crash in Kyiv, Ukraine.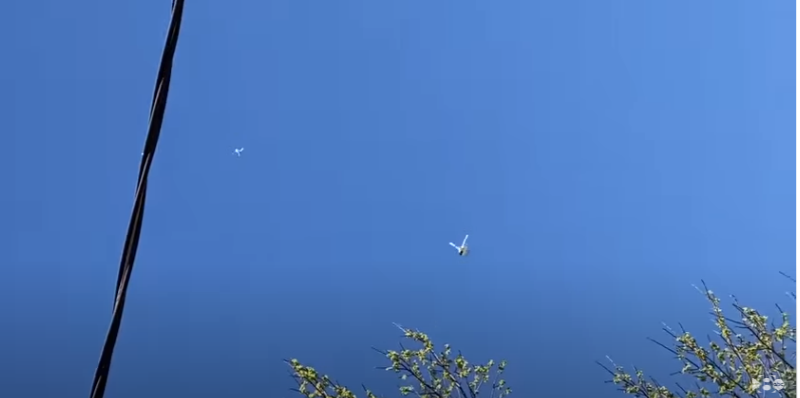 Fourteen persons including Ukraine's Interior Minister and a child were killed when a helicopter crashed in fog near a nursery outside Kyiv on 18 January. The casualties included the three-helicopter crew and six others on board. Witnesses in Kyiv said Russia's war was to be blamed for the disaster.
Amidst this, a video showing a helicopter falling from the sky is circulating on social media with the claim that it shows the recent helicopter crash in Kyiv, Ukraine that led to the dead of 16 people on board.
The caption of the post states, "Video of the #HelicopterCrash in which 16 persons were killed, including the interior minister of Ukraine and other senior ministry officials, in the town of Brovary west of Kiev." Some users have called this video to be an exclusive footage of the Kyiv helicopter crash.
Fact Check- 
We started our investigation by running a reverse image and keyword search on Google, whose results led us to the same video published by the official account of WFAA on 26 March 2022. The caption of the video states, "Helicopter crash in Rowlett captured on cellphone video." According to the description of the video, two people had died, including the pilot, after a helicopter crashed and caught fire in Rowlett in Texas. Initially, the Federal Aviation Administration said the pilot was the only person onboard the aircraft. However, the Rowlett police tweeted that a second person was confirmed dead.
We came across the tweet published by the Rowlett Police Department on 26 March 2022, the caption of the tweet states, "Two persons died in the Rowlett Texas helicopter crash today at 11:30 a.m. The FAA and NTSB are the lead investigating agencies."
According to WFAA's report, the crash happened near the 2200 block of Lakeview Parkway, near Dexham Road, in an open lot surrounded by businesses. Footage from the scene showed a badly damaged and burned helicopter. Responding crews had placed a tent around one side of the helicopter, which had crashed in an open field near surrounding businesses.
According to NBC Dallas, witnesses at the scene said they realized that something was not right moments before the fall. "We saw the helicopter going very slowly and my wife said it didn't seem right. He started to swing a little and go down further and started to get out of control. " You can read more reports about this crash in Texas, USA here.
Conclusion- 
Fact Crescendo found the claim made along with the viral video to be False. The video does not show the exclusive footages of the recent helicopter crash in Kyiv, Ukraine. The video shows a helicopter crash in Rowlett, Texas in March 2022.

Title:2022 video from Texas shared as footage of the Kyiv helicopter crash
Fact Check By: Drabanti Ghosh 
Result: False