The video dates back to October 2021 showing an incident in Nainital, Uttarakhand.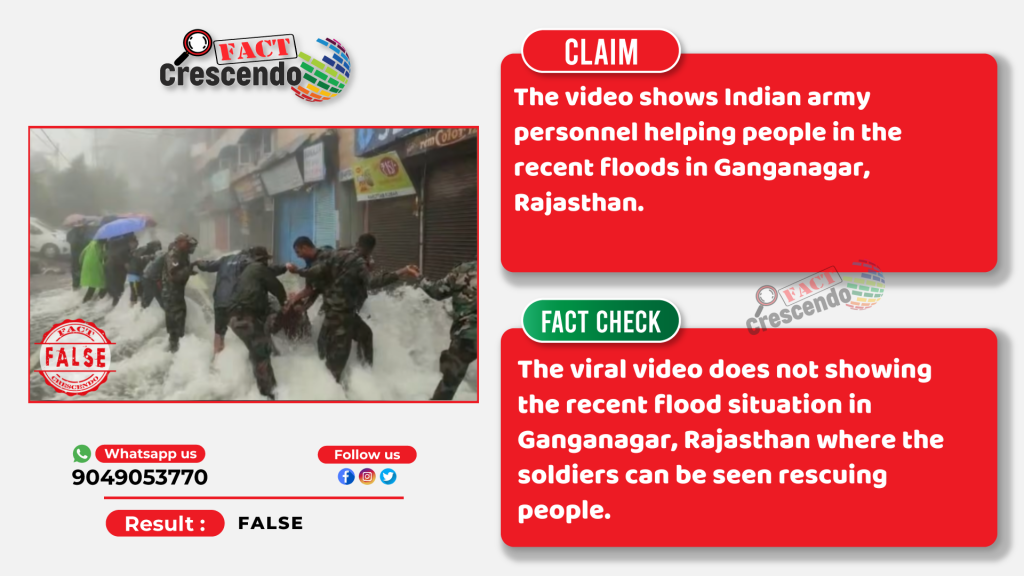 Sriganganagar district in Rajasthan recorded 224mm rainfall on 14 July 2022, the highest in a single day over the past 10 years. 
Amidst this, a video water gushing onto a road while the soldiers try to rescue stuck civilians safely is doing rounds on the social media. The soldiers can be seen forming a human chain to save people from being washed away. Social media users claim that this video is from Ganganagar in Rajasthan where the soldiers are trying hard to control the situation.
The caption of the post says, "#Army took the lead in the situation in Ganganagar. Salute to Indian army and pray for ganganagar"
(Hindi: गंगानगर के अंदर बाड़ की परिस्थिति में #Army ने संभाला मोर्चा।)
Fact Check- 
We started our investigation by running a keyword search on Youtube whose results led us to MOJO story's channel who had published this video on 20 October 2021. The caption of the video states, "Indian Army forms human chain around stranded People in Nainital Amid Floods." 
This video shows the Indian Army Jawans rescuing people amid heavy rains and floods in Uttarakhand's Nainital. Army jawans can be seen joining hands to rescue a group of people stranded amid heavy rainfall. Massive rainfall in the state has led to flooding and landslides in many areas. 
ABP Ganga published a report on 19 October 2021 stating that this video shows Army's rescue operation in Nainital, Uttarakhand surfaced. Army rescued the people trapped in the shop on Mall Road.
According to a report by Amar Ujala, the water overflowed from the Nainjheel. The water of the lake started flowing on the Bhawali road at a high speed. Due to this, the shops of the Cantonment Board located on Bhowali Road were flooded and many people were trapped in the shops there. Meanwhile, the army personnel who reached the spot rescued ten people trapped in the shops and rescued them. The Irrigation Department opened all the drain gates of the lake. Despite this, the water of Nainjheel started flowing on the sloping Bhawali road through Mall Road and Tallital side.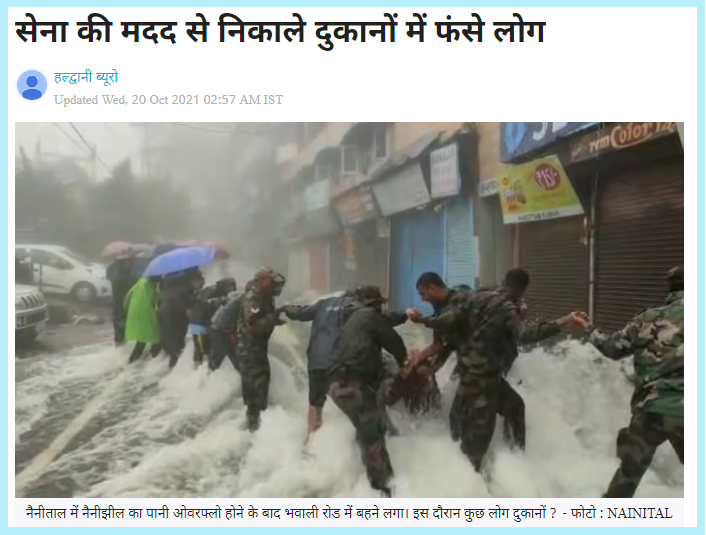 Conclusion- 
Fact Crescendo found the claim made along with the viral video to be False. The viral video does not showing the recent flood situation in Ganganagar, Rajasthan where the soldiers can be seen rescuing people. The video dates back to October 2021 showing an incident in Nainital, Uttarakhand.

Title:2021 video from Uttarakhand shared as recent flood situation in Ganganagar
Fact Check By: Drabanti Ghosh 
Result: False