The video shows a Russian military transport plane crash in Moscow in 2021. The video does not show the recent Pokhara plane crash.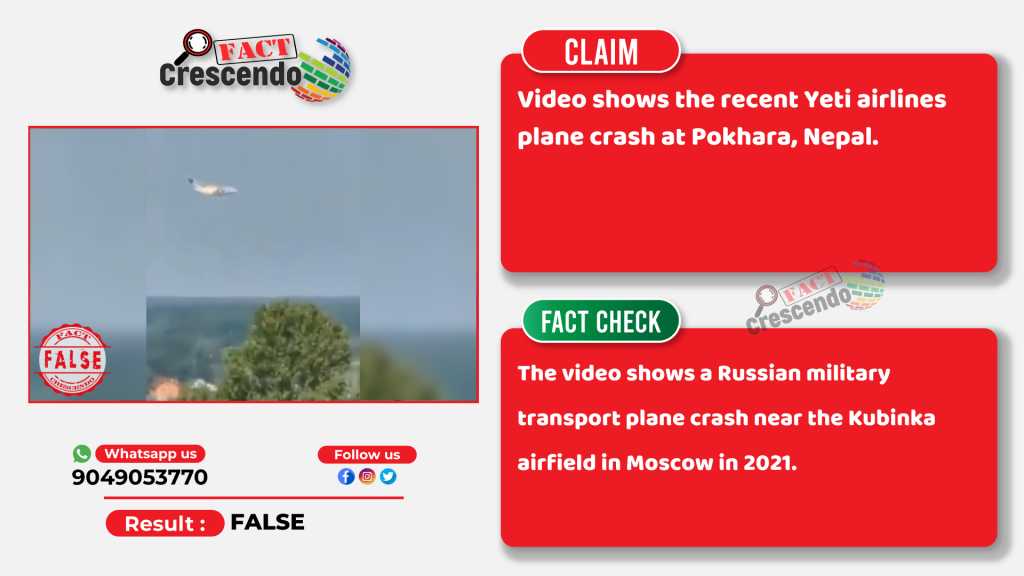 Nepal witnessed one of the most deadly airplane crash in Pokhara killing 68 people on 15 January 2023. Several videos and images have crawled up on social media claiming to show the footages of the recent airplane crash. Amidst this, a video showing a plane crashing into the ground is widely circulating on social media. The video claims to show the last moments of the ill-fated Yeti Airlines flight.
The caption of the video states, "Nepal plane crash #PokharaAirport#NepalPlaneCrash#nepalaircrash."
Fact Check-
We started our investigation by running a keyword search on Google, whose results led us to the same video published by Anadolu Agency on 17 August 2021. The caption of the video states, "Military transport plane crash in Russia kills 3." According to the report, a prototype of the Russian military transport plane II-112 crashed in Russia, killing a crew of three people. The incident took place during a test flight at Kubinka airfield in the Moscow Oblast region, about 61 km from the capital Moscow.
Breaking Aviation News and Videos also posted this video on 17 August 2021, with the caption "Ilyushin Il-112 crashes on approach to Kubinka Airport in Russia following an engine fire. Number of casualties currently unknown."
A report published on the AP News and Bostonglobe website on 17 August 2021 also reported that a Russian prototype military transport aircraft was conducting a test flight outside Moscow. During that time it crashed. Russia's United Aircraft Corporation said the new light military transport aircraft, the Il-112V, had crashed in a wooded area on its way to a landing at the Kubinka airfield, 45 kilometers (28 mi) west of Moscow. There were two test pilots and a flight engineer on board, and there were no survivors. You can see the pictures seen in the viral video published on this website.
Conclusion–
Fact Crescendo found the claim made along with the viral video to be False. The viral video does not show the recent plane crash in Nepal. The video shows a military plane crash in Russia in 2021.

Title:2021 video from Moscow shared as recent Pokhara airplane crash
Fact Check By: Drabanti Ghosh 
Result: False