Inder Meghwal's father confirmed to us that the video does not show the funeral procession of Inder Meghwal in Rajasthan.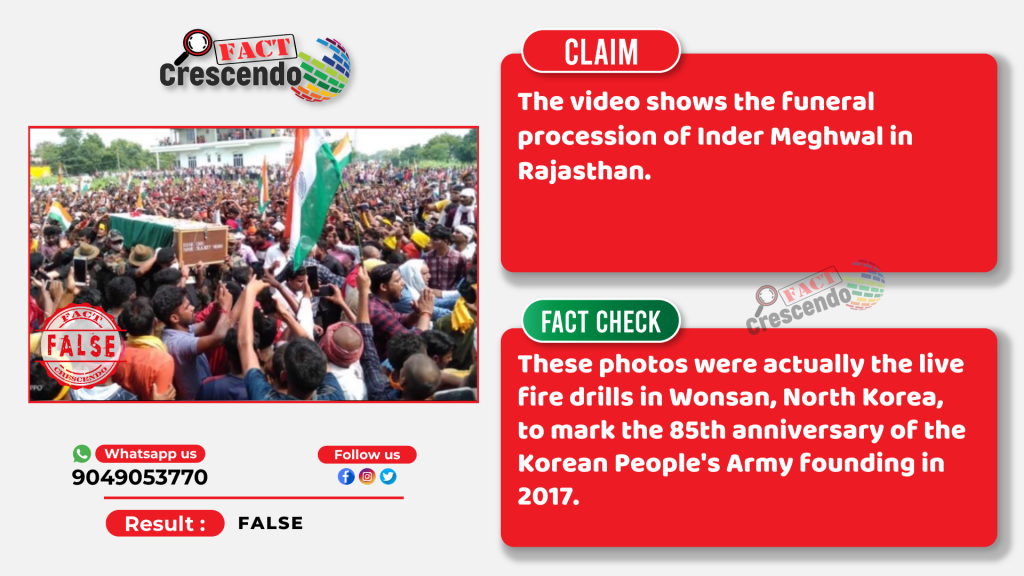 Days after a nine-year-old Dalit boy from Rajasthan's Jalore district died after his 'upper-caste' school principal allegedly hit him for drinking water out of a clay pot meant for the principal, questions are being raised and doubts expressed about the allegations that caste discrimination had led to the tragedy.
The incident allegedly occurred on 20 July at Saraswati Vidya Mandir, a private school in Surana village. The boy, Inder Meghwal, died weeks later, on 13 August, while he was in critical medical care in Ahmedabad. 
Amidst the different controversies and public reaction, a video of a funeral procession is widely circulating on social media with the claim that it shows the funeral procession of Inder Kumar Meghwal in Rajasthan. The video shows a huge procession carrying the tricolour alongside a car.
The caption of the video states, "Inder Meghwal's funeral procession"
Fact Check-
We started our investigation by running a keyword search on Google to find relevant news report about Inder Meghwal's funeral procession. According to reports, Indra Meghwal's body was cremated 40 hours after the consent of the family and the administration on 14 August 2022. We found that Dainik Jagran has published the video of Inder's funeral procession on YouTube on 15 August 2022. There are several news reports about this incident that can be viewed here and here.
Next, Fact Crescendo spoke with Inder Meghwal's father Deva Ram Meghwal Surana. He told us that this video does not show his son Inder Meghwal's funeral procession.
Where is this video from?
We ran a reverse image search to find more about this video. The results led us to a YouTube video published on 15 August 2020 whose description stated that this video is the funeral procession of soldier Jilajeet Yadav. Another YouTube user stated that this video shows the funeral procession of martyred Jilajeet Yadav in Jaunpur, Uttar Pradesh.
Since, the video is available on the internet since 2020; it clearly cannot shows Inder Meghwal's funeral procession.
According to Amar Ujala and Bhaskar, Sowar Jilajeet Yadav was an Indian army soldier who was martyred during the Jammu and Kashmir terrorist attack in Pulwama in August 2020. His funeral procession was held at his native village Dhaurhara Ijri in the Jaunpur district.
The Northern Command of the Indian Army has also tweeted about the sacrifice of Sowar Jilajeet Yadav and paid respect to him.
Conclusion-
Thus, it is clear that the funeral procession seen in the viral video is from 2020 showing the funeral procession of Sowar Jilajeet Yadav in Uttar Pradesh. Yadav was martyred during a terrorist attack in Pulwama. The video does not show the funeral procession of Inder Meghwal in Rajasthan. Fact Crescendo found the claim made along with the viral video to be False.

Title:2020 video shared as Inder Meghwal's funeral procession in Rajasthan
Fact Check By: Drabanti Ghosh 
Result: False